Policy
Evictions slowly ramp up after COVID-19
They're nowhere at pre-pandemic levels, but a small but steady rise since January may portend a new crisis.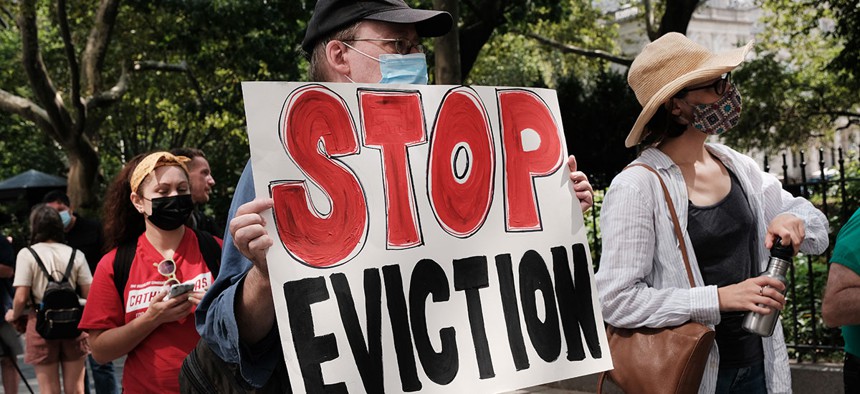 "CANCEL THE RENT!" So said the graffiti and bedsheet signs hung all over New York City and state during the peak of the COVID-19 pandemic, when many people who were already struggling to make ends meet suddenly found themselves out of work and unable to pay their rent.
In response, the government didn't exactly cancel rent, but it did a lot to take the heat off cash-strapped tenants. The state passed an emergency law that declared any tenant who filed a hardship claim was shielded against eviction. The federal government poured billions into an Emergency Rental Assistance Program that flowed down to states, and then to landlords, so that back rent could get paid, with about $2.4 billion being paid out in New York state so far. And notably, filing a request with the state under this program also protected a tenant against eviction. And already available in New York City were one-time payments from the city Human Resources Administration, which provided some tenants with relief.
These moves, along with a 2017 New York City law saying that any tenant in an eviction proceeding has a right to a lawyer regardless of their ability to pay, caused a dramatic change in not just actual evictions but new eviction cases, which many landlords, given all the new tenant protections amid the pandemic, declined to even file. 
Based on data from the New York City Department of Investigation, the rate of evictions that were being carried out, which has always been low compared to the total number of eviction cases filed, plunged to basically zero in 2020.
But after the eviction moratorium ended on Jan. 15, evictions, although still very low, have crept up since then, from three in March-June 2020 and 10 in January-June 2021 to 718 in the first six months of this year, according to data from the NYU Furman Center. Pre-pandemic, the rates were more than 8,000 evictions from January-June 2018 and more than 5,000 in the first half of 2019.
Based on the same data, eviction filings, once over 112,000 in the first half of 2018 and as low as about 3,500 in the spring of 2020, have shot up again to nearly 50,000 the first six months of this year.
"We're still far below what the numbers looked like pre-pandemic," said Ryan Brenner, a research analyst at the NYU Furman Center. "But now we're consistently at some of the highest filing points. And actual evictions are at their highest point since the pandemic."
Also, Brenner and other tenant advocates said those numbers never fully capture the number of people forced out of their apartments because they exclude squeeze-outs that happened outside of a court case. Not to mention so-called self-evictions, in which the tenants leave of their own accord before a court eviction is carried out.
Needless to say, tenant advocates have been alarmed by the slow and steady rise of evictions this year, and they predicted that, especially once all the cases that were paused during the pandemic start flowing through the system, the upward trend will continue.
"All these (eviction prevention) measures were premised on the supposition that the housing emergency of COVID would be shorter than expected, but that hasn't happened," said Patrick Tyrrell, a senior staff attorney at Mobilization for Justice who provides counsel for tenants in Housing Court. "There are a lot of gaps people are falling through."
One problem is that, despite the law saying that every income-eligible tenant must have free counsel, there is a shortage of lawyers. According to Raun Rasmussen, executive director of Legal Services NYC, one of the largest providers of tenant lawyers contracting with the city, Housing Court is on track to have 92,000 cases filed this year, with a total of about 500 attorneys currently available – but there's a need for several hundred more lawyers just to address all the new cases, never mind the backlogged ones.
"Thousands of tenants are not going to be able to get a lawyer," he said. He added that nonprofits citywide have just hired crops of new lawyers straight out of law school, including 32 new ones at Legal Services NYC. "But all those new lawyers are just getting us to the roughly 500 mark."
Adriene Holder, attorney-in-charge of the civil practice at The Legal Aid Society, said they had just hired about 46 new lawyers. And she said upping lawyer rolls takes time: "I can't just order them from Amazon Prime."
Moreover, Rasmussen said he and other tenant counsel groups have asked the state court system to slow down the cases until there are more lawyers, but the court refused. (The state Office of Court Administration did not reply to an email from City & State by deadline.)
"It's because we can't show them a light at the end of the tunnel," Rasmussen said. "Even if they slowed cases until January, it's still not enough time for us because we need more funds from the city and then we need to find, hire and train the lawyers."
Another problem, according to advocates, was that although state law mandated that an eviction case would be paused until a tenant's rental assistance determination goes through, some landlord lawyers are pressuring judges not to do that, especially in backlog cases, and some judges are moving cases forward – often in disputes other than nonpayment, such as nuisance or repair claims, where the landlord wants the tenant out of the unit more than they want the back rent.
And yet another problem with the rental assistance, which covered up to one year of back rent and three months going forward for tenants who couldn't make rent beginning in March 2020, is that it often doesn't award the entirety of a tenant's unpaid rent. The program may, for example, cover only the amount of unpaid rent stated on a tenant's initial application and not further unpaid rent that accumulated while the person's application was pending.
"ERAP has to be fully funded," Tyrrell said, so it can pay out the full amount of unpaid rent rather than just up to a certain cap. "If Democrats can keep both sides of Congress in November, it's more likely that will happen. But right now, the political will in D.C. to give what states are asking for for their ERAP programs is low."
According to a spokesperson for the state Office of Temporary and Disability Assistance, which administers the rental assistance program, the office just requested $1.3 billion in new funds from the federal government.
Tenant vs. landlord hardship
Needless to say, being forced to leave one's home would be a traumatic experience, especially for children. Some families have nowhere else to go but the city's homeless shelter system. And even short of eviction, which again is a rare final outcome for eviction cases, the potential of losing your apartment, even with the backing of legal protections, would be stressful.
Tenant advocates point this out often. "The scale of these tragedies is smaller than it was before the moratorium, which we fought hard for," said Joel Feingold, a founding member of the Crown Heights Tenants Union. "But any number of evictions is unacceptable."
Groups representing landlords said years of rent nonpayment, plus the cost of going to Housing Court, can be devastating for small landlords for whom there is often a narrow profit margin after taxes, their mortgage and maintenance expenses.
"Eighty percent of our members are small property owners, sole proprietors who weren't able to receive (Paycheck Protection Program) business-owner assistance during COVID," said Olga Someras, general counsel for the Rent Stabilization Association, which represents landlords of rent-stabilized buildings. She said a landlord of a six-family home with a tenant who had not paid rent the past two years because of financial hardship had only been getting about $100 per month from the tenant's Section 8 housing benefit out of a $1,500 monthly rent.
"So he's lost about $1,400 times 24 months, which is not a small amount," she said. "And his case keeps dropping to the bottom of the list because ERAP doesn't prioritize cases with Section 8 assistance in play. He'll probably never get his rent back."
She was echoed by Jay Martin, who is the executive director of the Community Housing Improvement Program, which represents property owners – 90% of them with rent-stabilized units.
Martin said tenant advocates were overstating a coming wave of evictions or near-evictions. "They've been saying for two years there's going to be a tsunami of evictions, but it's not going to happen because the cases we're seeing moving forward now are almost all concerning tenants with massive arrears from well before the pandemic."
He added: "We get calls daily from small owners with only one tenant who hasn't paid their rent, and hence the owner can't make their mortgage, and we have to refer them to a pro bono lawyer because they can't afford to hire one."
Both Someras and Martin said they agreed with tenant advocates that the state's rental assistance program needed to be fully funded. "If a tenant gets ERAP money but still owes rent, there's something very wrong if our government can't provide the rest," Someras said. "Landlords don't want to evict people – they want to collect rent."
And they agreed that more free tenant lawyers were needed. But they disagreed with tenant advocates who said that cases should be slowed until that happens.
"You can't stall Housing Court completely and leave a landlord hanging," Someras said. Martin added: "Due process for landlords has been suspended. And (tenant advocates are saying) it should stay that way just because there aren't enough attorneys?"
What is the long-term fix?
People on both sides of the issue also agreed that, to some extent, the eviction rolls reflected the larger issue of an affordable housing crisis, especially in New York City.
"This might sound like a long shot, but in the long term, we have to decommodify more housing," Tyrrell said. "As long as every housing unit is seen as a market asset, people will always be pushed out to be replaced by higher-performing tenants, or whatever the euphemism is."
He said the city and state need to look to alternatives that are not beholden to the private market, such as community land trusts and a return to having the federal government pay for public housing, even though he acknowledged that those were "not snap-your-fingers overnight solutions."
In addition to fully funding rental assistance, tenant advocates want Albany to pass "good cause" eviction, which died in the state Legislature in the previous legislative session. It would set caps, based on inflation, on how much market-rate landlords could raise rents.
The bill would also make market-rate landlords go to court justifying their reason before evicting tenants rather than merely telling them to get out at the end of a lease term, as they are allowed to do now.
Landlord advocates, not surprisingly, opposed the legislation, saying that the current law spares landlords the time and money of going to court in the case of a nuisance tenant – which, these advocates claimed, were the main reason, along with rent nonpayment that landlords want to evict tenants.
Tenant advocates are also lobbying Albany to raise the income limits on who qualifies for free counsel in Housing Court.
But of course all these remain open questions for the next legislative cycle.
In the meantime, Tyrrell said, "I don't want to sound grim but I think the floodgates (on eviction cases) are now open. If we keep on this track, with no changes in court process or legislative fixes, evictions are going up exponentially every month. And that would be terrible on a human level, because the shelter system is not equipped for that."
Plus, he added, "Folks entering the shelter system will cost taxpayers so much more money than just (having the government pay) their back rent. It's a lose-lose on every level."