New York City
What's the latest on New York City's COVID-19 vaccine mandate for city workers?
An FAQ, after a Manhattan judge ruled the public sector vaccine requirement invalid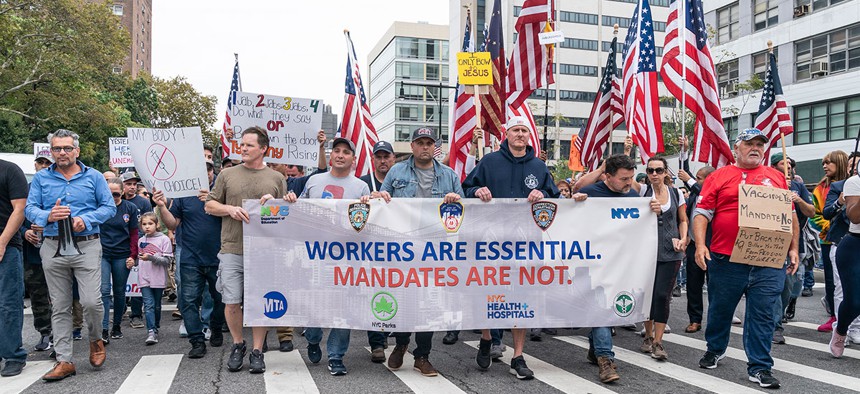 New York City is set to drop its COVID-19 vaccine requirement on employees in the private sector on Nov. 1, but questions remain about how long the mandate on municipal employees will stay in place. Since Mayor Eric Adams announced the plan last month, city officials' assertions that the requirement will remain on the books for now have done little to tamp backlash as critics continue to levy pressure on leaders – and the courts – to roll it back.
So far, the city has fired over 1,700 city employees, including 36 police officers, and around two dozen firefighters for not complying with the vaccine mandate. That's a small percentage of the city's workforce of more than 300,000 people – though hundreds more are still waiting for the city to rule on their appeals for exemptions. 
As of Sept. 1, 127 legal challenges to employer-imposed vaccine mandates have been filed in the state – only 35% of which target private employers, according to The National Law Review. And while the vast majority of rulings have come down in the city's favor, allowing the requirement to stay in place, opponents have had an increasing number of victories in recent weeks. Most recently, a state judge in Staten Island ordered the city on Tuesday to reinstate a group of sanitation workers who were fired for refusing to get vaccinated. In a similar vein last last month, a Manhattan judge sided with the Police Benevolent Association and ordered the mandate invalid. The mandate still remains in place though – the city has appealed both rulings.
Read on for more on those mandates, what they mean, what's happening and what could occur next.
Where did the vaccine mandates come from?
Intent on reopening the city while mitigating a potential surge of COVID-19 cases, former Mayor Bill de Blasio's administration implemented the vaccine mandates for city employees last November, and followed up weeks later with a mandate for almost all New York City-based employees in the private sector. Adams maintained de Blasio's policies upon taking office, and has enforced the mandate for city employees, firing many who chose not to get the vaccine. But he's taken a much softer touch with the private sector. While many employers have taken enforcement upon themselves, City Hall declined to inspect private employers for compliance, and never enforced the mandate. Critics have attacked the mandates and described them as arbitrary – especially after the mayor issued an executive order that exempted performers and athletes last spring.
Why did the city decide to end the private sector mandate? 
The Adams administration decided to formally end the mandate applying to about 184,000 private businesses on Nov. 1, 2022 and so far, city leaders have largely declined to offer specifics as to why they decided to lift one mandate while keeping the one on municipal employees. During a press conference in late September, Adams and New York City Department of Health and Mental Hygiene Commissioner Ashwin Vasan voiced largely broad explanations centered on following the latest health guidelines. 
"I don't think anything dealing with COVID makes sense, and there's no logical pathway of (what) one can do," Adams said. "You make the decisions based on how to keep our city safe, how to keep our employees operating."
Vasan, who was appointed commissioner in March, said that all of the city's decisions in regards to COVID are being made as part of a larger strategy, adding that New Yorkers are no longer entrenched in the emergency phase of the pandemic, but "we haven't yet defined what the new normal looks like, or endemicity, and this is our process of getting there."
Since taking office, Adams has done away with a range of COVID-19 precautions such as masking in schools and requiring proof of vaccination for dining indoors. Still, he's stopped short of declaring that the pandemic is over and is urging New Yorkers to remain up to date on their booster shots.
What is the status of the legal ruling that addresses sanitation workers?
Siding with a group of 16 sanitation workers who'd been fired in February for refusing the vaccine, a Staten Island Supreme Court judge ruled early this week that they should not only be reinstated, but they should also receive retroactive pay. The judge, Republican Ralph Porzio, argued that the city's requirement imposed on municipal workers is "arbitrary and capricious," pointing to the fact that Adams' had lifted vaccine mandates for private employers earlier in the year. 
"There is nothing in the record to support the rationality of keeping a vaccination mandate for public employees while vacating the mandate for private sector employees or creating a carveout for certain professions, like artists, athletes or performers," Porzio wrote. 
While the city issued a swift appeal, a spokesperson for the New York City Law Department said the judge's ruling pertains only to the individual petitioners in the case, meaning the mandate remains in place, according to The Washington Post.
What's the status of the legal challenges issued by the Police Benevolent Association?
A Manhattan state Supreme Court judge issued a ruling on Sept. 23 striking the vaccine mandate down as it applies to members of the Police Benevolent Association – the New York City Police Department's largest union. The judge, Lyle E. Frank, also ordered the city to reinstate officers who've been fired or suspended for not complying with the city's vaccination mandate because, according to him, the city can't impose a new employment condition like a vaccine mandate without first engaging in negotiations with the union. While this ruling marks a significant win for the union and its roughly 24,000 members a year after it initially filed the lawsuit in October 2021, New York City officials immediately filed an appeal.
What does this mean for the public sector mandate?
The public sector mandate remains in place as the city appeals the court's ruling, so city employees who were fired won't get their jobs back yet. Unvaccinated police officers will get a break though – the Daily News reported Sept. 27 that the city won't place any cops on leave without pay or fire them while a decision on appeal is pending. But the city feels confident in its chances. A spokesperson for the law department told NY1 on Sept. 23  that Frank's ruling was "at odds with every other court decision upholding the mandate as a condition of employment."
There's also been a few recent legal victories that apply to individuals rather than challenging the mandate itself. Late last week, a Manhattan judge sided with an unvaccinated New York City Police Department cop, granting his religious exemption and ruling he could keep his job on the force. Earlier in the month, Staten Island's Porzio ruled that a firefighter get reinstated also because of his religious exemption, though the city has since appealed. 
What is the status of the U.S. Supreme Court case?
Action was recently taken on a separate lawsuit brought forward by NYPD detective Anthony Marciano, which was considered by the U.S. Supreme Court at a conference in early October, Ultimately, his emergency challenge was rejected – again.  While Justice Sonia Sotomayor rejected Marciano's request to take up his challenge last month, Marciano, who didn't qualify for a medical or a religious exemption from the mandate, had been approved after submitting it to conservative justice Clarence Thomas. The detective sued the city last year, arguing that he'd gained immunity to COVID-19 by catching the disease while on the job, and should be allowed to make his own decisions about vaccination.
Is the vaccine mandate having a noticeable effect on the city's worker shortages?
Probably a minor one. While anti-vaccine activists and members of the City Council's Common Sense Caucus have pointed to the vaccine mandate as the cause of the city worker shortage, just 1,761 city workers have been fired for not getting vaccinated. As of Aug. 30, 12,074 employees had submitted reasonable accommodation requests regarding vaccination status and of those about 5% were still waiting for a response. Still, not all workers whose requests were rejected have been fired – some are still awaiting a decision on their appeal. A spokesperson for Adams told City & State last month that the internal appeals process is still going forward, despite the ruling in the PBA case. 
Editor's note: This story was updated Oct. 27, 2022.