New York City
Bronx officials left flummoxed by Orchard Beach debacle
Elected reps from the borough that's home to the original parking lot site for an asylum-seeker tent shelter expressed confusion and relief.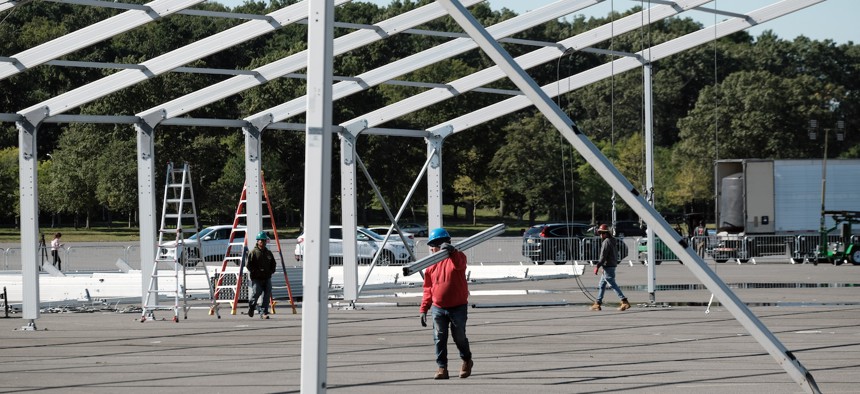 Less than one week ago, Bronx officials were surprised to learn New York City Mayor Eric Adams' administration would be erecting a tent shelter complex in an isolated beach parking lot in the borough they represent, where hundreds of asylum-seekers would be processed and temporarily housed. 
An abrupt reversal Monday night left Bronx lawmakers with whiplash, confused about the city's decision-making process and relieved that their concerns had apparently been heard. Some Bronx pols said they were not given much of a heads up about the city's plans to build the facility at Orchard beach – or its plans to abandon that idea.
"We haven't gotten a call from them deciding to move the site," Assembly Member Karines Reyes, who represents East Bronx neighborhoods including Parkchester and Van Nest, but not Orchard Beach itself, told City & State Tuesday morning. "Maybe they figured you know it's out of the Bronx, we don't have to call the Bronx delegation."
Monday night, Adams announced that the city would move the site to the Icahn Stadium parking lot on Randall's Island, which is between northern Manhattan, Queens and the Bronx, describing it as "less prone to flooding" and "closer to public transportation" in a statement. Though not accessible by subway, Randall's Island can be reached from Manhattan by the M35 bus or on foot via the Ward's Island Bridge. Advocates have noted there are still flooding concerns at that smaller site, though they are reduced. The city estimated the site will house 500-people, though there will be space to expand if needed.
"I received a notification (about the planned Orchard Beach site) the morning of the announcement," Council Member Marjorie Velázquez, who represents Orchard Beach, said in an email to City & State. "Since the announcement was made, I have worked alongside the administration to find alternative solutions to identify a location that was better equipped to support the site, as well as ensuring that we were providing the resources required to have the intake center be successful and update the community throughout the process." In a statement, she thanked the mayor's office and New York City Emergency Management for hearing her out.
There were several issues with the Orchard Beach parking lot site, as officials and advocates for immigrants and homeless New Yorkers noted. City & State was the first to report that the tents as proposed could have been impacted by flooding.
That risk became very clear over the weekend, as rainstorms caused inches of standing water around the partially constructed tent shelters. As late as Monday morning, Adams insisted the city would stay the course, and some advocates expected migrants to begin arriving at the site this week.
Assembly Member Nathalia Fernandez, whose district includes nearby Pelham Gardens and Allerton, said her office found out about the plans for the tent shelters shortly before they were publicly announced. She recalled questioning why the city chose Orchard Beach instead of utilizing existing structures like the Jacob Javits Convention Center, unused churches and other roofed locations. 
"My immediate reaction was why a tent city? We don't have roofs in this city?" Fernandez said. 
Reyes also mentioned the Javits Center as a shelter alternative. 
"I appreciate the effort that the mayor and his team is putting in to make sure that we find places for all the migrant asylum seekers that are coming into our city, but ultimately, I think we have to think about human dignity," she said. "These are people that are escaping terrible conditions, have been traveling for weeks, sometimes months through very harsh conditions."
John Doyle, a district leader and president of the community organization City Island Rising, said he has been raising the alarm about flooding in the area for years. 
"I've taken over 1,000 photos over the years, this is something I've dedicated a lot of my personal time to," he said, adding that he hopes that if nothing else New Yorkers' attention on the area over the past two weeks will push the city to address the longstanding issues.
Despite concerns expressed by some community members about the prospect of the center being built in their neighborhood, Doyle said overall he's been heartened by the swell of support. In just three days, residents had donated around two dozen bags of warm clothes and other supplies. He said he'll make sure they are delivered to Randall's Island.
"It was meant for the migrants," Doyle said. "Whether or not it's Orchard Beach or Randall's Island it's immaterial."