Policy
Fleming, LaLota both promise to protect Social Security
In a forum hosted by City & State and AARP, both Long Island congressional candidates rejected a Republican proposal to sunset government programs.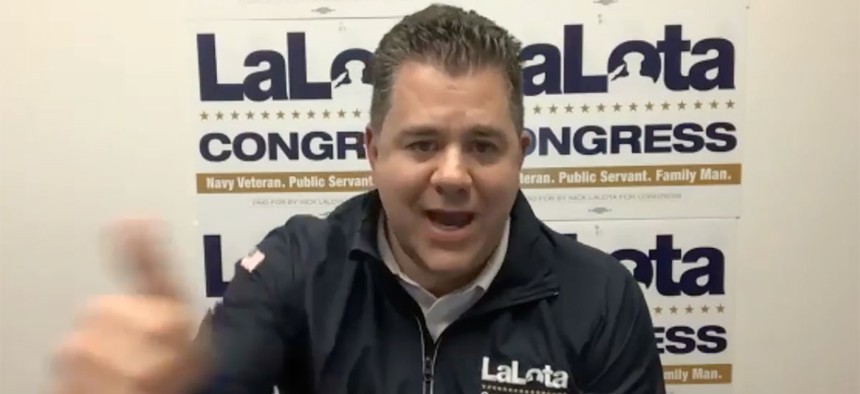 Democratic Suffolk County Legislator Bridget Fleming and Nick LaLota, the county Legislature's Republican chief of staff, squared off Tuesday afternoon, trading barbs over abortion, the economy, and Social Security while attempting to position themselves as the best person to succeed Rep. Lee Zeldin in New York's 1st Congressional District.
AARP and City & State's events team hosted the forum, which comes as the state becomes increasingly central to House Democrats' fight to hold their slim majority in Congress. While Republicans currently seem likely to hold the Long Island swing district even with Zeldin leaving office to run for governor, the district has been represented by both Republicans and Democrats. And in 2020, President Joe Biden edged out a slim victory 50.1% to 49.9%.
With the Nov. 8 election now looming a mere week away, there's one population likely to be particularly crucial for the candidates to win over: adults over the age of 50 – a population that has long helped steer Suffolk County's politics. According to data from AARP, 84% of Suffolk County voters in the 2022 August primary or special election were 50+ as well as 80% of the voters who cast ballots in all of the four last general elections. 
Tuesday's forum honed in on issues specifically relevant to this key voting bloc like Social Security, prescription drug costs, Medicare and caregiving. Fleming and LaLota both agreed that the government must strongly protect Social Security benefits, stating they both disagree with Florida Republican U.S. Sen. Rick Scott's proposal from earlier this year to control the size of the federal government by sunsetting federal legislation. That means lawmakers would need to vote to extend Medicare and Social Security every few years. But while LaLota characterized this idea as "wacky," Fleming argued that threats to slash programs from members of the Republican Party need to be taken seriously.