Policy
At Somos, New Yorkers weigh in on the Puerto Rican utility crisis
At two very different events, New York politicians discussed Luma Energy.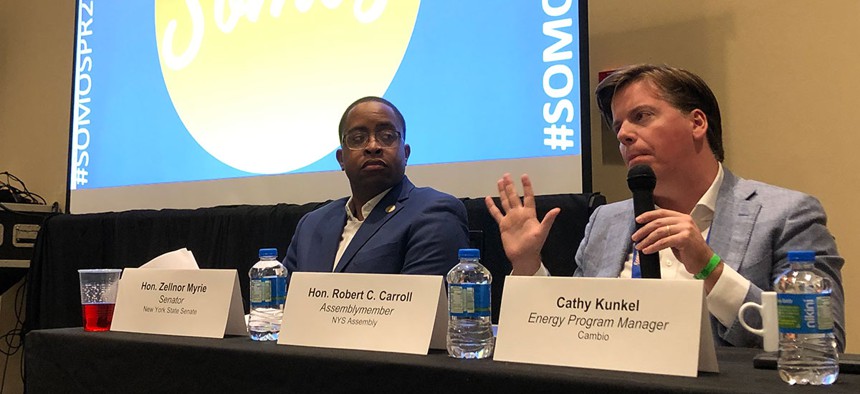 Socialist New York City Council Members Tiffany Cabán and Alexa Avilés sat behind a folding table at a bilingual press conference outside the Luma Energy's office in Santurce, an urban neighborhood in San Juan, Puerto Rico. They were four miles and half a world away from the air conditioned hotel rooms hosting the Somos Puerto Rico conference on the beach in Carolina. "We are here in solidarity with the people of Puerto Rico who are demanding that the governor not renew the Luma (Energy) contract because it is time for a renewable future for the island," said Cabán, surrounded by Puerto Rican activists, and a few more New York elected officials along for the ride. "Puertoriqueños have the solutions," she added. "That's public power. Owned and controlled by the people who live and work here."
Luma Energy is a joint American Canadian private company that took over management of Puerto Rico's energy grid in June 2021 after the public Puerto Rico Electric Power Authority, or Prepa, went bankrupt. Many Puerto Ricans, fed up with triple-digit energy bills and unreliable power, are calling for the commonwealth not to renew the temporary contract with Luma Energy after it sunsets at the end of the month. "The electrical grid in Puerto Rico is simply more fragile and more poorly managed than it has ever been before," said Cathy Kunkel, energy program manager at Cambio PR, a Puerto Rico-based sustainability nonprofit. Kunkel was explaining the situation Thursday morning to a room with nearly 100 people, almost all New Yorkers, who were attending the conference. 
 "A Category 1 hurricane that struck the southwestern coast of Puerto Rico should not have knocked out power to the entire island." After Hurricane Fiona hit in September, it took eight days to restore 60% of the power to the island, Kunkel said. Some municipalities were without power for weeks. Five years earlier, after Category 5 Hurricane Irma, it took two and a half days for power to be restored to 60% of the island. 
"We share the frustration our customers have over the fragile nature of Puerto Rico's electric system, which has suffered from years – if not decades of mismanagement and neglect by the prior operator," wrote Hugo Sorrentini, director for media and digital brand strategy at Luma Energy, as part of a statement provided after this story's publication. The company said it has made significant progress improving the system, and that 90% of customers got electricity back within 12 days of Hurricane Fiona – a "never before seen" restoration rate. "No matter the challenge or obstacle we may face from those who question the commitment of our incredible team, or from those who hold different goals, we will not allow ourselves to be distracted from our mission of building a better energy future for the people of Puerto Rico."
Kunkel's comments on the island's grid came at a panel called "The Path to Renewable Energy in Puerto Rico and New York." It was part of the conference's few hours where experts from the island the Empire State gathered to talk about topics varying from equity in cannabis legalization to recent Supreme Court Cases affecting Puerto Ricans. It's a portion of the conference that the event's de facto host, Assembly Member Maritza Davila, has worked hard to bolster during her leadership of the Puerto Rican/Hispanic Task Force.
"We need to learn from each other, we need to help each other. And this is why you're here today," Davila said, during a brief drop-in to the energy panel. "I just came to say thank you for being here, and having this conversation, but I hope it doesn't end here. …  We are here to help the Puerto Rican community come back up from the situations that they've gone through in the past five years." 
But that's a view of the conference that some progressive politicians such as Avilés, who is a member of the Democratic Socialists of America, have critiqued. What's the right way for New Yorkers to use their political power to improve the power situation in Puerto Rico, known for high electricity rates and frequent outages? The panel was focused primarily on educating New Yorkers. Avilés wants to see more collaboration with local activists, and events led by Puerto Rican residents. She didn't attend the morning panel, she said, "primarily because it doesn't have on-the-ground people that are working and experiencing this day-to-day." That's not entirely true – a point Avilés conceded – since the panel featured Adriana González-Delgado, the lead organizer for the Sierra Club of Puerto Rico, as well as Kunkel and Maritere Padilla-Rodríguez of the Hispanic Federation in Puerto Rico. But the panel also featured the leader of a Brooklyn-based energy nonprofit, the vice president of a Queens power company, and Assembly Member Robert Carroll. 
Carroll acknowledged he was out of his element in some way – but said he was there to collaborate and learn as a New Yorker. "I'm not an expert on what's going on in Puerto Rico," he said, "but I believe it's a harbinger of what is to come around our country if we are purely beholden on investor-owned utilities. Unfortunately, those utilities, the bottom line does come first. And when it does come first, certain decisions will be made."
Outside the Luma Energy office, Avilés too said that the lack of affordable, reliable electricity in Puerto Rico isn't just a problem for those who live on the island.
"Our federal dollars are going into these companies. And they get caught up in a corrupt system that's not even hitting the ground," she said. "It's the consistent problem of disaster capitalism."