New York City
NYC leaders call for money, and a plan, as more migrants arrive from the Mexican border
While buses of migrants arrived in Manhattan, the City Council held a hearing on the city's response to asylum-seekers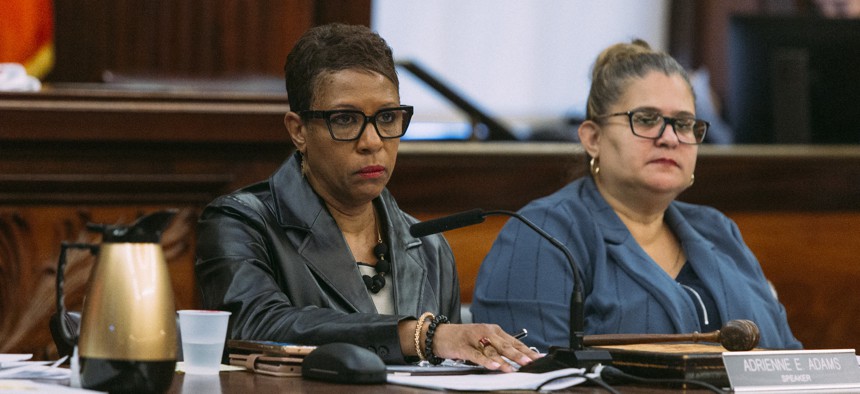 With another round of asylum-seekers expected to begin arriving this week in anticipation of changes to federal immigration laws, New York City leaders are increasingly imploring the federal and state governments for financial support. New York City Mayor Eric Adams is even claiming some city services could even be reduced, given the immense strain the arrival of over 31,000 people has put on the system so far. That number is only going to rise, he said, painting a dire picture of the financial impact, claiming that the city has been told "in no uncertain terms" that beginning now, more than 1,000 additional people will arrive every week.
"Every service we provide is going to be impacted by the influx of migrants in our city," Adams said Monday. "It's going to impact the dollars we're using to clean our streets; it's going to impact our public safety."
When asked whether another surge would push the city to reopen the controversial tent center on Randall's Island that housed adult men, he and New York City Office of Emergency Management Commissioner Zach Iscol had a simple response: everything is on the table, they said in separate appearances today.
Four buses of migrants from the Texas border arrived at the Port Authority Bus Terminal Monday morning, Iscol said. At the same time, the New York City Council was holding the first of two days of hearings centered on how the city has handled the surge of asylum-seekers so far. During over six hours of testimony, agency heads and council members underscored the urgent need for Congress and state leaders to offer funding and a long-term strategy. A report from city Comptroller Brad Lander published last week said the city's budget should include a projected $1 billion each year through 2026 for housing, education and other costs associated with supporting migrants. Adams has said his request for the Federal Emergency Management Agency to reimburse the city has so far been ignored. 
"We cannot continue in this vein unless we get money from the state and our federal government," New York City Council Member Joann Ariola said Monday. "This city is going to go belly up trying to provide for people that we care about and nobody else does."
At the center of New York leaders' concerns is the end of Title 42 – a public health rule enacted under former President Donald Trump's administration that had closed the border to new arrivals. While its enactment had been framed as a necessary step to prevent the spread of COVID-19, immigration and humanitarian groups argued that the White House used the pandemic as an excuse to keep hundreds of thousands of migrants out of the country. A federal court ruled in November that the policy violated federal immigration law and ordered President Joe Biden to lift the policy by Wednesday, Dec. 21. City officials think the change could result in even more migrants coming to New York City, many of them in need of service and housing. Indeed, more migrants are coming to the city already – possibly sent by the state of Texas in order to make way for new arrivals. The exact circumstances of the people arriving in Manhattan Monday by bus was not immediately clear.
Over 31,000 asylum-seekers have arrived in New York City since the spring – about 20,000 of whom remain in the city's care today, be it homeless shelters or other types of emergency housing provided by the city, according to officials. Newcomers have largely come from Latin America, primarily Venezuela, having fled economic uncertainty and other dangerous situations. Upon crossing the U.S. border with Mexico, many were delivered directly to New York City on buses sent by Republican Texas Gov. Greg Abbott in a political ploy to push the government to increase border security. Thousands more have been sent by the government of El Paso Mayor Oscar Leeser, a Democrat. 
Of course, migrants have long come to New York City in search of opportunities. But unlike previous migrants who've trickled into the city to build a new life, the surge of asylum-seekers from the past four months have been far less likely to have family or friends to stay with upon arrival. Also different is the sheer number of new arrivals who've brough children with them, Manuel Castro, commissioner in the Mayor's Office of Immigrant Affairs, told council members. 
New York City has unfurled a variety of programs to support the new arrivals in response. Thousands of children have been enrolled in schools and officials have opened 60 emergency shelters. Nonprofit organizations and faith groups have organized donation drives for winter clothing, and some New Yorkers have even opened up their homes to host asylum-seekers while they look for more permanent housing.
Amid the calls for aid, the council also heard some back-patting from the Adams administration on the city's response so far. "Some of the most emotional moments for me have been talking to people who have arrived here and hearing about their journey from places like Venezuela, thinking about the mountains they've crossed, the jungles, urban terrain, deserts, the number of borders and the first time they were greeted, the first time they were welcomed as a human being when they stepped off a bus was in Port Authority," Iscol said. "That was by New Yorkers."
About 5,500 migrants are currently staying in four hotels that have been converted into "Humanitarian Emergency Response and Relief Centers." City leaders have described these facilities as a "first touch point" place for migrants where they can receive services like shelter, food, medical care while charting their next steps. The first of these facilities, a sprawling tent facility which had been planned for the Orchard Beach parking lot in the Bronx, was ultimately moved part way through construction to Randall's Island following backlash over the location. Some elected officials opposed that facility as well, urging the city to reverse course and utilize hotels instead. Once the swell of arrivals slowed to a trickle in October after Biden's administration opted to close the border to Venezulans under Title 42, city officials scrapped the tent shelter on Randall's Island about three and a half weeks after it was assembled. About 525 men ended up staying at the facility. 
When pressed by council members during Monday's hearing on whether the city would again utilize outdoor shelters amid the anticipated second surge of arrivals, officials said that is something that's being considered.
"As you know, over the last five, six weeks, one of the reasons we shut down Randall's Island is because there were no more buses coming," Iscol said. "But now that we have an influx of buses, everything is on the table."
New York City Council Immigration Chair Shahana Hanif said the city "stands opposed" to reopening Randall's Island and any other outdoor, tent-like facilities. Council members also expressed concerns that people appear to be staying at the Humanitarian Emergency Response and Relief Centers longer than expected, given that initially city officials said the goal would be to have them moved to the city's official shelter system or other more  permanent arrangements within a few days. 
City officials admitted that helping to connect asylum-seekers to their next destination has proved more difficult than initially anticipated, particularly for families with children, but where there is additional time, there's additional opportunity.
"Our mission still is the same: we want to help you to complete your journey, but it's hard to put a time limit on that," Ted Long of the New York City Health + Hospitals said.