Heard Around Town
Office to residential conversions – again – a focus of Adams and Hochul
The governor also previewed a goal of 800,000 new housing units over the next decade, presenting a united front with the mayor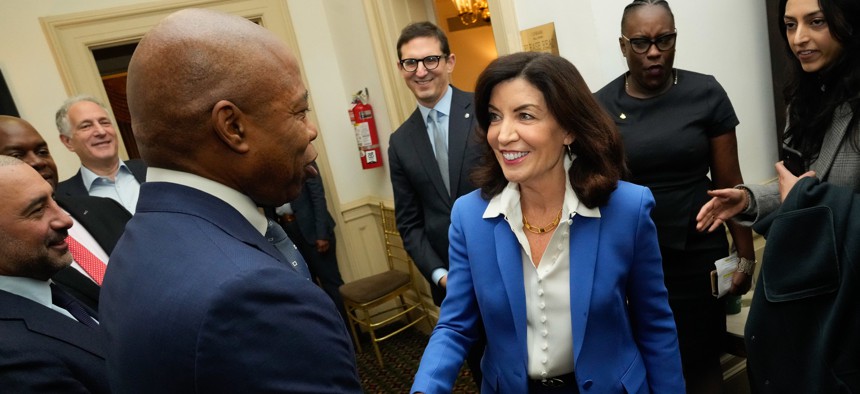 Here's a new idea: converting commercial office space in Manhattan to housing. Kidding aside – it's one of the most frequently discussed ideas in New York City political circles dating back decades. But regulations and the cost of conversions mean that what sounds good in theory rarely pencils out in practice. Gov. Kathy Hochul and New York City Mayor Eric Adams vowed to (finally) make it happen at a breakfast hosted by the civic booster group the Association for a Better New York Wednesday morning in Lower Manhattan. 
Look at a Midtown office building that's at 40% occupancy since the COVID-19 pandemic, Hochul said, and picture instead housing, a child care center or student dorms. "There's a million things we can do, but I guarantee there's a barrier, a law or regulation that says, 'No you can't.' And there have to be financial incentives because the conversion of office space, commercial space, into residential, putting in all the bathrooms and the showers – it's expensive!" she said. "So we can't just sit in here in La La Land and hope it happens someday. We have to say let's start now. Because it's going to take some time."
The governor was responding to a report that may as well be from La La Land – the event marked the release of the "New" New York Panel's plan to revitalize the city's business districts post-pandemic. So the morning was full of soaring statements, bland generalities and a good amount of back-patting about how well Hochul and Adams work together. The report itself had more specific ideas, such as increasing allowable floor area ratios in order to ease those commercial-to-residential conversions. Or even fixing up the intersection of 125th and Park Avenue in Harlem – an area long characterized by open drug use – with more seating and wider sidewalks. 
"Writing a plan," Adams acknowledged, "is the easy part." The challenge is "execution – how do we execute, how do we engage each week?"
So Hochul provided some of her own incentive for action. She previewed that in her upcoming January State of the State address, she'll be setting a goal of building 800,000 new units of housing statewide over the next decade. That's well above the current pace, and comes just days after Adams announced his own administration's "moonshot" goal of building 500,000 units in the city alone over the next 10 years. 
Powered By
NEXT STORY: New York Nonprofits say they're suffering the worst staffing shortage in years