Heard Around Town
Adams rallies the nation's mayors
The New York City mayor wants his counterparts to join him on addressing gun violence, the fentanyl epidemic and asylum-seekers.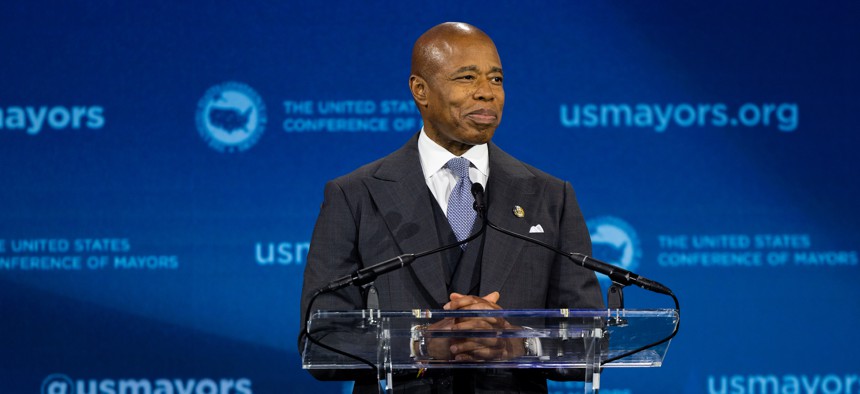 Could Mayor Eric Adams have spent his entire speech at the U.S. Conference of Mayors responding to his rival mayor's friendly jab about Florida stealing residents from New York City or making new questionable promises to turn his city into a crypto capital? Sure, it's not so hard to imagine.
But instead, Adams acknowledged Miami Mayor Francis Suarez's intro joke with just a brief chuckle and a promise to "steal back" those residents before returning to the message he's been repeating for months. The challenges facing cities across the country need a national, 50-state response, and it's time for mayors to unite in a call to action, Adams said in a short livestreamed address between closed door meetings at the Washington D.C. conference yesterday.
The three challenges he identified as the "most serious" are gun violence, the fentanyl epidemic and the asylum-seeker crisis. But Adams' call for support in handling the influx of migrants to New York City has been at the forefront in recent weeks. Adams laid out a six-point national plan that included a method to "fairly distribute newcomers regionally" and to fast-track work options for asylum-seekers. "Every attempt to deal with immigration on a national level through legislation has been sabotaged, mostly by right-wing opposition, and cities are bearing the brunt of this failure," he said. "We must come together as Americans to solve an American problem."