Immigration
Adams on migrant crisis: NYC can't do it alone
The New York City mayor pitched a "national czar" to better manage the influx of asylum-seekers at the southern border.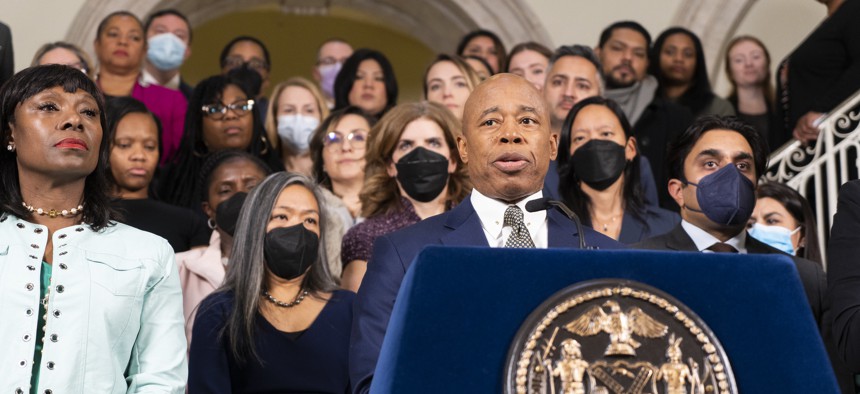 New York City Mayor Eric Adams appears to be growing exasperated with the task of finding room for asylum-seekers at what he calls a fully occupied inn.
Back from a trip to El Paso, Texas, over the weekend to again call for federal support in managing the steady influx of asylum-seekers to New York City, Adams suggested that the federal government needs to coordinate the placing of migrants in cities with the capacity to take them in. "This is wrong for the cities of America to take this on," Adams said at an unrelated press conference on Tuesday. "The federal government should step in and say let's coordinate this, and whatever city is available to take a portion – because if we all take a portion, it won't overwhelm a city."
Though Adams said he has had productive talks with U.S. Senate Majority Leader Chuck Schumer and House Minority Leader Hakeem Jeffries about securing federal funds, it's still unclear how much money the city will receive to help cover the costs of welcoming migrants. Adams estimated that the bill could be up to $2 billion. And despite making prior calls for federal action at the southern border, Adams has continued to characterize the influx of asylum-seekers as something cities like New York have been left to handle alone.
Other municipalities in New York could have a role to play too, the mayor said. Adams suggested that if asylum-seekers could be granted work authorization by the federal government, some cities and towns across the state suffering from declining population and trouble hiring would jump at the chance to welcome migrants.
New York City, which is seeing its own outmigration and a municipal staffing shortage, has taken in roughly 40,000 asylum-seekers since last spring according to City Hall. Adams has said that the city will soon run out of capacity to provide shelter and services to more new arrivals.
The city made a formal request to the state government late last week to coordinate and find shelter for 500 asylum-seekers, though City Hall said that the need would likely grow. Over the weekend, a spokesperson for Gov. Kathy Hochul said that the state is reviewing that request. But like Adams, the state has emphasized that the federal government can't leave cities and states to manage the crisis.
On Tuesday, Adams saved his most aggressive appeals for the federal government, referring to Hochul as a collaborator. Asked about the possibility of finding large venues or arenas to provide shelter and services to asylum-seekers, Adams said there were both federal and state sites that could be made available for that purpose. "We have been in conversation with the state to look at some of the state locations, and the governor has fully understood the urgency of the moment," he said. A spokesperson for the mayor declined to elaborate on specific locations in a follow-up email to City & State.
But while he has redoubled his efforts to secure assistance from both the state and federal governments, Adams said that New York City's status as a sanctuary city will not change. He repeated the now-frequent comparison to Jesus and the nativity story. "He was faced with no more room, but there was a place that was found," Adams said. "That's what we are doing. We have no more room, but we are still finding spaces and accommodating. And we are going to continue to do that."
Powered By
NEXT STORY: Ahead of crucial hearing, Hochul pitches LaSalle