Immigration
Amid "crisis," Adams defends cruise terminal migrant shelter
The New York City mayor has grown increasingly fed up with criticism levied at his administration's efforts to house asylum-seekers.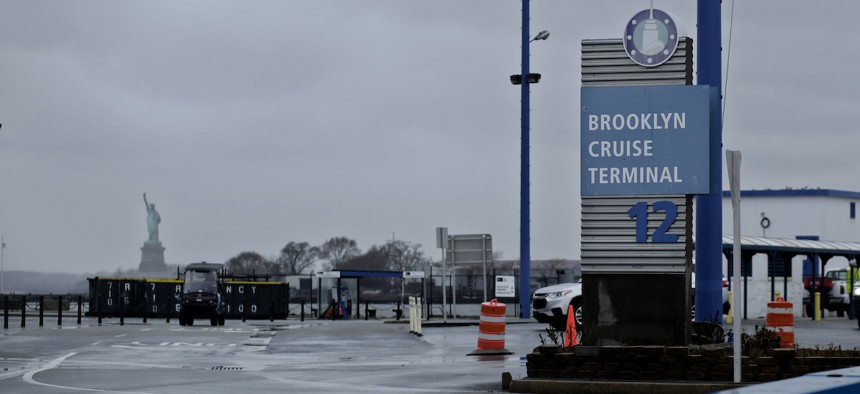 After several weeks of stressing that New York City has hit a "breaking point" amid the influx of migrants arriving from the southern border, Mayor Eric Adams is again defending his administration's response – this time, its plan to provide shelter for asylum-seekers at the Brooklyn Cruise Terminal in Red Hook, Brooklyn.
"I don't believe a lot of people are fully comprehending this is a crisis. This is a crisis and we have overwhelmed our infrastructure and our capacity to use the traditional methods," Adams said at an unrelated press conference Monday afternoon. He added, "We are responding to this crisis better than any other municipality – not only a bed, food, clothing, health care, educating children – it is commendable what New York City is doing to meet their moral and legal responsibilities." 
The center, the latest of the city's Humanitarian Emergency Response and Relief Centers, will be the fifth to open in response to the over 41,000 asylum-seekers who have arrived in New York City since last spring. Similar to the now closed tent facility on Randall's Island, the center will temporarily house and provide services for up to 1,000 single, adult men, until it reverts back to its original purpose in the spring, according to the mayor, when more cruise ships start docking in the city. The center's first occupants are already in the city. Men currently staying at the Watson Hotel in Midtown Manhattan will be relocated to the cruise terminal, as will other single men who arrive in the weeks to come. The Watson Hotel will pivot to serving asylum-seeking families with children.
Like the two now-abandoned centers that had been planned for locations other than hotels – Orchard Beach and Randall's Island – migrant advocacy groups voiced similar concerns over the Brooklyn Cruise Terminal's location. It's far from service providers and job centers, and a long walk to any subway stop.It's right on the waterfront, promising harsher weather. It's in a high-risk flood zone. All drew concerned reactions from advocates upon the announcement Saturday.
"Hotels have always been the better short-term option, in contrast to erecting tents in inaccessible parts of New York City that are prone to flooding," the Legal Aid Society and the Coalition for the Homeless said in a joint statement. "Continuing to move asylum seekers around the boroughs like chess pieces is callous and indicative of City Hall's failure to competently manage this crisis."
City officials have promised that the center will operate in a "fully-enclosed, temperature-controlled, indoor building with privacy partitions." Not a tent. However, the center's occupants will still presumably be staying in a congregate setting, on cots, not unlike the emergency center on Randall's Island.  
The city has so far opened 77 emergency shelters at hotels and four humanitarian relief centers. While no date has been given yet as for when the cruise terminal-turned shelter would open, officials said men should be moved in within the next couple of weeks.
Over the past week, Adams took separate trips to El Paso and Washington in part to amp up the pressure on President Joe Biden to provide New York City with federal aid. He said that the federal government and state must put in place a "decompression strategy" to help stem the influx of new arrivals and that his team is currently working on their own plan.
"If I can't get my national government to do a decompression strategy, I need to figure out a decompression strategy," Adams said Monday. "It's unfair to El Paso, Houston, Chicago, Washington, Brownsville in Texas – this is unfair to all of our cities. No city should be carrying the burden of a national problem."