Policy
Kathy Hochul's State of the State is out. What's in it for NYC?
Gov. Kathy Hochul said she wants to replace an affordable housing tax incentive and revisit one of Mayor Eric Adams' top priorities: bail reform.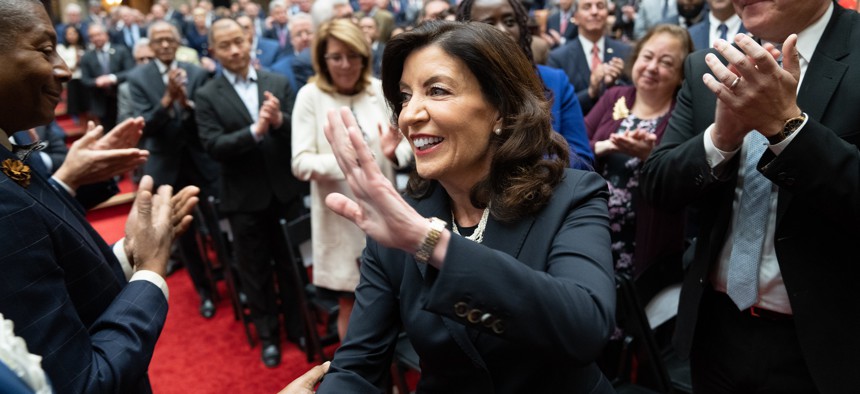 Only a handful of the dozens of local and state elected officials gathered at Gov. Kathy Hochul's State of the State address on Tuesday got a personal shout out in the governor's speech. New York City Mayor Eric Adams was one of them. 
Reflecting the outwardly friendly relationship between the two executives – at least friendlier than their two predecessors – Hochul thanked Adams for his partnership over their first years in office. "We've worked together very closely, Mayor Adams, and we have more battles ahead – but fortunately not with each other," Hochul said in her introduction to a crowded Assembly Chamber in the state Capitol. Adams' public schedule on Tuesday said that he also planned to meet with members of the state Legislature behind closed doors before the address.
But Hochul's address paid more than lip service to New York City. The State of the State, which outlines broad priorities for the state legislative session in a 277-page document, includes several proposals that directly target New York City or that have lingered on Adams' Albany wishlist. Going along with Hochul's primary focus on housing – she's committed to an ambitious target of creating 800,000 new units over the next decade – several of the New York City focused items are aimed at removing barriers to housing production and incentivizing the creation of more affordable units. Other items address one of Adams' primary focuses: public safety. Of course, it's still an open question whether the state Legislature will get behind Hochul's proposals – for example, to amend the state's bail reform laws.
Here are some of the more significant items in the State of the State that could directly affect New York City.
Removing barriers to residential building and conversion
Housing took center stage in the address, with the governor announcing a "New York Housing Compact" that would include rezoning for higher density in neighborhoods near train stations, fast-tracking project approvals in localities with lagging development and legalizing existing basement apartment units in New York City, among other priorities.
Hochul also included several proposals to ease restrictions on building within the city, such as amending a state restriction on maximum residential density and removing barriers to converting office buildings to residential units. The latter follows Adams' release on Monday of recommendations from a city task force for how to facilitate those conversions. Hochul also proposed a property tax exemption to incentivize the inclusion of affordable units in those office-to-residential conversions.
Finally, Hochul said that she would work with the Legislature to find a replacement for 421-a, the tax abatement program that incentivized the inclusion of some affordable units in new housing production in New York City. Last year, Adams advocated for a replacement for the program before it expired and a replacement proposed by Hochul failed to get support from the Legislature. "As I said in my plan to 'Get Stuff Built,' this administration is prepared to help meet the need for 500,000 additional homes in New York City over the next decade," Adams said in an emailed statement on Tuesday afternoon. "But we cannot meet that goal alone – we need some key state legislative changes to provide us the tools to build everywhere, faster, and with all our communities."
Amending bail reform
Hochul isn't quite going back to the drawing board on the state's 2019 bail reforms. But while she stood by what she described as the original goal of bail reform – ensuring that the size of one's bank account doesn't determine whether they sit in jail – Hochul said that it's not perfect. "I would say we can agree that the bail reform law as written leaves room for improvement," she said Tuesday.
Adams is one of the most persistently critical voices on bail reform from within the Democratic Party, and while the state did roll back parts of the law last year, it didn't go as far as the mayor had called for. One major aspect Adams has advocated for is allowing judges to consider a person's "dangerousness" when deciding on bail or potential release.
Hochul did not speak in great detail about what aspects of bail reform she wanted to take a second look at this year, but she did say she wants to eliminate the "least restrictive" standard for serious crimes. Judges use it to determine pretrial conditions, and Hochul pitched the change as a way to give judges more discretion in sending people to jail. Adams didn't immediately address it in his statement sent after the speech. 
Slowing down drivers
Allowing 24/7 speed camera enforcement was just the beginning. In another bid to give New York City more control over its streets, Hochul will introduce legislation to allow the city to adjust speed limits below the current floors of 25 miles per hour citywide and 15 miles per hour near schools. "Giving New York City the autonomy to change its speed limit can help the City determine how best to safeguard its own streets," the State of the State book read.
Last year, Adams and the city Department of Transportation advocated for state legislation that would allow the city to operate its 2,000 speed cameras 24 hours a day. Hochul signed the legislation in July.
Investments in mental health care
Citing a mental health crisis exacerbated by the COVID-19 pandemic, Hochul's State of the State included several proposals to improve mental health care for adults and children. Among them was a commitment to opening 150 new adult beds in state psychiatric hospitals, with 100 of the new beds coming to New York City. Hochul also said the state would bring about 850 currently "offline" inpatient beds at private hospitals across New York back in operation. The additional beds could complement Adams' directive late last year to involuntarily hospitalize people experiencing severe mental illness.
The State of the State also committed to creating 3,500 new housing units that offer supportive services and expanding mental health outreach teams for people experiencing homelessness. "New Yorkers see the mounting mental health crises around them every day, and solving this requires all levels of government," Adams said in a statement. "I applaud the governor's expansive investments in New York City's continuum of care."