Policy
Zoning fights may become political liabilities in upcoming 2023 NYC Council primaries
Everyone is talking about building new housing. With rezonings under the microscope, will development sway City Council elections?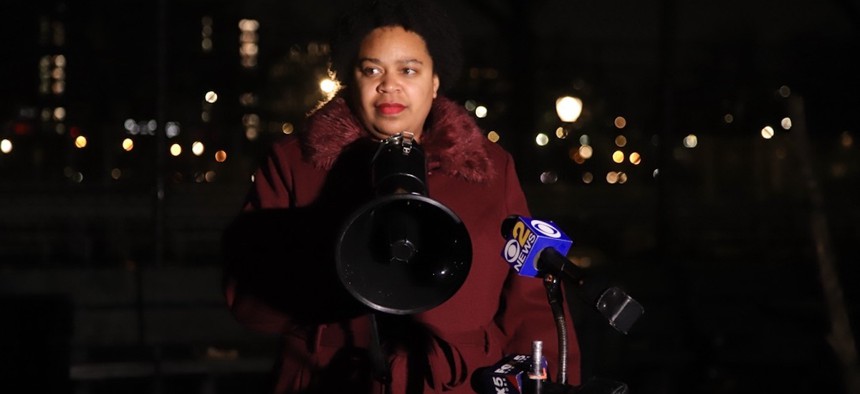 New York City Council Member Kristin Richardson Jordan is once again fighting a familiar foe. Standing before several dozen supporters at a busy Harlem intersection on the night of Jan. 3 – her birthday – she condemned a real estate developer's plans for West 145th Street and Lenox Avenue. What had originally been proposed as a controversial rezoning to build a two-tower complex had devolved into something nobody wanted. Months after Richardson Jordan's opposition to the One45 rezoning effectively put a stop to the plan, developer Bruce Teitelbaum said he'd open a truck depot on the block instead. Residents – already living in a district with the highest rate of childhood asthma in Manhattan and a high volume of environmental hazards – were outraged.
What Teitelbaum had originally pitched as a blend of retail and residential space faced significant political headwinds from the start. Though he eventually agreed to make half of One45's proposed 915 apartments subsidized to varying degrees, Richardson Jordan, Manhattan Community Board 10 and other locals fought hard against the proposal, arguing that the units still wouldn't be affordable to most households and that gentrification would displace longtime residents. For months, Richardson Jordan held firm in insisting all the apartments should be rent regulated, with 57% set aside for the lowest-income New Yorkers. Now with no affordable housing on the table and the truck depot moving forward after Teitelbaum retracted his plan in May before it went to the City Council for a vote, she's bearing the brunt of the fallout.
"I did something really drastic and I said 'no.' Some may even call it political suicide," Richardson Jordan said into the megaphone. She paused for a moment.
"No, not as long as we can help it," a woman's voice rose above the swell of clapping. "We've got your back, we've got your back," a man said from somewhere in the crowd.
"But here's the bigger thing: It wasn't me. It was all of us. It was a community. I see people who were here with us last year, and you are here again," the council member continued. "God bless you."
Although much about the council's June primary elections has yet to take shape, one question circulating is whether Richardson Jordan, a proud Black socialist, will lose her reelection bid. Given the strength of the candidates who've already announced their intention to run for the District 9 seat, the way she handled One45 could be one nail in the coffin of her first term. However, it could be exactly the opposite: the fact that she didn't waver in demanding truly affordable housing demonstrates her commitment to the community.
Several other progressive council members, albeit probably to lesser degrees given that the projects ended up moving forward, are also likely to take political hits in the months ahead for their initial opposition to real estate proposals. Developers have always had a major influence on local politics – but now the dynamics may be changing amid a growing sentiment that more housing needs to be built.
Cat and mouse game
As the city wrestles with a severe lack of housing, New York City Mayor Eric Adams, Gov. Kathy Hochul and City Council Speaker Adrienne Adams all have plans to encourage housing production and set lofty goals for the next decade: Hochul with 800,000 units and Adams with 500,000. Building more affordable housing is necessary because recent city numbers show a vacancy rate less than 1% for the city's most affordable units. But while city leaders argue the crisis can't be solved without private development and every neighborhood doing its part, battles have long waged between City Hall and council members acting on behalf of constituents worried that new development would raise prices or change their neighborhood's character.
There are a few exceptions in which a proposal has been greeted with a swell of community support from the onset, though this is rare and typically only when developers propose 100% affordable housing or units specifically for seniors, veterans and other vulnerable groups, according to George Fontas, a political consultant who has real estate firms among his lobbying clients.
"There's always been this cat and mouse game when it comes to rezonings between the development team and the elected official. The elected official is also pushed and pulled by their local community," Fontas said. "It's that dance that typically delivers more than what was proposed in the beginning if it passes. That's OK. A win-win is what we are striving for."
Because of the City Council's tradition of member deference, the body almost always lets the local representative decide whether or not a real estate project requiring council approval moves forward. Richardson Jordan is far from the first elected official to unofficially veto a real estate proposal in their district. But now there are indications that some elected officials' frequent opposition to real estate development proposals in their districts is beginning to lessen.
Pushback against Richardson Jordan has been fierce. Her Twitter mentions were hit by a barrage of pro-development accounts criticizing the role she played in stopping the One45 rezoning and blaming her for the developer's plan to open a truck depot. Her personal Twitter account appeared to have been deactivated some time after she shared plans for the Jan. 3 rally. Several high-profile candidates, including Assembly Member Al Taylor, criminal justice advocate Yusef Salaam of the Exonerated Five and Assembly Member Inez Dickens, have also declared their intentions to primary her. Incumbents are rarely unseated, but Richardson Jordan was already vulnerable, as a socialist in a relatively moderate district who has taken heat for her comments defending the Russian government's invasion of Ukraine, among others. Her unwillingness to compromise on a rezoning to build housing could be yet another major factor.
"She was already a target for people in that community to be challenged before any decisions that she made on real estate. She made a very public decision to oppose that project," Fontas said.
When asked whether the One45 proposal had anything to do with him deciding to run, Taylor said he was motivated by wanting to bring resources to the community as well as not wanting to "leave anything on the table" that longtime residents could benefit from. If he'd been the district's council member when the project was first proposed, Taylor said, he'd have sat at the table with Teitelbaum to work out a compromise that would still bring housing to the community.
"I think if we're at the table talking, it's different than when you're talking at each other. When you take the helium out of the room and everybody is back down and sitting in the space, what is it you want? What is it you hope for? It may not be any one person's way of what they walked into the room expecting to get," he said.
Richardson Jordan declined to answer any questions about the election, beyond saying "the old guard that sold us out will never be for us."
Rezonings may get more attention in the upcoming elections for another reason: The council hasn't done much yet. Thanks to a two-year election cycle, first-term incumbents don't have a long voting record to run or be targeted on yet, potentially further throwing any stances they took into the spotlight.
Council Member Julie Won of District 26 will also probably be hit on her initial opposition to a local housing project. She received pushback from labor unions and other pro-housing groups as she withheld her support from the $2 billion Innovation QNS mixed-use development in Astoria, Queens, for months. Many of Won's constituents and community organizations rallied repeatedly against the proposal, arguing that the luxury buildings would drive up rents and force residents out. After intense negotiations with developers to get them to bolster their affordable housing commitment – and more than a little pressure from the speaker's office and other stakeholders – Won agreed to terms in November.
No competitive challengers have emerged yet in that race, but many council watchers are keeping an eye on the district, with the Innovation QNS negotiations serving as a possible catalyst for a run.
Changing winds
Some feel that the housing shortage and lack of affordable options is pushing the council to embrace a more pro-housing direction. In addition to Won, a string of other progressive City Council members approved projects that they might have previously rejected.
One of those was a rezoning on Bruckner Boulevard in the East Bronx, in which half of the proposed 350 homes would rent at below-market rates. Although Council Member Marjorie Velázquez initially opposed the proposal, as did many outspoken residents in the area, she gave it her support, with some encouragement from the mayor's office and the speaker's office, after the developer said they would add housing for seniors and veterans.
"I didn't shift my stance, the project changed. No one benefits if we aren't willing to negotiate, and that's what this was, conversations and negotiations that created a project that fits the community and will benefit local residents," Velázquez said.
Another project in Central Brooklyn eventually earned the backing of Council Member Crystal Hudson, who had shut the project down when she first took office last January, citing concerns about gentrification, and that she hadn't been involved in reviewing the proposal. The original plan for the two-tower, 400-apartment proposal would have rented 25% of its units at below-market rates, but Hudson, pushing the developer for 50%, ultimately agreed to 35%.
And when developers approached socialist Council Member Tiffany Cabán about a project that would bring around 1,300 apartments to the East River waterfront in Astoria, many expected her to refuse. Instead, after initial reservations, Cabán negotiated to lower the income levels for 335 affordable units at the site. She told The New York Times that while she would prefer public housing or locally owned housing, not approving the Hallets North development would run the risk of the land instead being used as a truck depot or a parking lot for delivery vehicles.
"There's a real understanding starting to go further and further out across all five boroughs that housing production can't be taken on by just one part of the city – it has to be a citywide effort," said Ryan Monell, the Real Estate Board of New York's city vice president of government affairs.
He said many people in the real estate industry feel Adrienne Adams has stepped up to demonstrate the council's priorities – so much so that her pro-housing stance has begun "trickling down throughout the rest of the council." He pointed to her leadership as well as Eric Adams' receptiveness toward development as big reasons why some controversial projects ended up winning council backing toward the second half of 2022.
Varied landscape
Although the organized constituency for development is relatively new and growing, those who stand against more housing – be it concerns about displacement or NIMBYism – certainly continue to wield influence.
Many New York City housing activists don't believe that private development is capable of effectively and equitably creating affordable housing because housing that rents for less doesn't generate enough money for profit-driven developers.
"The only way we are going to really make any new housing be affordable is if both the city and the state do their part to fund that widely available rental assistance for low-income people," said Cea Weaver, campaign coordinator for Housing Justice for All.
A lot can happen between now and June in the District 9 race. Richardson Jordan said the rally against the truck depot was just a start.
Some, like Carlos Menchaca, a progressive former council member in Brooklyn, felt people too often forget about council members' deep relationship with their community. His strong opposition to a proposal to rezone Sunset Park's Industry City to promote development led to its defeat in 2020. He sees Richardson Jordan's opposition as a strength – the trick will be effectively conveying her reasons for doing so to her constituents.
"I think she's demonstrated incredible leadership in really confronting very powerful interests," Menchaca said. "With such a short reelection cycle, I think she has one of the stronger stories to tell about what it takes to stand up and how she wants to reframe the engagement between a district like hers and the city of New York and developers. That's going to benefit anyone whether you are pro or against the project."