Housing
Kathryn Garcia: 'Things are coming together' on Hochul's housing plan
Governor's bid to build 800,000 units 'not dead on arrival,' according to her director of operations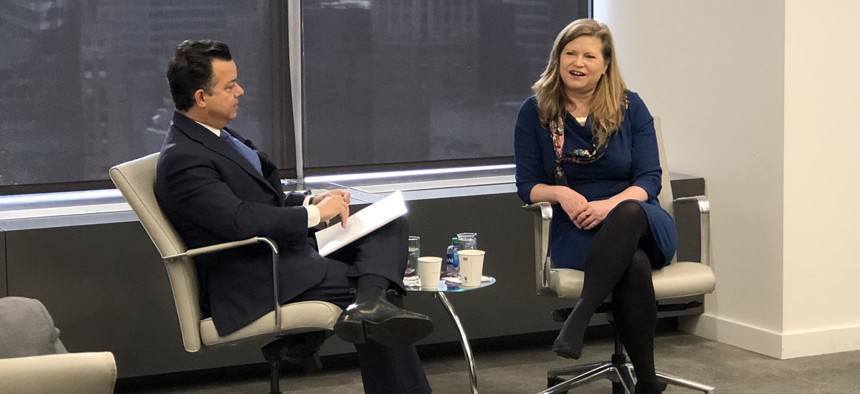 Director of State Operations Kathryn Garcia expressed optimism for Gov. Kathy Hochul's housing plan Wednesday – even as her approach to the state's housing crisis has received a mixed response.  
"I actually am excited things are coming together, and it was not dead on arrival – which is often the case whenever you talk about this," Garcia said, speaking at a breakfast hosted by the good government group Citizens Union.
Ahead of budget negotiations in the coming month, Garcia echoed the governor's stance that every community across the state has to do its part to mitigate the housing crisis. When talking about the logistics of building 800,000 housing units, Garcia said the administration will be taking a pragmatic approach that involves giving each community the freedom to get to their designated housing goal in any way they see fit. Communities will have the autonomy to determine how they'll reach their respective housing goals and the type of housing they'll build. 
Garcia asserted there isn't a singular housing plan that will be used to build housing in every community across the state. "There is no specific cookie-cutter plan that's going to work in every single community. We're going to let each local community design what it is that they should be doing so that it meets their needs," Garcia said.
Part of the governor's plan for increasing housing across the state includes building housing units near transportation hubs. The director underscored the importance of New Yorkers being able to live and work around transportation. According to Garcia, the one area where the administration is prepared to give direction on how to build housing are areas where the state has made "large investments in transportation infrastructure."
For the past several months, the governor has indicated her commitment to prioritizing housing this legislative session. Hochul made her housing plan – to build 800,000 units across the state over the next decade –  a key focal point of her State of the State address. The plan requires cities, towns and villages across the state to achieve new home creation targets on a three-year cycle. Downstate communities will have a 3% growth target and upstate communities will have a 1% target over the next three years.
"New York faces a housing crisis that requires bold actions and an all hands on deck approach. Every community in New York must do their part to encourage housing growth to move our state forward and keep our economy strong," Hochul said of the plan at the time.
Supporters of the plan say it will address the prevalent affordable housing issues in communities, such as New York City – where the demand for housing units outweighs the supply and more than half of residents are rent-burdened. Meanwhile, critics of the plan – including some affordable housing advocates and anti-development so-called NIMBYs – argue the governor's plan will not address long-term aspects of the housing crisis plaguing the state, or that it may put an unnecessary strain on the communities building housing.
In addition to the housing crisis, the state has also suffered major population losses since the start of the COVID-19 pandemic. Along with affordable housing and public safety, Garcia asserted that creating more affordable housing units is pivotal for stemming the tide of population loss. "The biggest nut to crack for a young family is housing and knowing that you're able to raise your own children here," Garcia said.
Garcia joined Hochul's administration in 2021, months after coming in a close second place to Eric Adams in the Democratic primary for New York City mayor. She said she doesn't support open primaries, a major priority of Citizens Union, when asked by the event's moderator, CNN journalist John Avlon. "Join the party," if you want to vote, she said. 
Garcia was also asked about the status of the proposed AirTrain to LaGuardia Airport. She said she expected the Port Authority to share its new review of transportation options with Hochul "in the coming weeks."
When asked about the recent bitter nomination fight over Hochul's controversial chief judge nominee, Hector LaSalle, Garcia said both sides – state Senate Democrats and Hochul – had "strong feelings," but will need to come together to negotiate the state budget. "At the end of the day, we got to get through the budget," Garcia said. "That means we all have to talk to each other in order to make it so that we end up with the best investment."
Powered By
NEXT STORY: Rent protections stand out in state Legislative session