Policy
Is the NY Democratic Party ready to stop ignoring renters?
After a rough election cycle focused on crime and abortion, the state with the most renters in the country might be pivoting to housing at last.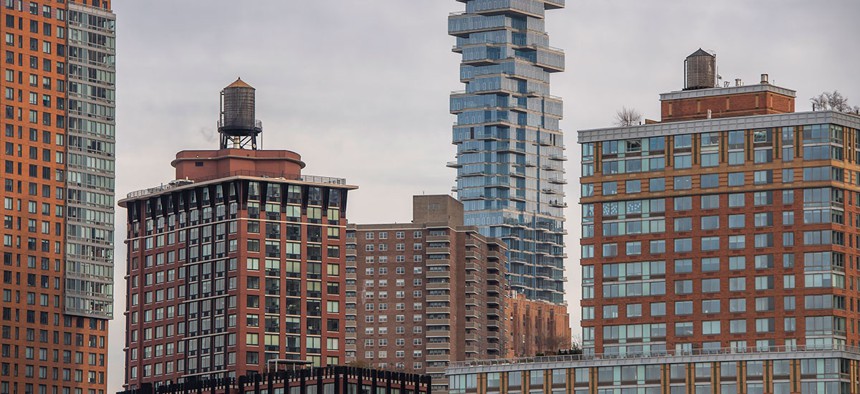 Dorca Reynoso has seen New York's affordability crisis firsthand. In 2014, the rent for her one-bedroom unit doubled from $625 to $1,250. The single parent and sales representative has faced eviction, tenant harassment and building neglect. New York City has even filed over 150 housing violations against her apartment complex. It's Reynoso's experiences as a renter that drew her into political activism and issue organizing.
The Inwood resident has volunteered on several Democratic primary campaigns, advocates for "good cause" eviction and is on the board of the Met Council on Housing. In her spare time, she organizes other tenants in her neighborhood. She's benefited from Democratic policies like eviction moratoriums and rent relief but also wants permanent policy solutions. 
"This is extremely personal for me. I'm fighting to not become homeless. I am extremely motivated to protect my community – it's about me, about my son, about people that are like me – women, women of color," Reynoso told City & State.
Reynoso's story highlights the salience of housing as a potent political issue in state politics. Half of New York state residents rent, the highest proportion in America, and they are a core constituency of the Democratic Party – choosing Democrats at the ballot box by nearly 30 points. Housing status – alongside race and income – is a crucial determinant of a community's voting power for Democrats. At least it should be.
While renters vote overwhelmingly Democratic, a large turnout gap persists between them and homeowners, a dynamic on display during November's general election. Suffolk County, where 80% of residents own their homes, outvoted Brooklyn, where 70% of residents rent – despite Suffolk having 1 million fewer residents. Statewide, 63% of Republicans voted compared to 47% of Democrats. 
But formal Democratic Party structures haven't created robust renter mobilization efforts despite potential electoral upsides. And affordability issues were largely absent from 2022 statewide Democratic campaigns, which focused on crime and abortion. 
The state party doesn't even list housing as a priority on its website. A scan of Gov. Kathy Hochul's campaign ads on Google's political ad tracking tool shows none focused on housing costs. Hochul's ads lean heavily on abortion, gun control and former Rep. Lee Zeldin's anti-democracy stances. Rhetoric at Hochul's rallies repeated those themes while parrying attacks on bail reform. 
A missed opportunity
Crime dominated local New York media, but polling heading into campaign season indicated that inflation was also shaping the mood of the electorate. Cornell University's Empire State Poll found New Yorkers ranked the cost of living as the biggest issue facing the state, followed by crime. The sentiment held across regions. 
But the party stayed focused on abortion messaging and didn't begin extra efforts to mobilize rent-sensitive voters. This failure became clear in tenant-rich New York City, where the city's statewide vote share fell from 35% to 30% of votes – a drop that was partially responsible for Hochul's close election against Zeldin. Hochul won by the narrowest margin in decades.  
And low turnout in Brooklyn produced one of the biggest upsets of election night. Republican Lester Chang bested longtime Assembly Member Peter Abbate Jr. by 600 votes in Assembly District 49. Abbate received only 6,800 votes despite there being 27,000 registered Democrats in his district. 
Democrats in other areas of the state that saw focused tenant organizing showcased more electoral resilience. Rep. Pat Ryan's Hudson Valley seat is home to Kingston and other cities where there has been intense tenant activism. Kingston's Ulster County had a 67% Democratic turnout and helped power Ryan's 3,600 vote margin. 
For his part, Democratic state Party Chair Jay Jacobs said Democrats overemphasized abortion as a campaign item which didn't have the same electoral upside it did in other states.
"Most voters did not believe that abortion or women's reproductive rights were under threat by any means here in New York," Jacobs said.
Campaigning on housing
Assembly Member Sarahana Shrestha, whose district overlaps with Ryan's, knocked off an incumbent this summer to become the first Democratic Socialists of America member elected to the state Legislature north of New York City. Shrestha ran with strong support from many tenant organizations that were involved with Kingston's successful push for rent stabilization. In November, Shrestha received 36,000 votes in a district with 48,000 registered Democrats. 
In a call with City & State, Shrestha said the success in Ulster County was due to strong get-out-the-vote efforts and engagement with renters who benefitted from local policies. 
"Specifically to housing and renter issues, we never stopped working on that," said Shrestha. "We didn't stop campaigning and knocking doors after the primary. We went all the way until November."
Ithaca was also home to grassroots tenant mobilization and high Democratic turnout. Tompkins County had a 65% Democratic turnout and helped push state Sen. Lea Webb to an election victory in a traditionally Republican seat. 
In 2021, Ithaca's local Working Families Party, Democratic Socialists of America, and tenants union collaborated to create a "Solidarity Slate," a joint project that aimed to place renters onto Ithaca's Common Council. The slate also supports progressive goals like free transit. 
The slate has had several electoral victories and, in June 2022, successfully primaried a common council member who stalled local efforts to pass "good cause" eviction legislation. "Good cause" eviction ordinances prohibit landlords from ending a tenancy unless there is a lease violation and often limit how much rents increase per lease.
Genevieve Rand, a steering committee member of the Ithaca Tenants Union and an organizer with the slate, says housing issues are a powerful vehicle to engage working-class voters and those new to politics. 
"It's especially salient at the local level because municipalities have so much of a role in the material housing circumstances that people face," Rand said. "If you're going to get involved in local politics this is an area of your life where it's really, really relevant."
City & State spoke with a tenant from Kingston – a lifelong Republican – who even switched parties due to local Democratic lawmakers' support of new rent relief measures.  
"I was a Trump supporter, so I went all the way from one side all the way to the other," said the tenant, who asked to remain anonymous due to fear of tenant harassment. 
Rand says the tension in the Democratic Party over tenants rights stems from party leaders wanting to have it both ways – desiring tenants' votes and real estate industry donations.
"The real estate lobby is the largest political lobby in the state of New York–money wise–and a lot of that goes to Democrats," Rand said. 
In fact, the real estate industry has poured millions into Hochul's reelection campaign. According to a report by NY1, more than a quarter of the donors who gave Hochul's campaign $50,000 or more were tied to real estate. 
Renter-friendly policies
During the 2022 legislative session, Democrats left a host of unfinished housing reforms on the table, and lawmakers say that hurt the party heading into campaign season. Now there is renewed urgency to tackle unfinished policies like basement legalization, "good cause" eviction and emergency housing vouchers.
Assembly Member Harvey Epstein, who has led efforts to legalize basement apartments, expressed optimism about this legislative session and the attention housing issues are receiving. 
"We see how important renter issues are. We see how important housing stability is. We see how important it is to legalize basements. We see how important 'good cause' is," said Epstein. 
Assembly Member Pam Hunter, the sponsor of statewide "good cause" legislation, says Democrats' housing policies play well with the broader electorate and housing is key to driving down inflation, but the party didn't connect the issue enough to cost of living during the last election. 
"There was no correlation to: 'Hey, it's more than just gas that you're paying more for. It's also housing. Hey, we can help you with that,'" said Hunter. 
Hunter stressed that renter affordability impacts areas across the state outside of city centers and can broaden the party's reach to voters who are not traditionally Democrats. 
"This is rural area problems too," said Hunter. 
Now, Hochul has made housing a key part of her agenda, proposing bold zoning reforms that would ease a crushing housing shortage. Legislative leaders are quickly moving to address tenant priorities; the state Senate Housing Committee recently advanced bills establishing an emergency housing voucher program and legalizing basement apartments in New York City.
Jacobs said Hochul's plans indicate how seriously Democrats are prioritizing housing even when it is controversial in swing suburbs.
"The lack of housing and lack of affordable housing is a critical issue, and that's why you see Gov. Hochul focusing so much attention on it," he said. He added that the party would be adding housing as an issue on its website.
Basil Smikle, a former executive director of the state Democratic Party, said Democrats must focus on creating pathways to homeownership and economic opportunity, especially as high costs push residents out of state. Their electoral future depends on it. 
"If Democrats aren't going to talk about affordability, Republicans are. Who's going to get that vote, right?"
Pete Tomao is a freelance journalist covering housing in New York City.