Infrastructure
Part of Adams' Albany agenda: building stuff faster
The comptroller and City Hall officials headed to Albany to lobby for capital process reforms.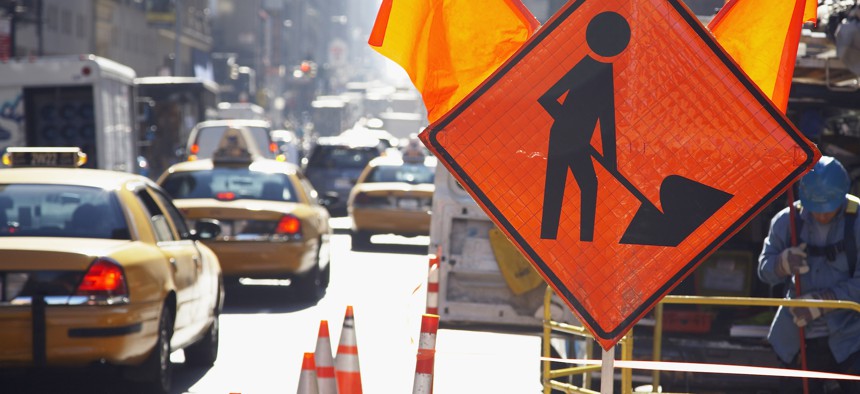 It takes too long, and costs too much to build a public bathroom in New York City – let alone a statue, or a library. But New York City Mayor Eric Adams and city Comptroller Brad Lander say speeding up the city's broken capital process is near the top of their legislative agendas in Albany this year. And Lander and top City Hall officials headed up to the Capitol to lobby legislators Monday and Tuesday to push a package of reforms they claim will get stuff built and get stuff fixed a lot faster.  
"The first capital project I ever funded was a dog run, and it took five years and cost twice the budget," Lander told City & State, reminiscing on his days as a City Council member. But take any project – park bathroom, school science lab, storm sewer – "the vast majority of them go over budget, and take much longer than they're projected to."
Four of the nine pieces of the package were already included in Gov. Kathy Hochul's executive budget, including a law change that would allow "alternative project delivery methods," like construction management-build and progressive design-build. That combines multiple parts of the construction process into the same contract, and supporters say cutting down the steps would save the city time – and money. 
But five other bills weren't included, so the city leaders are talking to legislators, trying to get them included in the forthcoming one-house budgets. That includes updating a policy that requires the city to hold a public hearing on every single contract of $100,000 or more. Nobody shows up to these hearings anyway, and they add three weeks to the execution of every contract, Lander said. The city also wants to create a pilot program to test different insurance options for minority and women-owned business enterprises and small contractors. The city is also looking to turn its Department of Design and Construction into an authority, like the School Construction Authority or NYCHA. DDC Commissioner Thomas Foley explained that would eliminate steps in the procurement process and help with hiring, by offering higher salaries and speeding up the process. 
Adams and Lander come from different political camps, so they're particularly proud of working together on this. Lander roamed the halls of the Capitol and the Legislative Office Building Monday with Foley from the DDC, Deputy Mayor for Operations Meera Joshi and Mayor's Office of Policy and Planning Director Sherif Soliman, plus some construction industry players. They met with state Sens. John Liu and James Sanders, and Assembly Members Helene Weinstein, Ed Braunstein, Ken Zebrowski and Rodneyse Bichotte Hermelyn, among others  "None of them had ever seen that," Lander told City & State. "No one recalls a time when City Hall and the comptroller lobbied together like this, even on an issue as common sense as procurement reform."
The lobbying effort came out of a Capital Process Reform Task Force that included representatives from contractors and labor unions. Reforms like allowing more design-build have died in Albany before, but the Adams administration is making a real push, and seems to have worked hard to bring labor unions – which have been skeptical in the past – on board. After all, the faster projects get done, the sooner new contracts can go out. "The city's notoriously bureaucratic capital process has long been in need of comprehensive reform," Soliman said in an emailed statement, "and under Mayor Adams' leadership, we have a unique opportunity to shave years off project delivery, save taxpayer dollars, and increase participation in the process."