New York State
After three years, New York's fight against COVID-19 slows down
There are still testing sites and information hotlines, but the era of mandates is over.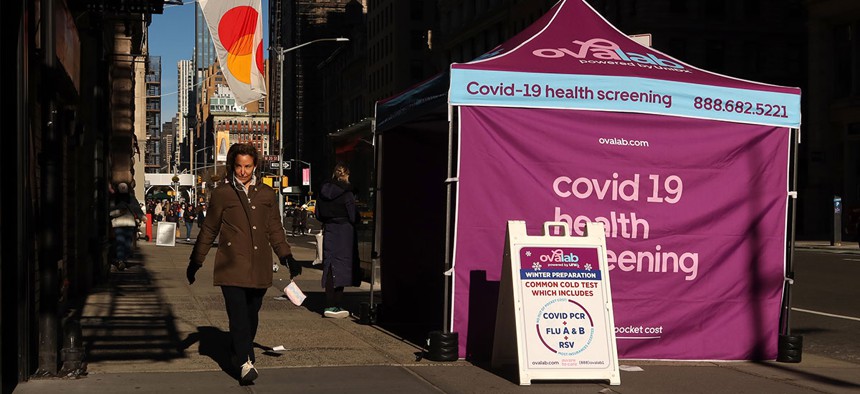 In March 2020, as recorded cases of the coronavirus grew exponentially in New York – from one to 89 to 75,795 in just 30 days – many residents started to turn to the daily news briefings of then-Gov. Andrew Cuomo for the latest information about the overwhelming and deadly virus.
A year later, when vaccines became more widely available (though not quickly accessible), many eagerly awaited appointments on websites and phone lines managed (though not always well) by New York City and the state. Dave Chokshi, the then-New York City health commissioner, could regularly be seen encouraging vaccinations in televised PSAs. When the number of people getting vaccinations began to slow that summer, the city offered $100 incentives.
Today, three years since New York's first confirmed case of COVID-19, the role of elected officials and government in fighting COVID-19 has evolved into a less restrictive and less visible one.
New York City still connects New Yorkers to vaccine providers, even if it doesn't mandate vaccination for employment or entertainment anymore. Though the city has increasingly focused on offering at-home tests, in-person testing was still available at 19 Health + Hospitals and Gotham Health sites as of December as well as at additional mobile Test to Treat units – which offer immediate access to the antiviral drug Paxlovid. New York state operates vaccine and treatment hotlines, and Gov. Kathy Hochul's office sends out almost daily press releases on COVID-19 statistics – albeit without props or PowerPoints. And while current New York City Department of Health and Mental Hygiene Commissioner Ashwin Vasan may not be as ubiquitous as Chokshi, he has recorded a few of his own PSAs.
As Mayor Eric Adams suggested last year, the fight against COVID-19 has changed because COVID-19 has changed. Even faced with more transmissible variants, widely accessible vaccines offer strong protection against severe illness and deaths.
"We're not going to hold on to something that's an old weapon merely because we had it," Adams said in July, when he announced that the administration would "reevaluate" an alert system that was purportedly meant to guide the city's reimplementation of measures like mask and vaccine mandates based on the latest COVID-19 data. "We're going to create new weapons to fight this new war."
But this new war is still one that is claiming the lives of New Yorkers, with the total number of deaths in the state at nearly 62,000. Health experts continue to point to low booster shot rates despite high initial vaccination rates, confusing public information, hospital staffing shortages and the heightened threat of infection to vulnerable populations. "For some New Yorkers, COVID has faded into the background. But for others, the virus is as worrisome as ever," New York City Council Member Lynn Schulman, chair of the Health Committee, said at an oversight hearing on COVID-19 last month. "For those who are older, immunocompromised or HIV-positive, the risk is especially real, and guidance on how New Yorkers should go about protecting themselves is minimal and confusing at best."
New York City Council Member Mercedes Narcisse, who chairs the Hospitals Committee, added that she's concerned the state's recent lifting of the mask mandate in hospitals could be dangerous for health care workers and patients. (Individual institutions can choose to maintain mask requirements, however, as New York City Health + Hospitals has done.)
In his testimony at that hearing, Vasan offered a reminder to all New Yorkers: "COVID-19 is still here and is a part of our new reality," he said. "However, I also want to reassure everyone that this is a reality for which we now have proven strategies to manage."
How exactly those strategies from the city, as well as from the state and other local governments, will evolve in the face of potential surges or new variants remains an open question. But several lawmakers and epidemiologists said there's plenty New York can do now to not only prepare for surges or more dangerous variants, but also for the next pandemic. "When we're pulling resources and attention away from the here-and-now measures like wearing masks, I think we can redirect those resources into some of those long-term investments, like how do we have healthier air in our buildings," said Anna Bershteyn, an assistant professor of population health at the NYU Grossman School of Medicine.
And while vaccination is no longer mandated, Bershteyn said that governments can have a role to play in removing barriers to vaccination, including paid time off for those who experience temporary side effects, offering vaccinations in schools or workplaces, or even bringing back cash incentives for those who stay up-to-date with their boosters.
Denis Nash, a professor of epidemiology at the City University of New York, said the virus surveillance efforts during the pandemic – including wastewater surveillance – were important building blocks but could be greatly expanded. "We hear very little about what's being detected in wastewater," Nash said. "The only pathogens we've really heard about are COVID and polio. But there should have been a very, very strong wastewater surveillance program in place over a year ago that could have covered variants for COVID and a bunch of other pathogens that would really help us get a better handle on early detection of surges." As it stands, data from New York City's wastewater surveillance isn't shared on a public dashboard, and it's not entirely clear how that data shapes the city's health policies. In late January, the state announced that it would expand its wastewater surveillance program, including new pilot programs to test for additional pathogens like influenza and RSV.
Today, mask-wearing and vaccinations are a matter of recommendation and strong encouragement. Several people expressed doubt that New York would get back to a place of mandating those kinds of protective measures. Manhattan Borough President Mark Levine, who acknowledged he's among those who would have liked to see some of those measures, said that he'd like to see a system in place to lift and reapply those measures as needed. But mandate fatigue and politicization would be difficult to overcome. "It's been a long three years. I think we can't underestimate the damage done by the politicization of public health measures. And that has had deadly consequences," Levine said. "It worries me about whether we'll be able to react with speed and effectiveness during the next surge."
"On the one hand, people are certainly sick of restrictions and mandates, and would be very happy to just go back to life and not look back," Bershteyn said. "On the other hand, we're all so educated now, not only about the benefits of masks, but even different types of masks."
Perhaps the most difficult work ahead, Levine said, is building public trust in the health information and policies that come out of governments. "There was almost a wartime collective spirit during those early days of the spring of 2020 that saved probably tens of thousands of lives," Levine said. "I worry whether, presented with a threat of that magnitude, whether we as a city would be able to pull that off again. I don't actually have the answer to that."