Technology
Broadband summit brings light to connectivity disparities across New York
Government leaders and industry experts at City & State's Broadband For All event revealed the details and challenges posed by Gov. Kathy Hochul's massive broadband expansion plan.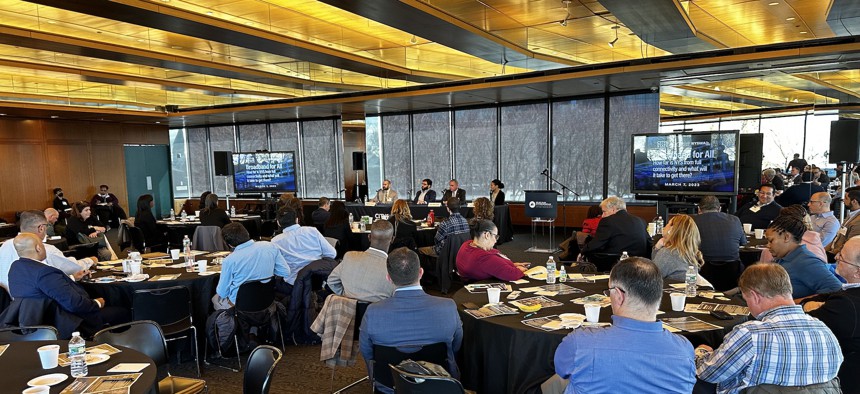 Local and state leaders along with industry experts gathered at City & State's Broadband for All event on Tuesday to address key connectivity issues that have prevented New Yorkers from accessing broadband in New York City and throughout New York state. 
Panelists at the event held at the Museum of Jewish Heritage in Manhattan discussed in detail Gov. Kathy Hochul's ConnectALL initiative, a massive state-wide broadband infrastructure plan that aims to bridge the digital divide by ensuring affordable internet access to unserved and underserved New York residents. 
Keynote Speaker Hope Knight, president, CEO and commissioner of Empire State Development, opened with the importance of bridging the digital equity gap, as New Yorkers rapidly shifted to remote work during the pandemic. 
"Internet connectivity is one of the greatest challenges of our generation. The COVID-19 pandemic exposed how inaccessible and how unreliable broadband connection was for many New Yorkers," Knight said. "Even as we emerge from the pandemic, we know that closing the digital divide is critical to unlocking economic growth and reducing inequities in our society. By connecting families to high-speed internet, we are connecting them to jobs, opportunities and services."
Knight and Joshua Breitbart, senior vice president of ConnectALL at Empire State Development revealed the infrastructure plans and initiatives slated by Hochul's billion-dollar broadband project. 
"Last year, the governor launched the historic ConnectALL initiative. This is the largest ever investment in New York's digital infrastructure," Knight told attendees. "With more than $1 billion in new public and private investments, ConnectALL will provide full access to New Yorkers in both rural and urban areas and continue New York State's leadership and conductivity." 
The project plans to bring affordable broadband connection to nearly 1 million New York residents in underserved communities across New York City and throughout the state, through capital investments in infrastructure, regulatory reforms and digital access and equity programs. 
"The ConnectALL all program is a combination of different programs, including a rural broadband grants program with tools like investments in municipal and public infrastructure; investments in affordable housing, connected connectivity and innovation, which creates opportunities for collaboration with the wireless sector; and digital equity, which includes digital literacy programs, access to devices and getting opportunities to contribute to the vision of digital access across the state," Breitbart explained.
ConnectALL will receive aid from several federal funders who will help bring broadband access to remote locations and hard-to-reach populations. Wendy Lader, northeast director of the National Telecommunications and Information Administration spoke of the BEAD program (Broadband Equity, Access and Deployment program) and the role of federal partners in bridging the digital divide.
"This is a historic investment and we believe that we really can connect all Americans through this program. [The BEAD program] is really the infrastructure program – we need to connect the remaining approximately 2% of those New York households and businesses that are not yet connected," Lader said. "States will invest $42.45 billion across the U.S. in making sure that we are connecting the underserved, the unserved and community anchor institutions if possible."
Once these unserved and underserved are reached, the investment infrastructure intends to provide connectivity and devices to community institutions, hospitals, libraries and universities – which will spur modernization and local economic growth.
Assembly Member Carrie Woerner, chair of the Assembly Committee on Libraries and Education Technology, urged digital infrastructure investment in rural New York state communities.
"What our communities need is a communications infrastructure that supports their ability to transact their life, whether they are in motion or stable in one location. And that's what modern life requires," Woerner said. "So we can't we can't talk about cell service separate from our conversation about broadband, we have to talk about them all together."
The issue of increasing mobile cell phone accessibility in rural parts of the state was raised by panelists who highlighted safety risks amidst the increased reliance on cell phones as a primary source of work. "I think we've reached our point of fixed access, but the next new developments are really going to be in wireless and mobility," stated Stephan Keegan, counsel of government affairs at the Wireless Infrastructure Association. 
Zach Gold, director of cable/broadband & special projects at the New York City Office of Technology and Innovation echoed this sentiment and noted the importance of investing in wireless broadband in addition to wired connectivity in homes. Gold also pointed to connectivity and affordability challenges anticipated by broadband expansion, and suggested tools such as reduced pricing to increase participation.
"Part of it [tools to increase utilization] is definitely pricing. If you can drive prices low enough more people will adopt," Gold explained. "The fact is that for some people affordability is going to mean free, there's always going to be a population that can't afford them at any price. And it doesn't mean they don't need access to the internet, they still do. So, getting the price down to a point where anybody can access it in this case, free is huge."
Panelists underlined increasing connectivity as the foundation to economic development. Keegan noted that one of the biggest economic incentives derived from statewide projects like ConnectALL will be the increase in workforce recruitment through partnerships with industry and government which provides revenue streams to local communities as the city outsources workers to meet spikes in telecom demand. 
"The workforce component is super critical, so I think partnering with local community colleges has had great successes … The great thing is that these (jobs) are not necessarily four-year education required jobs, a lot of it is through apprenticeship programs or through community colleges where students can earn while they learn," said Keegan. 
Keegan continued that outsourcing workforce will lead to a cycle of economic revenue, as telecom workers can apply their skills to build long-term careers within their communities, which will further economic development and modernization. 
"Investing in our broadband connectivity is investing in economic development. It's investing in our future. Together, we're closing the digital divide, growing our digital infrastructure and supporting digital equity for all New Yorkers," said Knight.
Powered By
NEXT STORY: NYC hopes to relocate asylum-seekers to other places