Policy
Closing Rikers would be 'physically impossible' at current population, jails boss says
Department of Correction Commissioner Louis Molina continued to cast doubt on the timeline to house the city's incarcerated population at borough-based jails by 2027.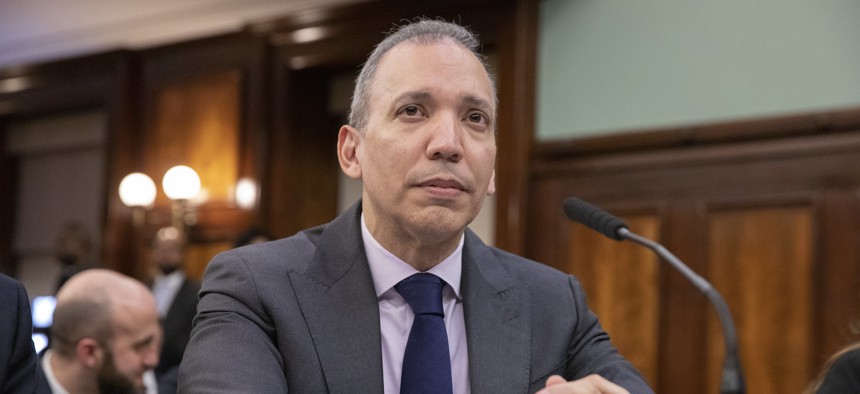 In the past month, New York City Council Speaker Adrienne Adams has emerged as a particularly energetic voice in the ongoing calls to close Rikers Island. 
She highlighted the mandate to close the notorious jails complex by 2027 in her State of the City address earlier this month. A week later, she joined her colleagues and other city elected officials in pushing back on news that construction on one of the four borough-based jails might not be finished until 2029. And at a preliminary budget hearing for the Committee on Criminal Justice on Thursday, she reiterated the need to close Rikers and offered broad ideas – like expending mental health diversion programs and supportive housing – to help the city get there.
"For both public safety and human rights, we must close Rikers by 2027 as mandated by law," Adams said in opening remarks at the hearing, which featured testimony from the Department of Correction along with the Board of Correction and the Department of Probation.
But in the face of those calls from the council's leader and many of its Democratic members, Mayor Eric Adams' administration continued to cast doubt on the likelihood of the city being able to house the entirety of its incarcerated population at four borough-based jails set to replace Rikers by 2027. "If we're at today's number whenever the borough-based jails were to open – or if that number is higher – then it would be physically impossible to house all those individuals within our jail system," Molina said. "We would need to come up with alternative solutions of where those individuals would be housed."
As of Tuesday, Adams noted, the city jails population stood at 5,917. The maximum capacity planned for the borough-based jails is 3,300. At a hearing before the council last December, Molina said that he didn't expect the incarcerated population to shrink to 3,300 by 2027, and noted that it could in fact rise above 7,000 people by 2024. 
The city jail population – in various jails on Rikers Island, and in "the boat" off Hunts Point in the Bronx – has steadily increased during Mayor Adams' term, but is still near historical lows.
On Thursday, Molina offered general steps that he said could be taken to help reduce the population – though they weren't steps that the DOC would be responsible for taking. "We need the adjudication of justice, which is under the control of the state, to be faster," Molina said, citing a recent example of someone who was in custody for six years waiting to be sentenced for an attempted murder case. 
Molina also said that New York needs to increase its capacity for psychiatric care. "If the state does not increase the capacity to be able to treat mental illness, and if we're going to continue to designate, via the courts, mental health patients with a designation of criminal defendants, then they are a justice system responsibility," he said. "If we want to treat them as hospital patients, then we need hospital capacity to do that." More than half of people in custody in New York City have a mental health diagnosis, and 18% have a serious mental health diagnosis, according to the Preliminary Mayor's Management Report for this fiscal year. Meanwhile, hospitals in the state won't hit the deadline to bring back psychiatric beds slashed during the COVID-19 pandemic, The City reported Thursday.
Asked by Speaker Adams about the construction progress and a timeline on the new borough-based jails, Molina declined to provide details, saying that the city's Department of Design and Construction is responsible for the building of the facilities. "The DDC is overseeing the development and building of those jails. I'm not overseeing the day to day development of those jails," he said. "What we're focusing on is when we get closer to those jails being operationalized and how we are going to manage the transition from Rikers Island to those borough-based jail facilities."
The response didn't satisfy Adams. "DDC manages projects for many city agencies, and commissioners are still willing and able to apprise the council of the efforts of what goes on in their agency," she said. "I suggest you plug into that portion."