Policy
Dozens of free mobile COVID-19 testing sites to close
New York City Health + Hospitals said they are "rightsizing" their mobile Test to Treat units amid low levels of COVID-19 transmission.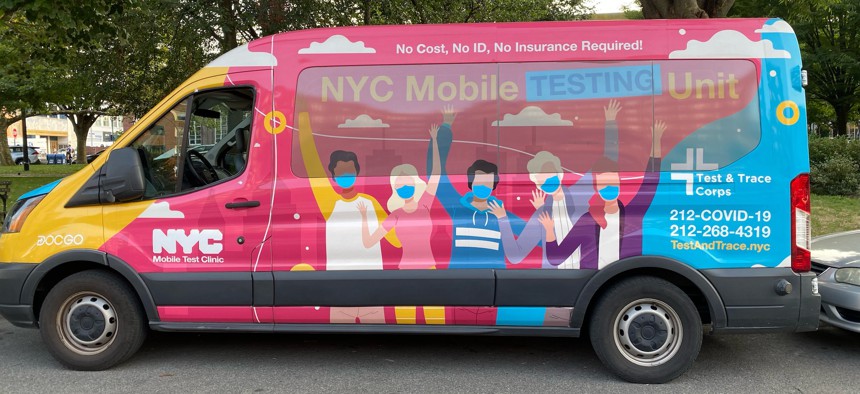 On Friday, New York City Health + Hospitals will close approximately 35 of its mobile COVID-19 Test to Treat units, which offer free COVID-19 testing and instant access to the antiviral drug Paxlovid for people who test positive. The move will cut the number of those mobile units nearly in half – from 75 to at least 40 that will remain in operation.
"Throughout the history of the NYC Test & Treat Corps, we have scaled our testing fleet and services up and down based on levels of community transmission," Test & Treat Corps spokesperson Adam Shrier wrote in an email. "Based on current low COVID-19 community transmission, we are rightsizing our mobile Test to Treat fleet." According to the Centers for Disease Control and Prevention's community level metric, which measures COVID-19 cases and hospitalizations by county, each of the five boroughs are currently at a "low" level of community transmission.
The closing of approximately 35 mobile units, which was first noted on Twitter by journalist Betsy Ladyzhets, comes at a new stage of the city's fight against COVID-19. Vaccine and mask mandates have all been lifted, and the city has increasingly focused on at-home testing. As of last week, the city Department of Health and Mental Hygiene reported that more than 290 walk-up sites were distributing at-home test kits. The department also noted that in-person testing is still available at half a dozen express sites and 19 Health + Hospitals and Gotham Health sites.
Health + Hospitals did not comment on which of the mobile Test to Treat units will close on Friday, noting that the 75 units currently in operation regularly change locations based on levels of community transmission in different neighborhoods, access to other testing and their community partners.