Policy
Dueling approaches on the impact of charter schools
Gov. Kathy Hochul has proposed lifting the regional charter school cap. The dueling rallies – led by prominent Black leaders – offered a look into the intraparty divide over charter schools as both sides argued its impact.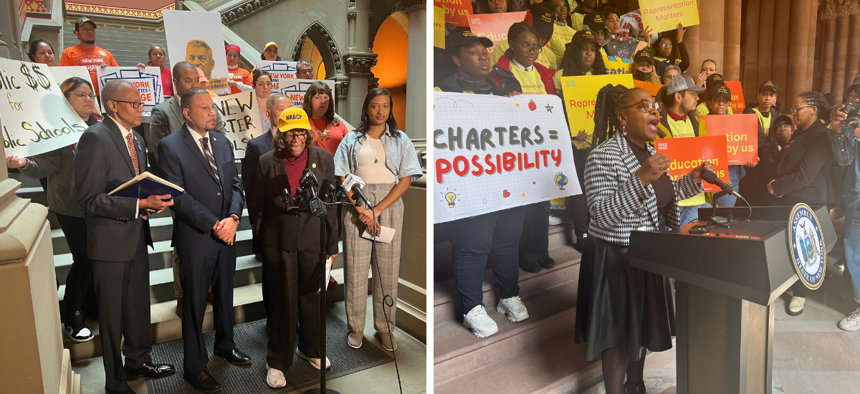 Amid budget negotiations and a looming final state budget deadline, advocates and state lawmakers held dueling rallies at the state Capitol on Tuesday centered around the governor's proposal for charter schools. Both sides agree that lifting the charter school cap will have an impact on students – either negatively or positively – but see the issue from vastly different vantage points.
There are currently 343 charter schools in the state, and the governor wants to see that number go up. As part of her executive budget proposal, Gov. Kathy Hochul proposed lifting the regional charter school cap, which would create the opportunity for more charter schools to open in New York City where charter schools have been gaining in popularity. The proposal could allow for more than 80 new charter schools to open in New York City, where there are currently 275 charter schools, according to the New York City Charter School Center. New York City Mayor Eric Adams, who in the past has supported charters, shared concerns that lifting the cap on charter schools would cost the city a billion dollars to "site schools" and cover per-student tuition during his budget testimony last month. Both the Assembly and state Senate one-house budget proposals largely rejected the governor's plan to lift the regional charter school cap.
Ilyasah Shabazz, daughter of the late civil rights leader Malcolm X, led a coalition of teachers, parents, advocates and dozens of students to rally for equity for students of color through charter school expansion – chanting "education for us, by us." Shabazz asserted charter schools allow children to experience an education system that is culturally beneficial for them. "It's the idea that communities – the Black community, the Hispanic community, the Asian community – we need solutions and we must have the opportunity to develop them ourselves," Shabazz said.
"Central to this discourse is the strength of community-led institutions that uphold what freedom really looks like – what self-determination really looks like. It is the opportunity to pursue self-determination, to ensure our children see themselves in the educational environments where their parents elect to send them," Shabazz added.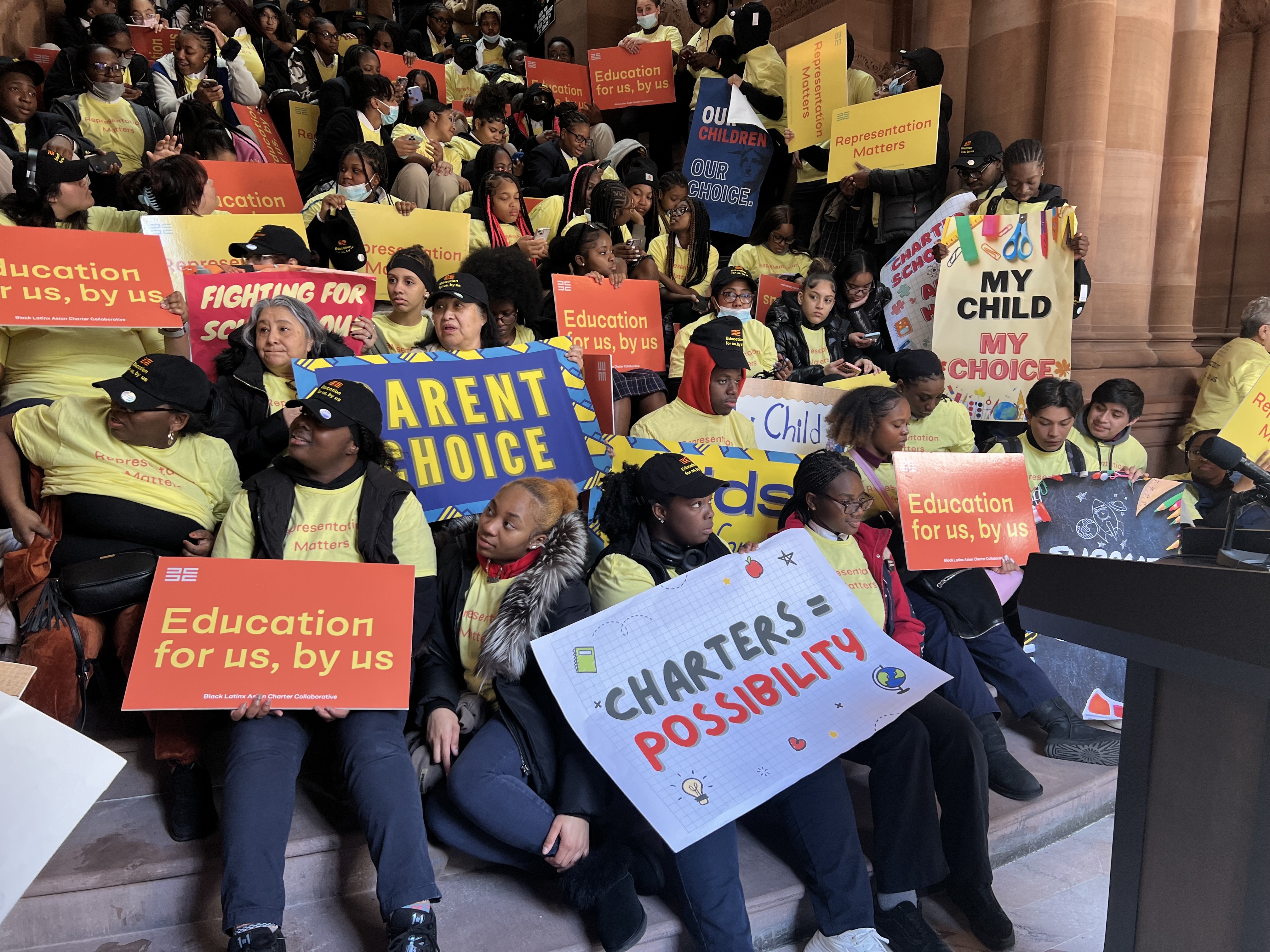 Along with Shabazz, the nonprofit collaborative – which represents over 20 charter schools and over 13,000 charter school students – Black, Latinx and Asian Charter Collaborative (BLACC) stood in support of charter schools serving underrepresented communities. "At the end of the day, what we are really pushing for is that equity is included in whatever the Legislature ultimately does around charter schools. Building more equitable schools, more excellent schools, is the tide that lifts all boats. Everyone benefits," Miriam Raccah, CEO of BLACC, said.
Democratic Assembly Members Brian Cunningham, Stefani Zinerman, John Zaccaro and Eddie Gibbs, each affirmed their support of lifting the charter school cap. "Creating more pathways for culturally responsive schools in our communities, according to parent demand, is one of the most important things we can do to demonstrate to families of color that we are serious about equity," Zinerman said. 
But one hour ahead of the pro-charter school rally, other lawmakers offered opposition to the governor's proposals. The issue of racial equity is an area in which Democratic lawmakers historically coalesce around, but lawmakers at the anti-charter school rally seemed to focus on a different aspect: funding for public schools. The dueling rallies offered a look into the intraparty divide over charter schools as both sides argued its impact.
New York NAACP President Hazel Dukes led the call from lawmakers not to lift the charter school cap while asserting lifting the cap would contribute to a "two-tier education" system. "We are not telling parents where to send their children to school. We have said our public schools are good enough for our children," Dukes, who has usually backed Hochul, said.
Along with Dukes, critics of the governor's proposal – including the nonprofit organization Alliance for Quality Education, state Sens. Robert Jackson, Jabari Brisport, John Liu and Jessica Ramos as well as Assembly Members Emily Gallagher, Phil Ramos and Phara Souffrant Forrest – said it's unacceptable that charter schools take funding away from public schools in New York City. 
Brisport, who was formerly a New York City public school teacher before getting elected to serve the 25th Senate District in Brooklyn, said he plans to fight any changes to the charter school cap and wants to ensure New York City public schools are fully funded. "Every time another (charter) opens, the funding gets shifted there. And then the first thing that our public schools cut when they lose their funding is after-school and extracurriculars," Brisport said. "It will cause a death spiral and the public schools will get worse and worse."
Chair of the Senate Committee of New York City Education Liu agreed with this sentiment. "Any expansion of the charter school system now is a continuation of the build-up of this two-tier public system that our kids have in New York City specifically," Liu said.
Liu also took it a step further asserting he is unaware of members of the Black community being in support of charter schools. "I get personally offended when people continue the line of 'Charter schools are good for Black and Brown kids.' I look very carefully. I don't remember seeing any Black and Brown people say that charter schools are good for Black and Brown kids. It's just patently offensive," Liu said, just a few moments before children and parents – many of whom were Black – rallied for charter schools down the hall at the Million Dollar Staircase.
When asked by City & State about the concerns regarding charter schools leading to a decrease in funding for New York City public schools, Cunningham said he wants to make sure public schools continue to be fully funded but believes the choice is up to parents to decide where to send their children. "The governor and the state Legislature have done a phenomenal job at fully funding Foundation Aid and giving all of the tools we need to public schools. But we're also saying that it is parents in our communities that may choose to send their kids to a charter school," Cunningham said.
Cunningham added: "I don't think the government should get in the way of people's individual choices."
City & State also reached out to the governor regarding the criticism of charter schools, a spokesperson for the administration said the governor's executive budget makes "transformative investments" and the Hochul looks forward to working with the Legislature on a final budget.
As first reported by Politico, there has also been much speculation that the release of "zombie" charters – which would allow the city to add more charter schools using licenses of schools that are no longer running – may be a compromise in budget negotiations. The governor's proposal currently includes releasing zombies. Zinerman affirmed her support of releasing zombie charters to City & State, while other lawmakers see that as a non-starter.
"I can't compromise with people who want to defund public schools," Brisport said.