Heard Around Town
Eric Adams visits new apartments in former office building, calls for relaxed regs
The New York City mayor touted the project as a way to increase the city's housing stock.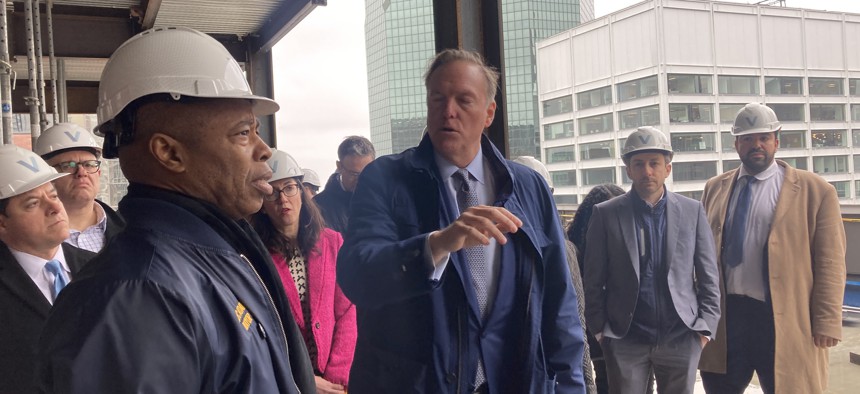 New York City Mayor Eric Adams had yet another run in with an ally this afternoon: the ever-controversial, potentially-soon-to-be-banned, gas stove.
Adams – joined by Council Member Justin Brannan, Chief Housing Officer Jessica Katz, Deputy Mayor for Economic and Workforce Development Maria Torres-Springer along with members of the real estate firm Vanbarton Group – visited 160 Water St. this afternoon. The building, which is still under construction, is one of the few office buildings being converted to residential use. The mayor used the visit to push for rule changes in Albany that would allow for streamlined construction and more office-to-housing conversion in New York City.
While the building's 588 units will have gas stoves, members of the Vanbarton Group said the building is not only set to hit 2024 emissions standards, but the city council's 2030 goals as well. (The ovens are electric.)
Though, that doesn't mean the building is affordable.
Richard Coles, the founder of the Vanbarton Group real estate firm, said units would start at a steep $3,000 a month. However, the price is far below the average price for a one-bedroom apartment in Manhattan, which in June 2022 was $4,278 according to a Douglas Elliman report.
Adams was asked how buildings such as 160 Water St. help with the affordable housing crisis. Adams responded that the city does not just have an affordable housing crisis, but a housing crisis overall. 
"The goal is to build low-income, middle income and market and to shore up (the New York City Housing Authority)," the mayor said. "When I speak with my principal and police officer, they are having a housing crisis."
Adams also spoke on the "fruitful" conversations he has been having with Albany lawmakers and Gov. Kathy Hochul to address the housing crisis, such as advocating for an extension of 421-a, a tax incentive to real estate developers who constructed new housing with at least 20% of their units being affordable.
The state Senate and Assembly budget proposals in response to the governor's are expected in the next week or so, and 421-a has so far not been widely discussed. 
"This is not a giveaway. This is an incentive to get more affordable housing units in place," the mayor said. "Without it, we simply will not be able to build affordable housing at the rate we need."
Powered By
NEXT STORY: 3 issues to watch in NY budget negotiations