Policy
How do you convince Manhattanites a casino will be good for their neighborhood?
Gambling companies have their work cut out for them – but getting locals on board is essential to succeeding in New York City.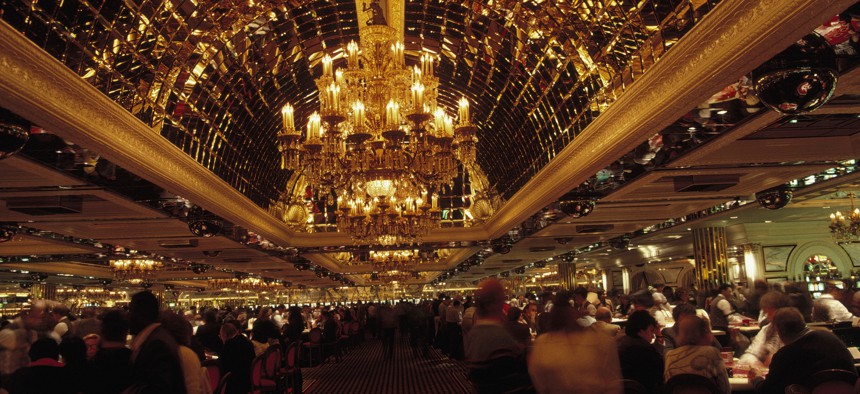 Casino companies are used to having a house advantage. But in the bidding process for three downstate casino licenses, it's the local communities that those companies are hoping to call home that just might have the edge.
Roughly a dozen casino companies and real estate developers are mulling or planning on bidding for one of three casino licenses the state will grant in New York City and its surrounding suburbs. But before the state considers those high rollers' proposals, they have to get signoff from Community Advisory Committees appointed by local lawmakers (including the governor and mayor or county executive) from the neighborhoods where they hope to open up shop. Meetings of those committees will be public.
Though it's yet to be seen how much those committees will reflect actual support or dissent in the broader community, the state has said that the process was designed to make local engagement and support a prerequisite to success. In the applications themselves, bidders have to demonstrate the extent of economic activity created by their plan, how they'll benefit the local community and businesses and mitigate negative impacts, lay out a detailed workforce development plan and create a diversity framework that includes employment goals for minorities, women and veterans.
And to hear some of the bidders tell it themselves, cultivating local support is a top priority. Developers and companies working on casino proposals that will be submitted to the state later this year said that they're engaging with lawmakers, unions, community groups, local businesses and more. And several told City & State that it's not just about informing communities about the jobs and investment that a casino will bring to midtown Manhattan or Coney Island, but incorporating community feedback as they fine-tune those proposals. "You have to speak to the stakeholders, one by one, and sort of walk through the intent, the mission, see what people think, what they feel has positivity, where they want things we could improve upon," said Brett Herschenfeld, an executive vice president at SL Green Realty Corp., which is working with Caesars Entertainment and Jay-Z's Roc Nation on a proposal for Caesars Palace Times Square.
Herschenfeld said the Coalition for a Better Times Square has been working on public engagement for almost two years, citing "hundreds" of meetings with lawmakers, unions, individuals and local businesses, some of which have publicly lined up in support of the bid. He added that the proposal has undergone some evolution in that time, including the look and feel of the potential casino. "There's no gaming on the ground floor," he said, noting that an earlier idea of a typical Vegas-looking, Roman column-style structure has evolved into a sleeker look that sets the slot machines and card tables back from the view of passersby. "We've come to learn that from the stakeholders in the neighborhood, that's not necessarily fitting in with Times Square," he said.
The Coalition for a Better Times Square has promised to reinvest money in more security in the neighborhood, raising the possibility of deploying drones and artificial intelligence cameras. And in response to concerns that a casino would exacerbate traffic in an area already infamous for it, the team has committed to investing in traffic mitigation, bringing on the planning consultant group AKRF. But Caesars Palace Times Square hasn't won over everybody yet. While the Actors' Equity Association is on board, The Broadway League came out against it.
Other developers, casino companies and lobbyists behind other announced or rumored downstate casino proposals are keeping their cards closer to their vests ahead of the competitive bidding process. One common idea to win over local restaurants and shops is referring casino customers directly to local businesses with discounts and other rewards. Some are trying to make the case that casinos will not only create construction and more long-term jobs, but address other perennial concerns for New Yorkers.
Related Companies and Wynn Resorts have teamed up to propose a casino resort complex on the undeveloped western side of Manhattan's Hudson Yards. The resort would stand on an expansive platform above the rail yard there now. In addition to the resort, the developers would create public open space, a school and affordable housing. (The original plan for developing that part of Hudson Yards also included green space, a school and residential buildings, with some affordable housing units.) "Our plan will address the issues New Yorkers care about, including education, affordable housing, employment for the economically disadvantaged, and workforce development and training, while also providing support directly to community organizations across the neighborhood," Related and Wynn wrote in a joint statement.
On the East Side of Manhattan, Soloviev Group is developing a proposal with Mohegan to build a casino resort along with green space, residential buildings that include some below-market-rate units, a democracy museum and even a Ferris wheel. That team expressed similar objectives as the Hudson Yards developers: "Our goal is to address vital community needs to create new public open space, significant affordable housing and generate thousands of new jobs and other economic benefits for our neighborhood and the entire city," Soloviev Group CEO Michael Hershman said in a statement.
The yet-to-be submitted license applications will be where bidders will attempt to distinguish themselves from their competitors. But for now, some of those bidders are being careful not to give their rivals any ideas.
New York City Council Member Keith Powers will have one appointment to the Community Advisory Committee reviewing any of the proposals in his district, including the Mohegan bid in Midtown East. Powers, who has spoken with bidders inside and outside his district, said that a casino could be a great opportunity for the city to create jobs and attract tourists, but he added that local buy-in was crucial. "I think every council member I've talked to has said basically the same thing," Powers said. "Everybody understands the broadest goals, but we also want to make sure it doesn't have a devastating impact to the surrounding community when it comes to quality of life, traffic, safety and anything else that might come."
It's not just Manhattan that developers and casino giants are eyeing for one of the three downstate licenses. In addition to potential bids in the Bronx, Queens and Brooklyn, at least one team is hoping to bring slots to Long Island. Las Vegas Sands and RXR Realty are planning to open the Nassau Hub at the Nassau Coliseum arena site, which they hope will include a new casino along with entertainment and hotel space. Like the other bidders, Las Vegas Sands said it has been working to get the community members on board – some of which have publicly backed it. "To date, we have launched a youth empowerment program, begun a job training program with Minority Millennials, signed a (memorandum of understanding) with Nassau Community College (and) garnered support from labor, environmental, civil rights and business leaders," Ron Reese, senior vice president of global communications and corporate affairs at Las Vegas Sands, wrote in a statement. While Nassau Community College would partner as a job training center under the proposal, nearby Hofstra University has come out against the idea of a casino in the area.
"I'm open-minded to the prospect," Nassau County Executive Bruce Blakeman told City & State of a potential casino at the Nassau Hub. But Blakeman laid out three prerequisites: The development has to primarily be an entertainment venue and luxury hotel that also has a casino; it has to deliver an attractive revenue package; and it has to have community support. Blakeman will appoint one member of the Community Advisory Committee for any casino license proposals in Nassau County.
Though the casino bidding wars are still in their early stages, they've already attracted former elected officials and administration higher-ups. Frank Carone, who recently left his post as Mayor Eric Adams' chief of staff, is working on the Times Square bid with SL Green and Caesars. Adams recently said that he doesn't have a favorite proposal. "I just think that we should have it somewhere here in the city," he said at a Feb. 21 press conference. "I have not been following this at all. And I believe we have one role to do on some of the local stuff, but other than that, I'm not familiar with it at all."
Though several bidders said they're speaking to all the local lawmakers, few were eager to get specific. Herschenfeld, the SL Green executive, declined to say if they'd met with Adams.
Former New York City Council Member Robert Cornegy has also jumped in the casino game, joining the team behind the proposal to bring a casino to Coney Island. The plan from Thor Equities Group, Saratoga Casino Holdings and the Chickasaw Nation would fulfill a long held goal of Thor's Joseph Sitt to make Coney Island a year-round entertainment destination. Cornegy has come on to head up economic development initiatives as part of the group's community engagement work. "It's almost like a listening tour to hear what small businesses expect, less than me saying, 'You know, here's what the project is going to offer,'" Cornegy said of their approach at this stage. The Coney Island bidders were tight-lipped on details about their proposal, but Cornegy offered one possibility of bringing local businesses into the venue. "There is a commitment to do that – not excluding national brands – but actually having a priority and a focus that is inclusive of local brands and (minority- and women-owned business enterprises)," he said. The group is also hoping to direct new jobs to public housing residents in the area.
Even if the state didn't require a community approval process, real estate developers know better than to think a significant project of any kind, let alone a casino, could succeed without local support. Just look at the spectacular failure of Amazon HQ2 – a done deal to bring 25,000 jobs to Long Island City, Queens, that was unraveled by community groups and progressive politicians who said they were blindsided by massive tax breaks and other contours of the agreement.
"This is like the opposite of that," said Tom Grech, president and CEO of the Queens Chamber of Commerce and noted HQ2 supporter, comparing the Amazon debacle to the process currently underway at Willets Point, where New York Mets owner Steve Cohen is seeking community feedback on what to do with acres of vacant land around Citi Field. Cohen and a group called Queens Future said they had more than 1,000 participants in "community visioning workshops," including residents, business leaders and even a few lawmakers sharing ideas about what they want to take up the space and what their priorities are for the community. Though Cohen hasn't publicly committed to jumping into the bidding for one of the downstate casino licenses, a casino is one of the options that has been floated following the series of public workshops.
Of the three casino licenses that will be granted for downstate, some expect two existing casinos attached to horse racing tracks – Resorts World New York City in Queens and Empire City Casino in Yonkers – to be front-runners for two of the full casino licenses. The chair of the state Gaming Commission has denied that any potential bidder has an edge, however, calling the process a clean slate.
Before the state can review proposals, the bidders not only need to get the go-ahead from the Community Advisory Committees appointed by half a dozen local elected officials, but also get all necessary zoning approvals.
Brooklyn Borough President Antonio Reynoso expressed concerns, however, that the process still didn't include enough transparency or specific commitments to local communities about how exactly a potential casino would affect them before licenses are granted. "I think all of these developers are keeping the plans hush-hush. What they look like, we don't know what they propose," Reynoso said, attributing that to the design of the state process. Reynoso said he neither supports nor opposes a casino in the borough at this stage.
New York is still months away from the convening of those community committees and bidders making more details of their proposals public. But even further down the line, when up to three downstate casinos actually open, some lawmakers are willing to get in on the action – hinging on robust community support, of course. "I suppose it depends on which one exactly it is and how good they do," Powers said, when asked if he'd patronize a downstate casino. "But I'm not opposed to throwing a few dollars down in support of New York's economy."