Heard Around Town
Labor makes another push for Clean Slate
Unions sent a letter to state leaders supporting the legislation to seal criminal records after a certain time period.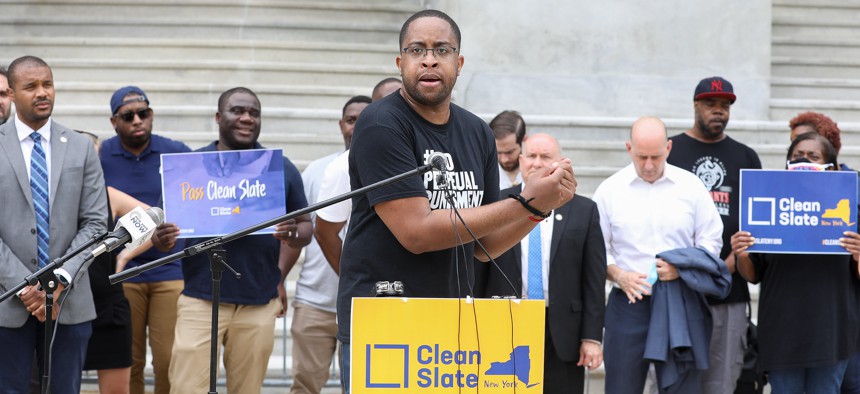 Labor unions are renewing their call for Albany leaders to offer their support to the Clean Slate Act, which would seal the vast majority of New Yorkers' criminal records after a certain amount of time. In a letter to state leaders shared exclusively with City & State, the influential 32BJ and Hotel and Gaming Trades Council became the latest politically powerful unions to get behind the legislation on the same day the state Senate committed to passing it as part of the state budget.
Criminal justice advocates have pitched the bill as a means to make it easier for formerly incarcerated New Yorkers to reenter the workforce after serving their sentences, and after a certain amount of time has passed since their release without reoffending. "As labor leaders invested in and committed to the well-being and prosperity of our state, we urge you to build upon New York's long history of enacting important reforms that support full and equitable civic and economic participation," the letter from the unions reads. "This is a common-sense bill that will strengthen the entire state." Other signers include the Communication Workers of America District 1, the Retail, Wholesale and Department Store Union and United Auto Workers Region 9A, all of whom had previously signaled their support. 
In its recently released one-house budget resolution – the chamber's rebuttal to the governor's executive proposal – the state Senate included a commitment to passing the Clean Slate Act. It reads that the Senate budget "advances language to allow for automatic sealing for certain criminal records," making specific reference to the bill number for the Clean Slate Act. The legislation passed in the chamber for the first time last year.
The Assembly did not make a similar reference in its one-house resolution, also released on Tuesday. The legislation has stalled in the chamber for years despite repeated attempts to reach a deal to get it approved. A spokesperson for Assembly Speaker Carl Heastie did not immediately respond to a request for comment, but he has said in past years that he prefers to tackle non fiscal policy outside of the budget. Despite that sentiment, the Assembly one-house budget does include other policy items, such as support for tenant protections.
Gov. Kathy Hochul also declined to include the proposal as part of her executive budget this year, despite including it last year. When asked in January about the exclusion, Hochul spokesperson Avi Small said the governor plans to "continue working with the Legislature on all legislative proposals that move the ball forward" on issues related to post-carceral reentry.