Policy
Major arrests in New York City at highest point since Giuliani
You can't arrest your way out of high crime … but is Eric Adams trying?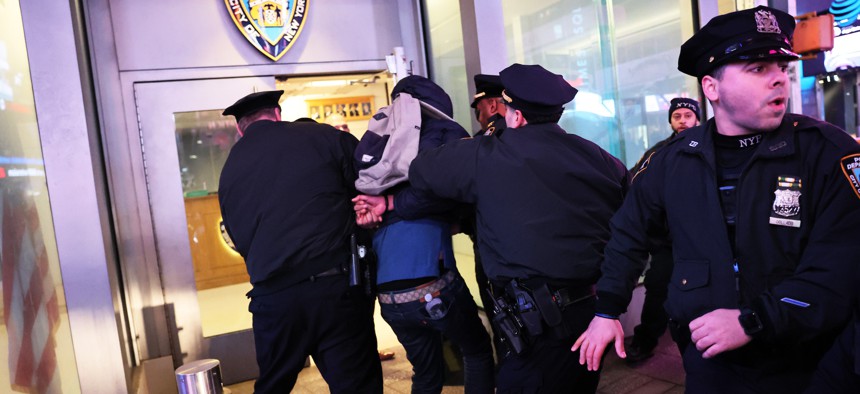 When talking about City Hall's favorite topic of crime, members of New York City Mayor Eric Adams' administration are quick to turn to the policing adage common among the city's progressives. "You cannot arrest and incarcerate your way out of the public safety issue," Deputy Mayor for Public Safety Philip Banks said at a March 3 press conference.
But that doesn't mean the New York City Police Department under Adams is avoiding arrests.
The NYPD is now arresting more people for major crimes than at any time since Rudy Giuliani was mayor – a shocking statistic that can likely be attributed to the city's increased crime rate.
Arrests overall in the city are still relatively low, compared to much of the 2010s. Arrests for major crimes make up just a quarter of all arrests. And the NYPD, under Adams, is still making fewer lower-level arrests and handing out fewer criminal summonses than the department did under then-Mayor Bill de Blasio in 2017, according to end of year crime statistics released by the NYPD. But arrests for the seven major crimes (designated by the FBI as murder, rape, robbery, felony assault, burglary, grand larceny and grand larceny of a motor vehicle) are happening at the highest frequency in decades. And that may explain why the department has made more major arrests so far in 2023 than any year since 1999.
"I think it's important to note the enforcement that is going on in New York City," NYPD Chief of Crime Control Strategies Michael LiPetri said at the same press conference. "Seven major arrests for February, at a 23-year high. Seven major arrests for the year, at a 24-year high."
The trend of increased major arrests was already happening in Adams' first year. The NYPD reported that it made 48,000 arrests for the seven major crime categories in 2022. That was a 25% increase over 2021, de Blasio's last year in office, and a 15% increase over 2017. The NYPD did not make arrest data available for every year, but the report showed that major arrests in 2022 were still 30% lower than in 1994, the first year of Compstat and a year of incredibly high crime in the city.
So why are major arrests up so much under Adams? The most obvious reason is that complaints of serious crime are way up. Last year, there were nearly 127,000 complaints of the major felony offenses. That was the highest total since 2006, when Mike Bloomberg was mayor.
The NYPD has a pretty tight hold on all its crime data, so even experts like Christopher Herrmann, an associate professor at the John Jay College of Criminal Justice and former NYPD crime analyst supervisor, was left speculating. "They could be more effective than ever. That's one explanation," he said, when asked of the NYPD's arrests. "Of course, the argument I would make is there's just a lot more crime now. So I would hope that they're making more arrests. … If there's more fish swimming in the stream, we're going to assume we're going to catch more fish."
These recent record highs of crime complaints are being led by felony assaults and grand larceny, both of which had more instances reported in 2022 than in any other year going back to 2000 – the earliest year for NYPD records in this case.
That helps explain why there are so many major arrests, outpacing even the increases in major crimes. The department has a relatively high arrest rate for felony assault – three arrests in 2022 for every four complaints. That far outpaces crimes like auto theft, which were far more common in the early 2000s, according to historical crime stats. In 2022, the NYPD recorded just one arrest for every 10 car theft complaints. That's not to suggest the NYPD is asleep at the wheel – one car thief can steal many vehicles, so there may simply be fewer people to arrest and accuse – but it may help explain why the increase in major arrests has outpaced that of major crimes.
Adams and NYPD leaders, for their part, once zeroed in on burglary and grand larceny – in the form of shoplifting – as a major driver of crime, and of arrests, in a now-infamous August 2022 press conference. With details that were first given to the New York Post, Adams highlighted 10 recidivists who had been accused of committing crimes after being arrested as a way to call for further rollbacks to progressive state bail reforms. Defense attorneys for the accused said this wasn't a bail reform issue, since all of the accused people had been eligible to be held on bail. And a state judge ruled that the department broke the law by using sealed criminal records at the press conference.
It's wrong to blame all recidivism on bail reform. In fact a March study from the Data Collaborative for Justice at John Jay found that the bail reforms seemed to make it less likely that somebody would get rearrested, after facing initial charges. But recidivists – people arrested multiple times – do also seem to be contributing to the department's increase in arrests. The NYPD's data should be taken with a grain of salt, as it was released in order to lobby for changes to bail reform, but the department said in August that 25% of people arrested for burglary were arrested again for another felony within 60 days – up from just 8% five years earlier.
Neither the mayor's office nor the NYPD could say whether there were any specific policy changes, under Adams and his appointed NYPD commissioner, Keechant Sewell, that had led to the higher arrest rate. The NYPD gave City & State a general statement on how the department was remaining focused on reducing crime. A spokesperson for Adams said he didn't want to speculate on any reasons, but noted that Adams liked to see rules enforced.
Herrmann, the former NYPD crime analyst, said policy directives might affect low-level arrests, but he assumed there was no change in policy that would lead to more arrests for the seven major crimes. "These aren't the crimes that cops are saying 'I'm going to give you a warning today,'" he said. "The police would always be making arrests in these cases, because these are the most serious felony cases that the police care about and the public really cares about."
It isn't immediately clear what effect these arrests are having on public safety in New York City – though the Adams administration was quick to note that reports of most major crimes have been trending downward for the past few months.
But, as Banks said, New York cannot arrest and incarcerate its way out of the public safety issue. And while major arrests were at their highest levels in decades, the population on Rikers Island is – maybe counterintuitively – not seeing a spike. According to statistics compiled by the city comptroller's office, the number of people admitted to city jails has been consistently lower under Adams than in 2019, when de Blasio was mayor and before bail reforms meant to incarcerate fewer people took effect.