Policy
Senate budget proposal includes full Build Public Renewables Act
Gov. Hochul's executive included a watered-down version of the bill, but the Senate is insisting on the full legislation.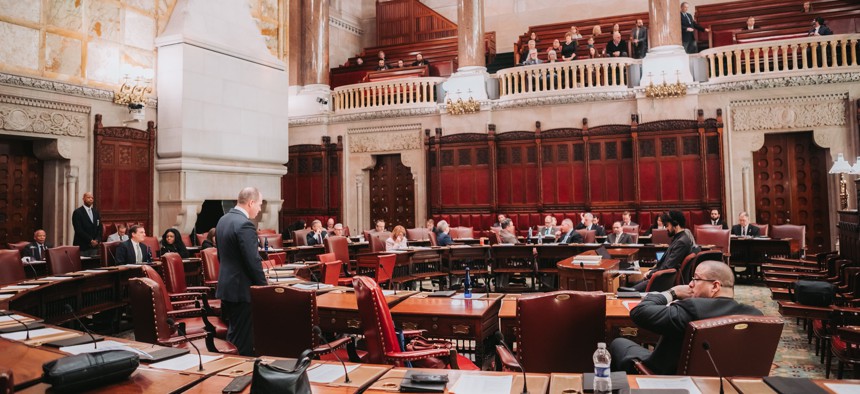 After moving to pass it early in the session, lawmakers in the state Senate are standing firm behind the Build Public Renewables Act. While Gov. Kathy Hochul had included a pared down version of the legislation in her executive budget in an apparent attempt to appease leftwing officials, the Senate's one-house budget released earlier today includes the full version of the legislation. "The Senate has already passed S.4134, which addresses the issue in a comprehensive manner," the resolution rejecting Hochul's specific proposal reads, referencing the bill number of the Build Public Renewables Act.
A priority among many climate activists, the bill would expand the New York Power Authority's green energy production capacity and require the public authority to start producing only renewable energy. The state Senate approved the bill toward the end of last year's legislative session and quickly passed it again at the start of this year's session, but so far the bill has stalled in the Assembly. 
When she presented her executive budget, Hochul included what some climate activists considered a "lite" version of the Build Public Renewables Act, which did not include the bill's mandate to build more renewable plants and begin phasing out non-green energy entirely. 
Hochul's proposal also omitted labor standards for new renewable projects that had been included in the legislative version – which has upset both environmental advocates and labor unions. 
The Assembly has not passed the Build Public Renewables Act, though the chamber did hold an hours-long public hearing in July to get feedback on the bill. It's still not clear whether the full Build Public Renewables Act proposal will be included in the Assembly's one house budget bill, which is expected to be released later today, but environmental advocates were optimistic as of Tuesday afternoon.
While supported by many environmental advocates, the Build Public Renewables Act has faced opposition from the very agency that it would impact. During the Assembly's July hearing, the head of the New York Power Authority testified that the public authority doesn't have the resources to deliver on the bill's requirements and said the mandates for the public sector were not necessary.