Policy
Will Hochul expand safety net programs for undocumented people?
Advocates are calling on the governor to provide unemployment and health insurance.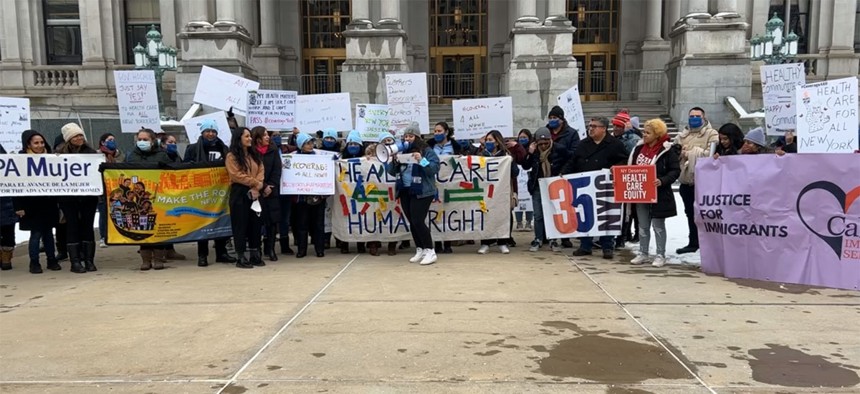 As budget talks in Albany continue in earnest, advocates for low-income, working class and immigrant New Yorkers had a message for state officials: Don't leave us out. They converged on the Capitol on Tuesday demanding a variety of proposals that Gov. Kathy Hochul did not include in her executive budget, from health care coverage for undocumented immigrants to a voucher program to keep low-income tenants at risk of eviction in their homes.
On Tuesday morning, immigrant activists gathered in support of Coverage for All, a proposal that would expand the Essential Plan – the state-funded option on the health care exchange for low-income New Yorkers ineligible for Medicaid – to cover undocumented immigrants. As it stands now, they cannot receive Medicaid due to its federal funding and they cannot apply for the Essential Plan due to a visa requirement. An estimated 46,000 undocumented immigrants could benefit from the expansion. 
Speaking outside the Capitol, Assembly Member Jessica González-Rojas said that 2,000 undocumented immigrants died of COVID-19 over the course of the pandemic. "Two thousand of our loved ones died simply because our system failed them," González-Rojas, the legislation's sponsor, said at the Tuesday rally. "These are community members that put their lives on the line… that made sure this economy was running (during the pandemic)."
Advocates made similar calls last year, but the final budget fell short of their demands. Hochul approved of a measure that expanded Essential Plan eligibility for undocumented immigrants aged 65 and older, but held that the cost of the broader expansion would be far higher than advocates had pitched. This year, Hochul asked for additional federal dollars to further expand the Essential Plan with promises made previously that she would also ask for a waiver that would permit undocumented immigrants to get covered as well. But when she unveiled her budget, the proposed expansion once again explicitly left out undocumented people. "Governor Hochul believes all New Yorkers should have access to high-quality health care and that expanding coverage will help improve health outcomes and reduce unnecessary financial burdens on our state's health care system," a Hochul spokesperson recently told New York Focus when the outlet inquired about the exclusion of undocumented immigrants. "As we move forward through 2023, the Governor will continue to explore options that will help broaden coverage throughout our state."
It's one of the reasons that activists for working-class New Yorkers have charged that the governor has excluded those communities from their budget. Later on Tuesday, tenant advocates joined with labor advocates for a rally calling on Hochul and legislative leaders to include a variety of other proposals in the final budget. One is an expanded version of the Excluded Workers Fund, the $2.1 billion program originally approved in 2021 to provide assistance to workers ineligible for unemployment insurance and left without jobs during the pandemic. 
But the program ran out of money and Hochul last year declined to set aside additional funds to replenish it. The prime beneficiaries of the fund were undocumented immigrants, but advocates are now pushing for a new program that would also cover freelance workers. They're demanding $500 million for a newly dubbed Unemployment Bridge Program that would provide unemployment payments to those otherwise ineligible like freelancers and the self-employed on an ongoing basis.
Hochul similarly did not include the Housing Access Voucher Program, meant to help low-income tenants facing eviction with rental assistance. Both chambers included the proposal in their one-house budgets last year and it holds broad support from landlords and tenants alike. It also has the backing of a bipartisan coalition, with the legislation to create the program passing out of the Assembly Housing Committee without any opposition. The proposal is part of a package of housing bills including "good cause" eviction protections that advocates also rallied for on Wednesday. Asked about potential support for those controversial protections at a different event where she touted her housing agenda, Hochul said she is focused on her own policies. "We put forth the [housing] plan that we're going to be working on this year already," the governor told reporters. "Right now, I am focused on getting over the finish line all of the initiatives I've put forth."
Despite the criticism from activists aimed at the governor on Wednesday, Hochul has received praise from lawmakers and labor leaders alike for her proposal to index the minimum wage to inflation. Her announcement of the plan as part of her State of the State address in January drew loud applause, although worker advocates are pushing Hochul to raise the minimum wage  to $21.25 per hour before indexing it.