Budget
What's in or out of the 2022 state budget?
Albany Democrats are getting ready to vote on their final budget bills.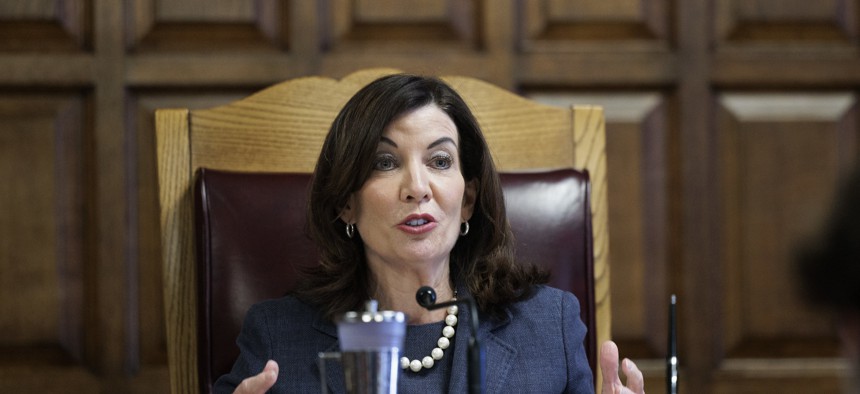 About a week after blowing past the April 1 deadline for a new budget, the governor and lawmakers finally reached what Gov. Kathy Hochul called a "conceptual deal" on Thursday, April 7.
Six out of 10 expected budget bills had been introduced by Friday morning, with lawmakers slated to debate them into the night. Three had passed both chambers. Lawmakers had to completely pass the budget by Monday, April 11 to avoid interruptions to payroll for state employees.
Bail reform was a key sticking point, but it was hardly the only controversial proposal included in the budget deal struck by Hochul, Assembly Speaker Carl Heastie and state Senate Majority Leader Andrea Stewart-Cousins. Other key items were money for a new stadium for the Buffalo Bills, an expansion of health care for undocumented people and ethics reform.
Nothing is certain in Albany until it is official, official, but substantial changes to a budget agreement appear unlikely despite some dissatisfaction among some legislators about how things shaped up. 
Here's where things stand on the top issues in the budget. This post was last updated on April 8.
Bail reform
Some, but not all, of the 10-point public safety plan backed by Hochul is getting into the budget. This includes making additional types of offenses, like gun and hate crimes, eligible for cash bail. Judges will also have greater leeway to jail someone pretrial for relatively minor crimes like theft if they are accused of something else prior to arraignment. Changes are also coming to Kendra's Law, which facilitates involuntary treatment for people with mental illnesses, but finalized legislative language had yet to be introduced by midday Friday. Advocates are vowing to pass Clean Slate legislation to clear some people's criminal records in the upcoming weeks after the idea fell out of the budget. 
Child care
The state will invest $7 billion over four years to expand subsidized child care to help families of three making $70,000 or less (or 300% the poverty level) access care. However, the expanded child care will not include undocumented kids, much to the chagrin of some Democratic lawmakers. The pandemic has highlighted how a lack of affordable child care has disproportionately affected working women. 
The gas tax
Experts have said and said and said that suspending state gas taxes is a relatively ineffective way to help New Yorkers struggling with inflation compared to direct cash assistance to lower income households and other approaches. But Albany Democrats are approving this "popular 'bad idea'" anyway, which means motorists get to save 16 cents a gallon from June 1 through the end of the year.
"Coverage for All"
Although additional money for the Excluded Workers Fund that provides unemployment money to undocumented people won't make the budget, a big expansion of health care for undocumented New Yorkers appeared to make the cut in budget talks – until it didn't. A last-minute change means only undocumented people over age 65 will qualify for the expansion of the Essential Plan. Outstanding differences on the projected costs of the proposal appear to be a key reason. 
To-go cocktails
New Yorkers will be allowed to once again order cocktails for to-go or delivery for the next three years under a deal reached between lawmakers and the governor, with legislative language included in the Revenue bill making it official on April 6. Wine and liquor bottles would not be included, which represents a victory for the liquor store lobby that opposed a push to resurrect the popular pandemic relaxation of state alcohol laws. Liquor stores also get to stay open on Christmas.
COVID-19 recovery 
New Yorkers struggling with utility arrears are getting $250 million in relief. Another $800 million will go to the Emergency Rental Assistance Program to benefit struggling renters and landlords as well. Front-line health care workers will receive a total of $1.2 billion in bonuses while home health aides are getting a $3 pay boost, according to The Buffalo News. 
Ethics reform
The Joint Commission on Public Ethics is getting replaced by a new Commission on Ethics and Lobbying in Government – but good government groups are hardly celebrating. They say legislative leaders and the governor would still have too much influence even though law school deans would have a role in screening potential commissioners. Hardly an auspicious start for the latest effort at reinventing Albany to be more accountable, but at least the new ethics commission (COEALIG?) will be subject to the state freedom of information and open meetings laws. Excelsior! 
Education
Foundation Aid is higher than ever, and the governor highlighted $400 million in additional funding for SUNY and CUNY campuses at her budget announcement. Part-time students at public colleges will also be made eligible for state tuition assistance. Mayoral control of New York City public schools will expire this year unless legislators act in the coming weeks, which means New York City Mayor Eric Adams might be coming back up the Hudson sometime soon. 
Climate change
Environmentalists are celebrating a $4.2 billion bond act that will go on the November ballot and some tweaks to state environmental law that make it easier to protect carbon capturing wetlands. They are also happy that the state is codifying the goal of electrifying all school buses by 2035. A proposed mandate that all new buildings be gas-free by 2027 fell out of budget negotiations, much to the disappointment of environmentalists. They are vowing to push for a gas hookup ban in the remainder of the legislative session that concludes June 2, along with a counter proposal to what Hochul wanted to do in the budget about making plastics manufacturers more responsible for the disposal of certain packing materials. 
Housing subsidies
The 421-a tax incentive for developers to build affordable housing is set to expire this year, and Hochul proposed a new-ish 485-w program, which made some tweaks to the current tax break. However, lawmakers blocked it in the budget, so everyone gets to fight about a possible replacement of 421-a for a few more months until its June 15 expiration. 
Buffalo Bills stadium
Hochul faced a lot of criticism over her last-minute budget proposal to provide 
$600 million in state money for a new stadium for the Buffalo Bills as part of a $1.4 billion deal among the state, the Bills and Erie County. Most of the state share will come from a long-delayed casino revenue sharing payment from the Seneca Nation after Hochul forced the Senecas' hand by freezing the nation's bank accounts. That drew the anger of Seneca leaders, but key lawmakers like Assembly Majority Leader Crystal Peoples-Stokes helped get the stadium plan into the budget over objections from the political left and right.  
Downstate casinos
The New York City area is poised to get three new casinos as part of a deal that would grant three licenses downstate, but a key sticking point was how much influence local officials would have on their eventual locations. A two-thirds vote by a new six-member panel – that would include the New York City mayor and governor, the local state senator, Assembly member, City Council member and the borough president – would be needed to greenlight a proposed location.