Budget
Bills stadium opponents are blitzing legislative overtime
Advocacy groups and elected officials are pushing legislators to keep $600 million in state support out of a final state budget despite efforts by Gov. Kathy Hochul to move the deal forward.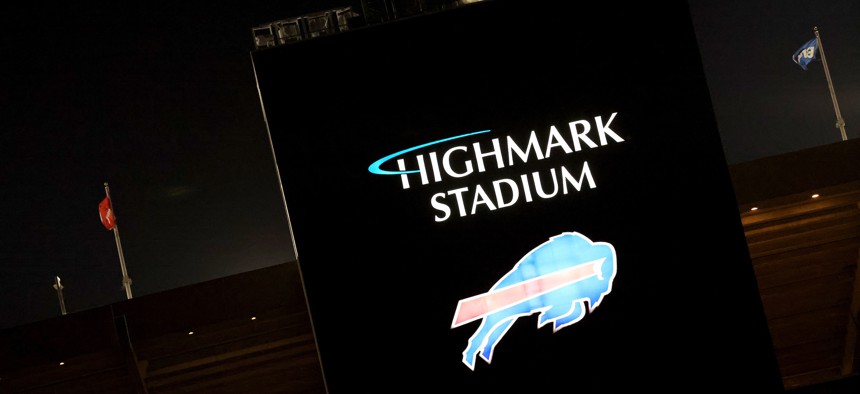 Albany Democrats have blown past an April 1 deadline to pass a new state budget, which is giving opponents of a $1.4 billion deal for a new stadium for the Buffalo Bills more time to make their case to state lawmakers to block the idea at the one-yard line.
Gov. Kathy Hochul faces blowback from a growing list of activists and elected officials across the political spectrum as she continues pushing for $600 million in state support for a stadium in a budget expected to pass early next week. This increasingly vocal opposition includes progressive legislators, political rivals and dozens of advocacy groups who signed onto an April 1 letter to legislative leaders exclusively shared with City & State.
"Economists on both sides of the aisle unanimously agree that public subsidies for sports facilities waste public money," reads the letter, which calls on lawmakers to investigate the deal after keeping it out of the budget. "This deal would represent a massive redistribution of wealth from poor, middle-class and working class New Yorkers to the Florida-based billionaire Pegula family, owners of the Buffalo Bills."
The letter calls on state lawmakers to investigate the deal – which some economists also hate – and keep it out of the budget. Potential conflicts of interest involving Hochul and her husband Bill, who works for the company Delaware North that does business with the Bills, are particularly concerning, according to the letter. Citizen Action of New York, the New York Working Families Party, and the Alliance for a Quality Education are among the 66 groups who had signed the letter by Friday morning.
Delaware North has contracts to operate concessions at the existing Buffalo Bills stadium that would not transfer to a new facility. "Delaware North is not a party to the negotiations and any future decisions about vendors at the new stadium would be made by the Bills alone," a gubernatorial spokesperson said in a statement. Bill Hochul has also recused himself from business matters involving the state and has agreed to not receive performance-based compensation based on how the company does in New York. Still, the company could benefit from a stadium deal in the long term by bidding for new business from the team, which adds to the appearance of a conflict of interest between the governor and the company.  
Twenty Democrats in the state Senate and Assembly, including leftists like state Sen. Julia Salazar and relative moderates like Assembly Member Brian Barnwell, outlined their own concerns in a separate letter to the governor released Friday morning. "The Executive's proposal is inadequate to the real economic need in Buffalo and across our state," reads the letter. Representatives of state Senate Majority Leader Andrea Stewart-Cousins and Assembly Speaker Carl Heaste did not respond to requests for comment by publication time. 
Political rivals in upcoming elections have also knocked Hochul over the secretive process behind the deal and the opportunity costs involved. "Western New York continues to be an incredibly supportive environment for the Bills... But that support doesn't need to come at the expense of other key investments," reads an April 1 op-ed in the Times Union by New York City Public Advocate Jumaane Williams, who is running for governor. Moderate gubernatorial candidate Rep. Thomas Suozzi of Long Island has called for legislative hearings on the matter and for the release of more details on how the stadium would be financed. Republican gubernatorial front-runner Rep. Lee Zeldin has said he supports public funding for a stadium, but claimed he would have secured better terms. 
A final budget deal could include stadium funding, but the political costs are clearly mounting for Hochul, who is now entangled in a fight with the Seneca Nation over gambling revenues she wants to spend on the stadium. The governor is still pushing for the Bills in budget talks to the dismay of her critics. "The Legislature must reject this deal because the Hochul/Buffalo Bills deal is bad for New York's economy," reads the April 1 letter from advocacy groups. "While Governor Hochul has claimed her leadership is a new era for New York, her handling of this deal is more of the corrupt Cuomo-style politics we have come to expect."