Homelessness
Bill for privacy in homeless shelters unites progressives, conservatives
New York City Council members say individual sleeping areas would improve homeless New Yorkers' quality of life.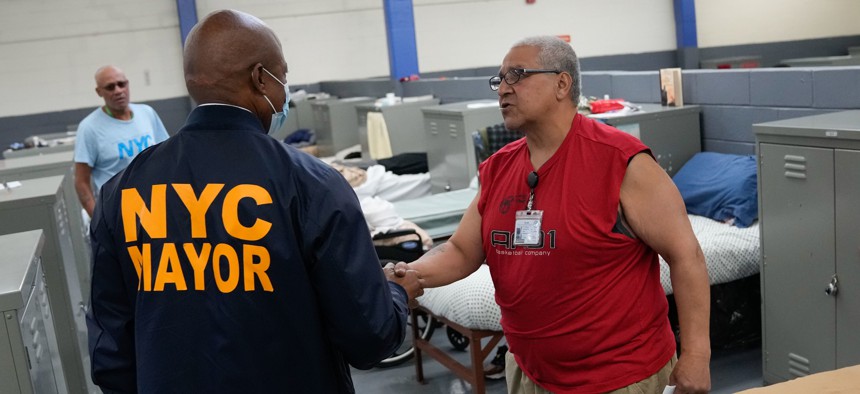 An unusual grouping of New York City Council Members across the political spectrum are teaming up to push a measure that they say would improve the quality of life for single adults staying in homeless shelters by bolstering their privacy. 
Intro 990, sponsored by conservative Democrat Robert Holden and progressive Democrat Lincoln Restler, would require the New York City Department of Homeless Services to create individual sleeping areas for shelter residents, replacing the congregate dormitory sleeping style that's used in many shelters for single adults. If passed, shelter providers would largely meet this threshold by using dividers similar to an office cubicle, according to Holden.
It's not an unprecedented proposal – Holden said he got the idea from the Borden Avenue Veterans Residence shelter in Queens that currently uses a similar model. Upon visiting last year, he discovered that half of the shelter – which was run by the U.S. Department of Veterans Affairs – had private cubicles complete with a door where people slept. In the other half – which Holden said was run by the city – occupants slept out in the open in a congregate space. 
"The provider said 'oh we have way fewer problems in the private room area than we do in the congregate area," Holden said. "That's when I had the idea we should do this all over the city." A spokesperson for New York City Mayor Eric Adams said they'd review the bill.
Congregate shelters have long been condemned by advocates and people experiencing homelessness who've reported that living with dozens of strangers in these uniform, close quarter environments can be unsafe and often leaves residents feeling exposed. Be it a general feeling of vulnerability or a traumatizing experience, advocates say this is almost always why so many New Yorkers opt to stay on the streets instead of sleeping in the city's congregate shelters. Restler said he and Holden introduced the legislation to bring "a modicum of privacy and dignity" to people navigating the city's single adult shelter system, hopefully encouraging more New Yorkers to stay there while working to get back on their feet.
Still, advocates for the homeless think the bill doesn't go far enough. While the legislation is well-intentioned and partitions would be a step in the right direction, homeless advocate Shams DaBaron said they still wouldn't provide occupants with the level of privacy and comfort that he and others argue is needed. DaBaron, who has personal experience navigating the shelter system and attests that congregate shelters exacerbate issues like mental illness and substance abuse, feels the city should implement "pod-style dwellings." He described this as an enclosed small dwelling complete with a bed, storage space, Wi-Fi, TV, desk, and chair, which a person would be able to access with a key or their fingerprint.
"If you give people a small, nice space that looked good, that allows them their own space – their own security – more people will be willing to be in these spaces temporarily until they can access housing," DaBaron said, adding that "sometimes with these bills it doesn't involve the voices of people with lived experience and therein lies problems … That missing steps leads to a bill that is headed in the right direction, but it's not going far enough."
Holden said he did speak with New Yorkers experiencing homelessness who liked the idea of dividers. A spokesperson for Holden later said that he would prefer everyone to have access to the pod-style rooms, but wanting the legislation to be as feasible as possible, the office went with more general language that would at least require privacy through the dividers. The ultimate goal is more pods and moving people out of congregate shelters into smaller shelters and permanent housing.
Other advocates expressed similar sentiments to DaBaron. "Permanent housing is the best solution, but single adults sleeping in shelters need to be offered rooms that provide more safety and privacy," the Coalition for the Homeless and the Legal Aid Society said in a joint statement. "The city has to move away from its reliance on congregate settings altogether."
Restler acknowledged that the dividers wouldn't be a panacea, but they would provide meaningful privacy to individuals who are experiencing homelessness. "Ultimately, I would like to see us place a limitation on the number of people per room in a shelter," he said. "This is a helpful step in that direction to work within the system that we have today."
While the legislation was only introduced last week, it has brought together an unexpected collection of council members – a fact that Restler and Holden attributed to the bill's "common sense" nature. "Bob's a bit more moderate, I'm more progressive, but I think we can build a dynamic coalition around this bill," Restler said. In fact, Rester co-chairs the Progressive Caucus, while Holden co-chairs the Common Sense Caucus. Holden described himself and Restler as "an odd couple," but said they are united in believing that every human being needs a space of their own.
When asked about his prior opposition to several shelters proposed for his district over the years, Holden said he's against "factory-style, congregate shelters" that aren't conducive to neighborhoods like his own – not smaller, faith-based shelters, which he says he's supported in the past. It wasn't immediately clear if this new bill would result in fewer shelters coming to lower density districts like Holden's. But the bill has earned support from members in varying districts. 
New York City Council Member Vickie Paladino, a Republican whose opposition to housing asylum-seekers at a hotel in her district contributed to the plan being nixed last August, is a co-sponsor. Nantasha Williams, another member of the Progressive Caucus who has publicly criticized Mayor Eric Adams' sweeps of unsheltered homeless New Yorkers, is also among the bill's eight cosponsors.
"I just thought this is the right thing to do. You'll see a good cross section I hope – we have to push the bill, it's only been a week – but I do think it's a win for everyone," Holden said.
This story has been updated to include Holden's office's comments on pod-style rooms.
Homelessness Case Studies
Powered By
NEXT STORY: Officials reach a tentative compromise on bail