Policy
Bronx DA Darcel Clark the main driver of recent proposed changes to discovery reform
Clark has said the 2019 discovery reforms went too far and cost her office prosecutors.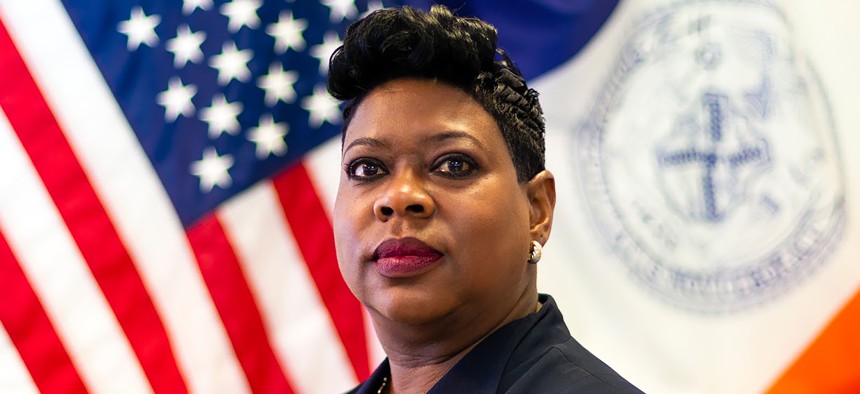 On Wednesday, public defenders sounded the alarm bells over a proposed change to discovery laws that they charged would gut the 2019 reforms meant to make them more fair. They said that New York City district attorneys were behind the proposal, but sources tell City & State that Bronx District Attorney Darcel Clark was the key driver behind a push to place a 35-day time limit for defense attorneys to request missing evidence from prosecutors.
Before the reforms, New York's discovery laws were among the worst in the country. But since state lawmakers approved the reforms in 2019, many district attorneys – including a number of Democratic prosecutors who self-identify as progressive – have said that they went too far and must be changed. Clark in particular has advocated for tweaks to the discovery laws that would give prosecutors more time to hand over evidence to the defense. She has said that the discovery reforms put additional burdens on the attorneys working in her office, which has led to  skyrocketing attrition rates. Late last year, the New York Post reported that rank-and-file assistant district attorneys threatened to strike over conditions in her office, with discovery-related workloads seen as a major contributing factor.
Under the current discovery laws, prosecutors have to hand over all evidence to the defense in a timely manner. Although there are individual timeframes for discovery specifically, the real crunch is to turn over the evidence before a judge throws out the case under speedy trial statutes. That means prosecutors have to show they have turned over all evidence to the defense and are ready to go to trial within 90 days of arraignment for a misdemeanor or within six months for a felony. And in order to prove that, prosecutors must file a certificate of compliance affirming they have provided all necessary evidence to the defense so that the speedy trial clock can stop. Previously, prosecutors could wait until right before the trial started to provide the defense with evidence, which criminal justice reform advocates have said contributed to high rates of plea deals as well as lengthy delays in getting a trial underway. 
In a 2020 New York Times op-ed Clark and five other downstate district attorneys argued that the newly-implemented discovery reforms needed their own reforms. They wrote that the changes "placed insurmountable burdens on the criminal justice system" by tying discovery to the speedy trial deadline and requiring prosecutors to turn over all evidence related to a misdemeanor case within 15 days. "This can threaten prosecutions, because the speedy-trial rule sets time limits for when criminal cases must be ready for trial or be dismissed," they wrote. 
The prosecutors who wrote the piece, which included fellow "progressive" prosecutor Brooklyn District Attorney Eric Gonzalez, proposed what they called "reasonable and sensible adjustments" to ease the burden the new discovery laws had created. Their idea was threefold: provide longer deadlines for defendants not in pretrial detention, limit the amount of materials required to be provided during discovery and allow prosecutors to stop the speedy trial clock once they have turned over all evidence they intend to use during the trial, even if they have not yet turned over peripheral evidence that they do not believe relates to the case,
The state Legislature has approved two tweaks to the discovery laws since passing the original reforms in 2019. A 2020 change expanded the timeline from the original 15 days prosecutors had from arraignment to turn over evidence to the defense to 20 days if the defendant is in pretrial detention and 35 days if they are not. (Public defenders have said those time frames are ultimately moot in the face of the speedy trial laws, which they argue impose the real deadlines for prosecutors before they risk a judge tossing the case.) A change approved last year as part of the budget that limited the discovery obligations for traffic infringements and provided prosecutors additional leeway if they failed to adhere to discovery requirements.
Under the Clark-driven proposal presented to lawmakers recently, defense attorneys would have 35 days to review the evidence and file a motion with the judge if they determine evidence is missing or prosecutors have not done their due diligence. If they file a motion, it could take months for a judge to hear it and rule on it, with the speedy trial clock stopped in the meantime and therefore giving prosecutors more time. If the defense doesn't file a motion within those 35 days, the clock stops anyway and they waive the right to bring up any challenges in the future. Right now, defense attorneys do not need to file a motion, allowing the process to move much quicker and to get the speedy trial clock ticking again sooner if a judge determines prosecutors did not adequately fulfill their requirement.
Clark's office did not return a request for comment about the proposal and her role in bringing it to the Legislature and the governor. But on Thursday, a candidate running against her for Bronx district attorney released a statement condemning Clark's role in pushing the change. "The changes DA Clark is pushing for would simply cover up her office's inability to meet the demands of New York's discovery laws," Tess Cohen said. She referenced Clark's role as one of the presiding judges in the case of Kalief Browder, whose suicide after years spent on Rikers pretrial for a crime he didn't commit spurred the 2019 reforms to bail, discovery and speedy trail laws.
Other New York City district attorneys rumored to be involved in the 35-day proposal include Gonzalez of Brooklyn and Manhattan District Attorney Alvin Bragg. Although both have called for changes to the discovery laws after 2019, they ran as progressive reformers with a focus away from overly punitive justice. Gonzalez's office declined to comment on the record about the proposal. A spokesperson for Bragg's office said in a statement to City & State that they "are continuing to work with our partners in Albany to find commonsense solutions that preserve the intent of the law while ensuring we can achieve appropriate accountability in all our cases." When asked specifically whether he supports the proposed changes driven by Clark, his office did not provide additional comment.