New York State
Where will NY's renewable energy come from?
The state's energy research authority projects nearly 100 new solar and wind projects are planned for the next few years.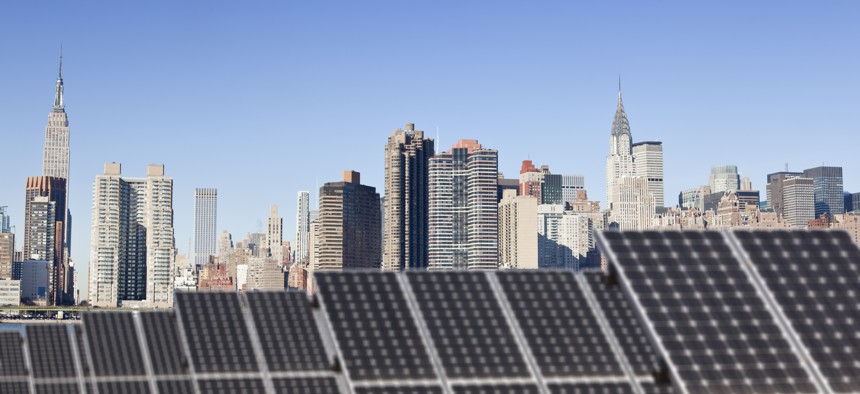 The New York State Energy Research and Development Authority awarded its first large scale solar energy project contract in 2016. Since then, NYSERDA has contracted over 80 similar projects, with hundreds of others in the state's queue. 
"The rate has grown exponentially as far as solar deployment over the past seven years," said Bram Peterson, program manager with NYSERDA's large scale renewables team. "So solar developers are certainly seeing New York as a market they want to participate in."
Renewable energy companies have gotten increasingly entrenched within New York's market. While some developers like ConnectGEN and Boralex have a series of projects in the state (nearly two dozen, in Pennsylvania-based SunEast's case), many of the projects are awarded to smaller companies who only take on one, two or three projects.
NYSERDA's 94 new and under development solar and land-based wind projects, split among 24 developers, could be a boon to the state's energy. It's estimated that the projects will contribute an additional 8,144 megawatts to the grid, or over four times what Nine Mile Point's two units produce.
Though, New York's new renewable development reaches beyond just solar and land-based wind marked on the map. New York state is also working on a series of off-shore wind plants near Long Island as well as the Clean Path New York and the Champlain Hudson Power Express transmission lines, both of which will deliver renewable energy to New York City. While Clean Path is solely located within the state, CHPE will take power from Quebec hydroelectric power utility HydroQuebec through its pipeline down the state's Eastern border. 
The plants will also greatly contribute to the state's own climate goals through the Climate Leadership and Community Protection Act, which then-Gov. Andrew Cuomo signed in 2019.
By 2030, New York state is set to have 70% of its energy coming from renewables such as the ones NYSERDA contracts. Each of the projects listed by the agency online is projected to be operational by 2026.
However, the state's problems in achieving its own goals set out in the CLCPA are not just in creating more renewable energy, but in the state's grid itself. Some parts of New York state's transmission system, Peterson said, are over 100 years old.  
"We can only build so many renewable projects before hitting tipping points in certain parts of the grid," Peterson said. "So, it really is the biggest shift in the power supply dynamic that the state has ever had to grapple with."
Powered By
NEXT STORY: Mannion emphasizes traumatic realities of upstate swatting incidents