Policy
Will NY rely on nuclear to reach its lofty climate goals?
The controversial energy source is getting renewed attention from climate activists and energy providers alike.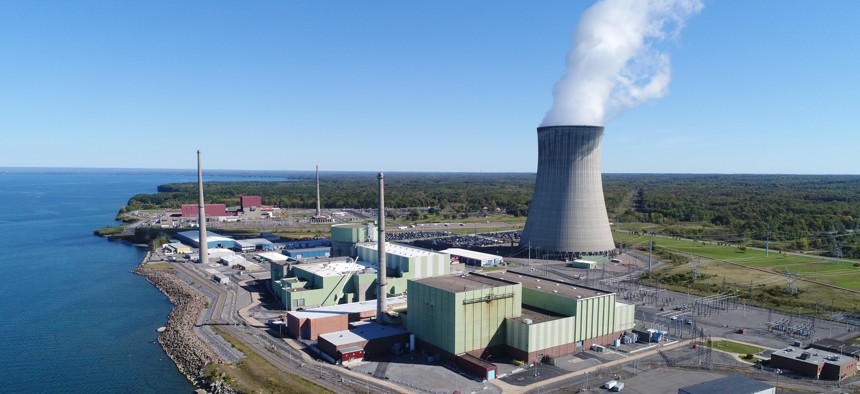 Just under half a mile separates the south shore of Lake Ontario from Nine Mile Point nuclear facility's cooling tower, standing at almost 550 feet. A plume of white steam dominates the view of the facility. Popping out of the woods out of seemingly nowhere, the tower doesn't just dominate the skyline, it is the skyline.
The plant is one of three remaining in New York state, along with its direct neighbor James A. Fitzpatrick and R.E. Ginna outside of Rochester 60 miles east, following the state's closure of the Indian Point nuclear plant on the Hudson River south of Peekskill in 2021.
While not included in the landmark Climate Leadership and Community Protection Act's 2030 goal for 70% of the state's electricity to be generated by renewable energy, nuclear power advocates believe that the three remaining nuclear power plants – four reactors total – will be instrumental in getting to the plan's 2040 goal of emissions-free and carbon-free electric generation.
"(The CLCPA) does require that the state reduce greenhouse gas emissions, and nuclear energy is obviously an emissions-free source," said James Hanley, a fellow for the Empire Center for Public Policy who has spent his time at the think tank studying the state's landmark climate law. "So in that sense, it implicitly puts it into the CLCPA as part of the energy solution."
Hanley said that while nuclear power is not directly mentioned in the legislation, hitting zero emissions without it would be a huge challenge, if theoretically possible.
Constellation Energy certainly has a stake in nuclear's importance to the state's 2040 goals. The Baltimore-based company operates all of the state's remaining nuclear power plants.
"It's a lot of clean, reliable energy production that's going to be very important for New York meeting these laudable and very ambitious goals to confront the climate crisis in a serious way," said Mark Rodgers, a spokesman for the company.
Within the transition to increasing the amount of renewable energy in the state, Rodgers said nuclear power can help provide a fossil fuel-free baseload when and where renewable energy is lacking the capacity to provide sufficient power. 
"New Yorkers want clean energy, but they also want their lights to come on when they flip the switch," he said. "These plants are going to be really important to make sure that if the skies cloud over or the wind's slacking, even offshore, that we're still going to have the baseload generation these plants are putting out."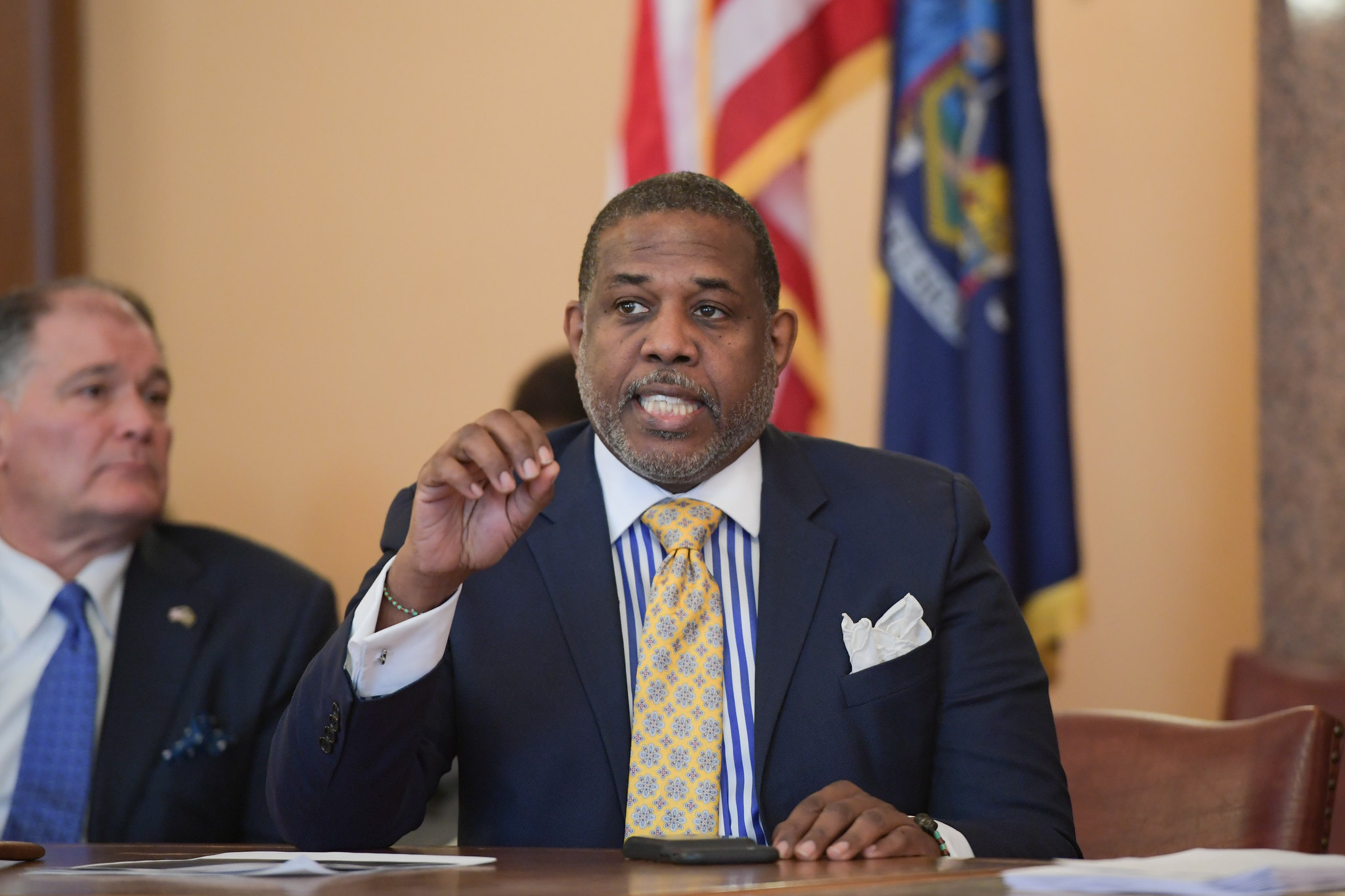 A controversial necessity?
In 2021, 25% of the entire state's energy came from nuclear, according to the United States Energy Information Administration, down from 34% in 2019 due to the closure of Indian Point. After natural gas, nuclear energy remains the second-most used source of energy in the state.
State Sen. Kevin Parker, who chairs the Committee on Energy and Telecommunications, said Indian Point's closure has created significant problems for reaching the state's climate goals. The plant was closed in response to public concerns about its impact on wildlife in the Hudson River, possible accidents and terrorist attacks.
"We closed Indian Point without a plan," said Parker, who also emphasized the plant's over 1,000 megawatts of energy production. 
The New York State Energy Research and Development Authority, or NYSERDA, has  projected that nuclear power will make up 30% of its upstate serveload and 9% of downstate's by 2030 if the state reaches 70% renewables by that date. If the state hits its 2040 goals, 24% of upstate and 7% of downstate's energy will come from nuclear, according to one projection.
As nuclear energy providers and advocates tout the energy sources's importance, the overall public in the United States remains mixed. In 2021, 50% of U.S. adults wanted the country to increase nuclear energy production by building more plants, according to Pew Research Center. 
New Yorkers want clean energy, but they also want their lights to come on when they flip the switch.
Mark Rodgers, Constellation Energy spokesperson
The issue splits on party lines, with 60% of Republicans supporting an increased nuclear effort and only 43% of Democrats believing the same. However, Democratic support has increased over the last decade, moving from 38% in 2016.
"I think people are looking at how hard it is to develop the level of generation needed to replace fossil fuel energy," Parker said. "All options are being put on the table."
In the near future, Parker does not expect that the state will be adding any more nuclear reactors to its energy supply. In an email to City & State, NYSERDA added that the state does not have a program for new nuclear facilities. 
Isuru Seneviratne, an energy investor and steering committee member of pro-nuclear group Nuclear New York, said that support in New York state has not increased as rapidly as it has in other parts of the country. He blamed "boomer environmentalists" who control the message that nuclear has to go to zero.
"Across the world and across the US, there has been a huge uptick in the support of nuclear and the need for nuclear in a decarbonized future," he said.
Matt Huber, a professor of political economy at Syracuse University, said negative views from Democrats, and especially progressive Democrats, come from the 1960s counter-cultural environmentalist and anti-war movement for what was then the "New Left."
"It's a generational thing," Huber said. "A lot of younger generations are really fixated on climate and understand that nuclear is one our best options to deal with climate, so we gotta keep it on the table."
The New York State Climate Action Council's December 2022 scoping plan – which brought together state agency leaders, university professors and environmental activists – also noted nuclear energy's importance to hitting the state's goals for cleaner energy. 
"Advanced nuclear technologies are another emerging resource that could contribute to New York's achievement of 100% zero-emissions electricity by 2040 and help realize a just transition for the state's energy trades," the document reads.
Nine Mile Point has been at the forefront of some advanced nuclear technologies, such as the creation of nuclear-produced hydrogen, also known as pink hydrogen. While hydrogen is a typical clean-burning fuel for heavy machinery, Rodgers said, the majority of it is made using fossil fuels. Nuclear-created hydrogen would be emissions free, he said.
Currently, hydrogen is used to power things like petroleum refining, ammonia production, metal treating and even processing food, Seneviratne said. He also agreed that the new process at Nine Mile Point would constitute "clean hydrogen." Last September, the state gave Nine Mile Point $12.5 million to demonstrate the process to help reduce the emissions. Only three other nuclear plants in the country are completing a similar process.
Risks of the radioactive and the financial kind
While the scoping plan does emphasize the importance of new advancements in nuclear power, it also advocates moving toward small modular reactors, unlike the three remaining plants on the shore of Lake Ontario. Whether it's a small module or a large plant, however, nuclear systems have similar problems, namely radioactive waste and storage, that progressive environmentalists are quick to point out.
This month, Holtec International, which is decommissioning the Indian Point facility, announced that it would be dumping radioactive wastewater into the Hudson River months earlier than originally planned. The process would start in May, News12 reported. The company has permits to dump the wastewater if levels of radioactive tritium are within federal limits. The announcement has prompted health concerns about exposure to radioactivity.
"While (Holtec) talks about acceptable limits, those limits were established decades ago and don't take into account cumulative impact," State Sen. Pete Harckham, who sits on the Indian Point Energy Center Decommissioning Board, told News12. "This is either incredibly tone deaf or incredibly arrogant."
On March 1, Harckham introduced legislation along with Assembly Member Dana Levenberg that would prohibit the discharge of any radiological agent into the state's waters.
"Too much is still unknown about the possible impacts of discharging radioactive waste into our waterways," Levenberg wrote in a press release. "We wouldn't want people to feel inhibited in their recreation or in moving to our communities because of the stigma of radioactive wastewater."
In a press release sent to City & State, Harckham said that Holtec's plan to dump waste into the river is "an act of bad faith." 
Sane Energy Project Director Kim Fraczek said her organization is "100%" against nuclear power, saying that any energy that is extractive in nature, in nuclear's case through uranium mining, doesn't belong in New York state. Fraczek also said uranium mining used for nuclear energy has harmed Indigenous groups.
After World War II, mining companies "poured" into the Navajo Nation in New Mexico looking for uranium, which they subsequently found, University of Pennsylvania's Kleinman Center for Energy Policy wrote. Due to the mining, radioactive compounds seeped into the groundwater making the area's wells toxic. 
In the Navajo Nation, people developed lung cancer, respiratory disease, renal cancer and renal failure among other diseases because of the extractive uranium mining in the area. The mining still impacts Navajos today, potentially worsening the impacts of COVID-19.
Harckham said that Holtec's plan to dump waste into the river is 'an act of bad faith.'
Tim Judson, the co-founder of the Alliance for a Green Economy and the executive director of the Nuclear Information and Resource Service, also took issue with the amount of subsidies that nuclear power receives from the state. He wants that money used in other places.
"One of the weaknesses that the state has had is it hasn't really provided the right incentives and encouragement for communities to be part of this transition (to renewables)," Judson said.
In 2016, New York approved about $500 million a year in subsidies for the state's nuclear plants. The decision came off the heels of Exelon, which then operated R.E. Ginna and Nine Mile Point, and Entergy, which in 2016 operated James A. Fitzpatrick, both saying they would have to close their plants due to financial issues. Exelon later bought the Fitzpatrick facility.  
In 2020, Exelon announced that it would close two Illinois nuclear plants due to "revenue shortfalls in the hundreds of millions of dollars," Forbes reported. An independent report found that the plants were in fact financially sustainable. In 2022, Constellation spun off from Exelon to become a separate company.
Judson took issue with the notion that nuclear provides a baseload, saying that baseload itself is an "antiquated concept."
He said with grid modernization, New York's power supply can become more flexible and responsive to deal with the ebbs and flows of both power generation and demand.
"The shift in the way the grid operates is already happening, and utilities and grid operators are running the system reliably with much higher amounts of renewables than they originally said they could," he wrote in a text.
While younger progressives are more split on nuclear power, some environmentalist groups have yet to take a strong position at all on nuclear power. We Act for Environmental Justice, which focuses mainly on northern Manhattan, wrote in an email to City & State that the organization has yet to take a stance on nuclear power. 
Organization Earth Justice also did not comment, with a spokesperson noting they had not been very active in the area.
Aging plants in need of new permits
The FitzPatrick plant started commercial operation in 1975 while R.E. Ginna started construction in 1966. In 1965, Nine Mile Point, the country's oldest operational nuclear facility, started construction. Constellation's Rodgers said that while the units may have been commissioned decades ago, the company is investing billions of dollars a year to maintain them. 
"We're not waiting for stuff to break," he said. "We're going in there and cleaning out, replacing (and) refurbishing. With any technology, there's always iterative improvements that take place over the span of decades, right? So we're able to benefit from those improvements as well."
Even when anti-nuclear environmental causes win out, such as in the closure of Indian Point, there can be negative impacts from their closure. After Indian Point was shut down, there was a marked uptick in fossil fuel use. 
A 2022 New York Independent System Operator report found that 89% of the energy downstate used came from natural gas and oil. The year before, only 77% was coming from the source.
"It's not like our solar panels can produce more electricity, or our wind turbines produce more electricity, the only lever that we have to keep our grid online is burning more fossil,"  Seneviratne said.
Despite split opinions on the technology, Constellation's three New York plants are set to continue to run for the foreseeable future. All three of the plants in the state are facing the expiration of at least one of their permits issued by the United States Nuclear Regulatory Commission before the 2040 deadline. Rodgers remains confident that they'll pass the organization's "rigorous examinations" for renewal.
While he said they were largely run by the NRC, there is space for public comment within the renewal process.
Even if nuclear power is on board to help the state hit its 2040 goals, the rest of the power grid might have some problems. The Empire Center's Hanley said the dates signed off by the Cuomo administration in 2019 are largely political and less based on what the state can actually accomplish within a 20-year-or-so timeframe.
Potentially exacerbating the problem even more is that the CLCPA doesn't contain any penalties for not hitting its own deadlines.
"My guess is we just end up extending the deadlines," Hanley said.
Correction: Due to an editing error, this article originally misstated where Constellation Energy is headquartered. The company is based in Baltimore, not Boston. Additionally, R.E. Ginna and Nine Mile Point's start dates have been adjusted to reflect the start in their construction, not their operation.
NEXT STORY: Mannion emphasizes traumatic realities of upstate swatting incidents