Education
Adrienne Adams and advocates lay out plan for strengthening early childhood programs
The City Council Speaker called the system managed by the Department of Education "broken"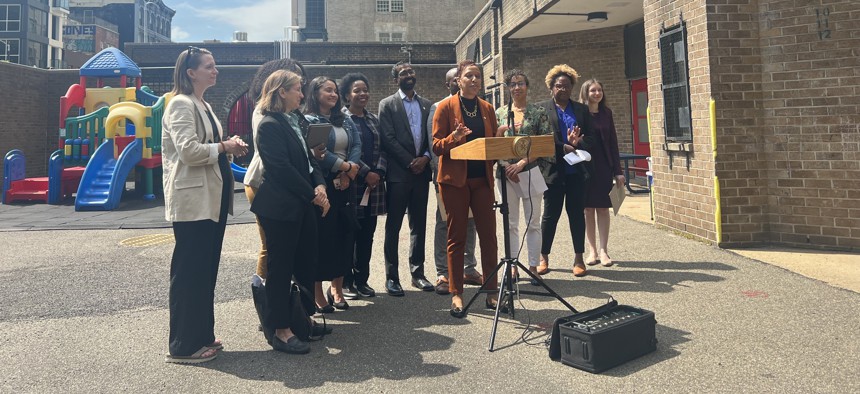 New York City's early childhood education system is flawed and in desperate need of reform – that's a sentiment that Council members and advocates have stressed for months as they've held rallies, voiced concerns at two hearings the body has held in response to the matter, and privately urged officials to fix the administrative issues that they say are hampering the city's free preschool program.
Further escalating those demands, City Council Speaker Adrienne Adams and other members joined providers and advocates at an early childhood center in the Lower East Side Tuesday afternoon to outline actions aimed at strengthening and stabilizing the sector.
Those solutions include urging the DOE to ensure payments to preschool providers are made on time moving forward (this issue, which Mayor Eric Adams' administration vowed to fix in November, led to millions in delayed employee invoices); eliminate pay disparities for early childhood education workers; bolster community outreach about existing programming especially in high-need neighborhoods; ensure the distribution of seats around the city is equitable; and shifting the allocation of extended-day, extended-year seats to meet family needs.
"These early childhood education programs are fundamental to uplifting and advancing Black, Latino, and Asian communities across the city, but the city's … early childhood education system managed by the Department of Education is broken and it is beset by issues that need to be urgently resolved," Speaker Adams said.
The city's early childhood education program has garnered widespread acclaim in the years since former Mayor Bill de Blasio first began rolling out free pre-K to New York families. Private preschool is often highly expensive, and the city's sweeping 3-K and pre-K programming have been lauded and embraced by many families. Still, the Council largely began sounding the alarm about turmoil within the city's programs this fall when preschool providers expressed concerns that the DOE was significantly behind in paying them for their work.  While the Adams administration pledged to speed up reimbursements and said the city would create a new Office of Child Care and Early Childhood Education, City Council Education Chair Rita Joseph said Tuesday that providers are still being paid late. 
Ever since Mayor Eric Adams announced that he would no longer expand free preschool programming for 3-year–olds next year, citing budgetary needs and the thousands of seats that currently sit empty, there's been heated debate over the decision. Many Council members and advocates have criticized the move, arguing that the empty seats can be largely attributed to poor outreach on the DOE's behalf, especially in low-income neighborhoods where free child care may be needed most. Council members also recommended that the city allow community-based preschool providers to enroll families directly, circumventing the current centralized DOE process.
A DOE spokesperson said in a statement that the department appreciates the council's advocacy and support for early childhood education.
"In the spirit of transparency, we shared 3K enrollment data across the city with the council, including the fact that due to outreach efforts and community partnerships, application numbers have increased by over 20% from the previous year," said schools press security Nathaniel Styer. "Additionally, we agree with the council that due to poor and inadequate planning in the past, there is a misalignment of seats that we are tackling head on. We have moved over 3,500 seats from unfilled areas to areas of demand, which also includes shifting the types of seats offered to meet actual need."
Stressing that high quality, affordable preschool programming sets children up for success while also supporting working families, Adams said that the council is eager to work with administration and other stakeholders to "right the ship."
"We are continuing to sound the alarm because our early childhood education system is in full crisis mode," Adams said. "Working families across the fight boroughs cannot afford these failures moving forward and the city has to get it right."