New York City
NYC has thousands of 3-K vacancies. City Council says that's an outreach problem
During an Education Committee meeting, some City Council members said the city needs to retain funding for the program amid proposed cuts.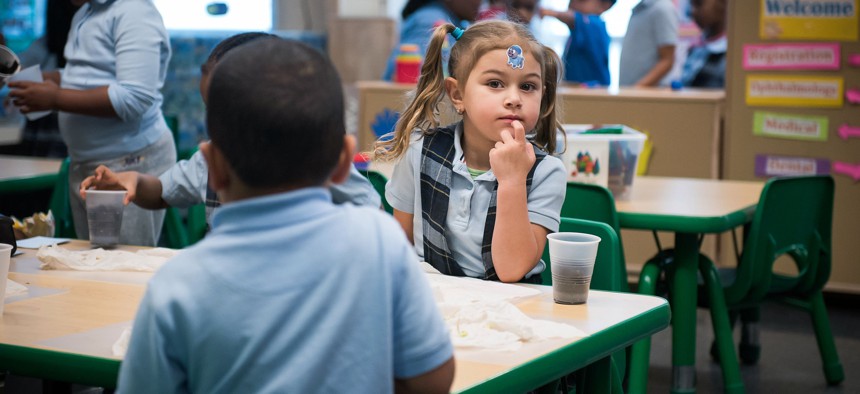 Any parent in New York City can apply for free preschool for their 3-year-old, but a third of the 3-K seats in the city remained unfilled this school year. The City Council is largely chalking that up to an advertising failure – especially in the low-income neighborhoods where free child care might be needed most.
"I feel we are failing at outreach and if we are failing at outreach and not engaging the immigrant families, the marginalized communities, and bringing them into programs, we will continue to not achieve the maximum enrollment that we need," New York City Council Member Lincoln Restler said during an Education Committee hearing Wednesday afternoon.
While the New York City Department of Education has received more than 40,000 applications for preschool for 3-year-olds – up 27% from 2021 – council members contend that roughly 34% of 3-K seats remain unfilled because public school officials are still not doing enough to inform and encourage families to sign up.
Scaling back plans to make the city's free preschool initiative for 3-year-olds "universal" is one of the ways that New York City Mayor Eric Adams has proposed cutting city spending. The mayor's recent budget proposes reducing 3-K spending by $567 million – something he's claimed is necessary given the impending end of federal pandemic funding and the city's budgetary woes.
Restler and other New York City Council members pressed schools Chancellor David Banks and other top education officials on issues pertaining to the city's preliminary education budget Wednesday, arguing that it's too early for the city to scale back its plans to expand free preschool for 3-year-olds. During the meeting, education officials warned that the school system's operating budget is likely to fall by hundreds of millions of dollars given the looming end of pandemic stimulus funding. Many schools with reduced enrollment are also slated to see some budget cuts next school year, although the city plans to again use some temporary stimulus dollars to offset reductions, according to Banks.
The Adams administration has largely blamed former Mayor Bill de Blasio for the 3-K program's problems, arguing that their mismanagement led to thousands of empty seats, which are unevenly distributed throughout the system. Hoping to model the 3-K expansion after his popular universal prekindergarten program for 4-year-olds, de Blasio had promised to have seats for all of the city's 3-year-olds by September 2023, but he never identified a permanent funding source.
Of the roughly 55,000 3-K seats, about 18,500 were empty this year, according to Nathaniel Styer, press secretary for the city education department. Not every school has openings. Some have lengthy wait lists. And the neighborhoods with the most seats are often ones with the highest rates of poverty. Council members argued Wednesday that the city is not doing enough to reach families in those communities – many of whom stand to benefit more from a free child care program than wealthier families.
"It logically doesn't seem possible that the vacancies cannot be filled given the number of working New Yorkers in the city that depend on child care to go to work," said New York City Council Member Shekar Krishnan. "What I'm concerned by is the approach to scaling back the program that we know is critical … before exploring every method possible to do outreach in communities."
Banks said the early childhood sector is critical to the department of education. The Adams administration announced the addition of 800 new pre-K seats for special education students in December. Hoping to address the uneven enrollment, officials also recently hired a consulting firm to look into how many seats there should be in each neighborhood, Chalkbeat New York first reported earlier in March.
"We didn't come here to destroy the early childhood program. What I inherited was a great idea that had a lot of implementation challenges," Banks said. "We are very much in the process that we have been since I've been here to try to right size early childhood." 
Education officials have allocated around $4.5 million to support marketing for early childhood education, according to Kara Ahmed, deputy chancellor of early childhood education. She told council members that the department has embarked on a robust effort to encourage families to sign up last fall and next school year through social media ads, email campaigns, community events, digital ads on the MTA and robocalls in multiple languages to over 100,000 families.
Those efforts are paying off in part, she argued. 3-K applications grew to about 42,000 compared to 33,000 in 2021. Pre-K applications also increased to 54,000 applications compared to last school year's 50,000.
Still, the education department is currently budgeted for 55,000 3-K seats next school year. Applications closed Monday, March 13 – three days after the education department extended the deadline in response to parental demand, according to Politico. Whether the number of applicants increased again remains to be seen.
Powered By
NEXT STORY: Legislature rejects tuition hikes for SUNY and CUNY