Policy
Bronx DA Darcel Clark backs parole reform bills
She's the third New York City district attorney to support the Elder Parole and Fair & Timely Parole bills.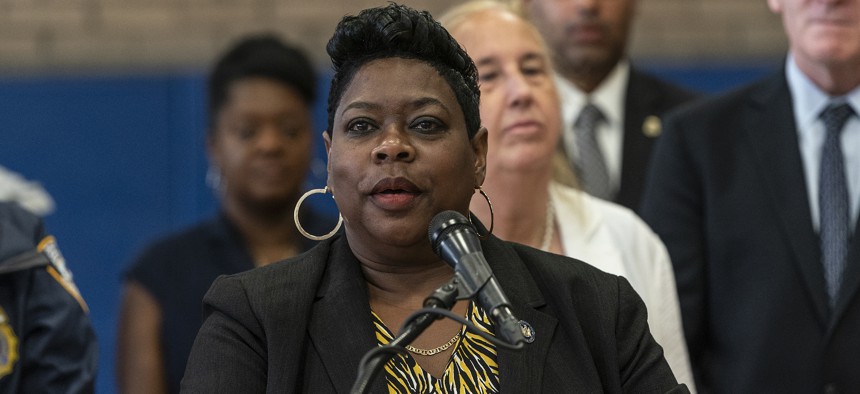 Bronx District Attorney Darcel Clark is supporting the passage of two bills that would allow people who have served long prison sentences to be eligible for parole.
"As we work to ensure safety and justice in the Bronx, it is crucial that we consider appropriate pathways to release the aging population in prison. Accordingly, I support the Elder Parole and Fair & Timely Parole bills," Clark said in a statement shared exclusively with City & State. "These bills invoke the power of redemption, understanding that there are people in prison who have transformed their lives over a significant period of time. They hold the potential to return as violence interrupters and peer recovery specialists, who help prevent harm and to improve public safety."
Clark is the third New York City district attorney to announce her support for the legislation, following Manhattan DA Alvin Bragg and Brooklyn DA Eric Gonzalez.
More than 350 organizations – including public defender groups, faith-based groups, the Working Families Party and the unions 1199 SEIU and CWA District 1 – have signed on to the campaign for "parole justice," which includes two proposed pieces of legislation known as the Elder Parole bill and the Fair & Timely Parole bill.
The Elder Parole bill would make incarcerated people aged 55 years and older who have been in prison for at least 15 years eligible for a parole hearing. The bill does not mandate that anyone actually be released from prison, just that they be given the opportunity to make their case for release to a parole board.
The Fair & Timely Parole bill would make it more likely that people in prison who are eligible for parole actually receive it. The current parole law states that parole shall not be granted for good behavior or if the board believes release would "deprecate" the seriousness of the original conviction. The bill would amend that law to state that parole shall be granted, unless the board can show in writing that it has reason to believe, based on a person's record of rehabilitation or lack thereof, that the person would commit a crime once released. The bill would also prohibit the parole board from basing its determination "solely or primarily" on the nature of the person's original crime – which advocates argue is the one thing a person can never change.
"Giving people who have rehabilitated themselves a fair chance at coming home to share the lessons they've learned and provide some real, credible mentorship to young people is the only way out of this crisis," said Jose Saldana, president of the Release Aging People in Prison campaign. "A core part of this is amending the standard for parole release so that who a person is today, and not what they did however many years and decades ago, is the primary factor for consideration. Our justice system must value a person's transformation and not define them by their worst act forever."
Clark's support for the parole reform bills may help mollify progressives unhappy about her recent push to weaken the state's 2019 discovery reforms. Those reforms require prosecutors to promptly turn over all potentially relevant evidence to defense attorneys or face the prospect of cases being dismissed. During state budget negotiations, Clark worked with other New York City DAs to try to get the discovery reforms rolled back – an effort that ultimately failed.
Clark, who is up for re-election this year, faces a primary challenge from defense attorney and former prosecutor Tess Cohen, who is running to her left in the Bronx DA race.
"I'm glad after advocates asked her for years to sign on to these bills that DA Clark has at last seen the wisdom of allowing people who have spent decades in prison the simple opportunity for a fair hearing before the parole board," Cohen told City & State in a text message. "I call on DA Clark to not just support these reforms that prevent the aging from languishing in state prison, but also to stop her crusade to undo the discovery and speedy trial reforms we've passed which prevent people from languishing at Rikers before they're found guilty." 
Versions of the Elder Parole and Fair & Timely Parole bills have been introduced in the Legislature every session since 2017. Neither bill has ever passed the state Senate or Assembly, but they have attracted growing support over the years. More than half of Senate Democrats are now currently listed as co-sponsors of the bills, and a majority of Assembly members have publicly indicated support for them.