New York City Council
NYC Schools won't see cuts in September, Banks pledges
The Department of Education is still seeing a spending reduction, but individual schools might not.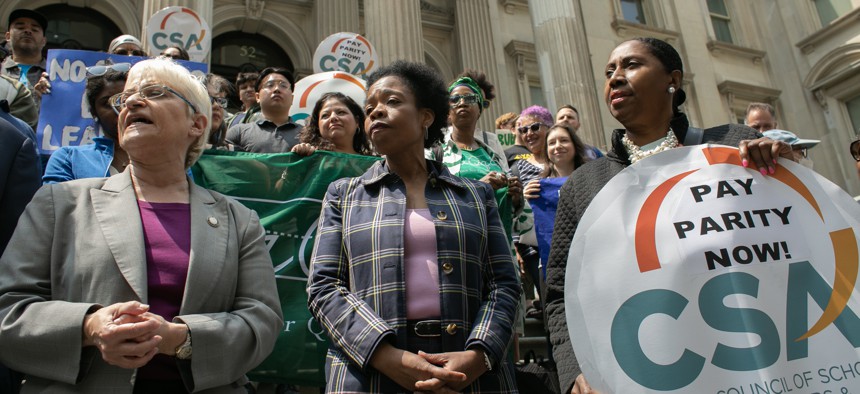 Not a single New York City public school will enter next school year with less overall funding than they did this academic year, regardless of how many students they are projected to serve, schools Chancellor David Banks announced today.
Following weeks of pushback from advocates and parents over city plans to cut Department of Education funding by nearly $1 billion, Banks told council members Monday afternoon that the city plans to hold all schools "harmless" in their initial fall budget allocations. That means that even if fewer students than the year prior end up enrolled in a certain school come September, the city will ensure that the school receives either the same or more overall funding than it did during the current 2022-23 academic year, according to Banks. 
The news, first reported by NY1 minutes before Banks formally announced it during an education budget hearing, could have a significant impact on a school system still reeling from the impacts of the COVID-19 pandemic. 
While some schools may see increases or decreases in federal Title 1 funding or Fair Student Funding from the state, DOE officials said the city would make up any divots through an alternative funding stream. That could come from a variety of sources, such as the previously announced $160 million in remaining federal stimulus dollars, the additional $90 million expected to flow through Fair Student Funding for schools serving students in temporary housing or with many high-need children, and roughly $200 million extra projected to come from the state's commitment to at last fully fund Foundation Aid. 
Of course nothing is 100% certain at this point. There's a key caveat. Leaders have yet to say whether school budgets could be adjusted back down during mid-year adjustments – a time in which the Department of Education has historically analyzed the number of enrolled students  and at times taken funding back based on the findings. Schools have also not received their individual budgets yet, although Banks and other education leaders said they are "working very hard" to get those out by the end of May. 
Banks' own budget is still facing cuts, however, even if individual schools might not be. Overall funding for the $31 billion department was reduced by about $1 billion in Mayor Eric Adams' executive budget, as part of multiple citywide savings programs he has enacted. But much of that cut is being made by removing funding for the planned expansion of preschool for three year olds, and reestimating spending on fringe benefits for employees.
Enrollment turnaround
While holding school budgets harmless could go a long way for schools as principals plan for September, enrollment projections for the coming academic year are also somewhat promising. According to Banks, the New York City school system has lost over 120,000 students since 2017 – 70,000 of whom left in the two years prior to his 2022 appointment. But the most recent projections paint a slightly brighter picture for next school year.
"The current enrollment projections reflect a decline of less than 1% and an increase at the high school level, but we still have a lot of work to do to bring more students and families back into our system," Banks said.
The end of federal stimulus funding
With federal stimulus dollars expected to run dry by the end of next school year, one of the big questions on many parents' and educators' minds has centered on the raft of education programming that has relied – either entirely or in part – on the temporary funds. Still, Monday's hearing provided little concrete answers about how the city will sustain programs like 3-K, its sprawling summer school program Summer Rising, arts education and restorative justice initiatives. Emma Vadehra, the education department's chief operating officer, said that the education department does not currently have a plan for how it will do so.
"We are going to have to work very closely together to try to figure this out," Banks said. "There's a lot of money and when it disappears there's the notion that we still expect every single one of these programs to still be in place. Without those dollars it will be a challenge and we will have to make some tough decisions."
Some council members didn't shy away from voicing their displeasure with the planning by former Mayor Bill de Blasio's administration.
"Creating permanent programs with temporary money is shortsighted, but here we are," Council Member Justin Brannan said.