Policy
What's up with the New York City schools budget this year?
Mayor Eric Adams proposed a nearly $1 billion cut to the $31 billion Department of Education budget.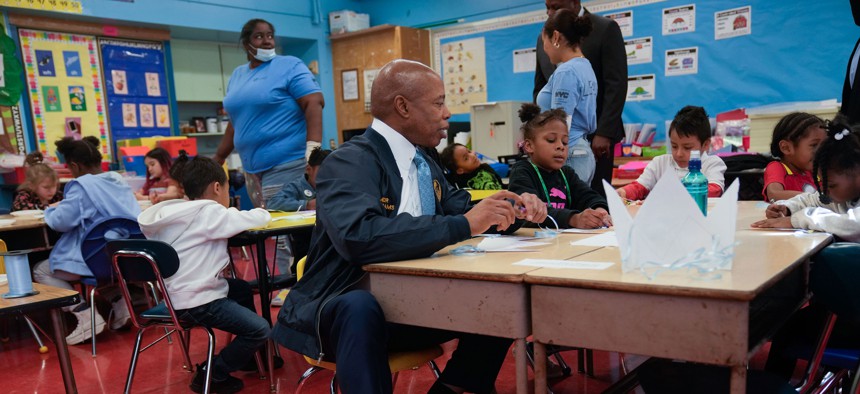 The New York City Department of Education is facing a nearly $960 million drop in funding next year under Mayor Eric Adams' latest budget proposal, although a breakdown of how individual schools would be impacted isn't immediately clear. Still, it's a question that advocates and parents are especially curious about as negotiations between the mayor and City Council unfurl – especially after last year's cuts tied to drops in enrollment ignited a wave of fierce protests, criticism, apologies and even a lawsuit.
Adams' $107 billion executive budget would allocate about $30.6 billion to the education department's operating budget next fiscal year – about 3% less than the roughly $31.5 billion the city plans to spend by the end of this fiscal year. While roughly a third of the cut would come from a drop in pandemic-era federal funding, the other $652 million would be a decrease in the city's own contribution to its schools budget. 
Despite his recent directive to the Department of Education and other city agencies to cut their spending by a further 3 to 4%, Adams has vowed that there would be "no service reductions, layoffs or cuts" to school budgets next fiscal year. In theory, that may be the case with the DOE. Much of the budget reduction can be attributed to moves like reestimating the city's spending on fringe benefits like health insurance and social security, or reestimating the cost of hiring new teachers after the vaccine mandate was lifted. And about half the DOE's total cut comes from the city spending less on free preschool for three year olds than it originally expected. Enrollment in some schools has been low – even as demand remains high in other neighborhoods – and Adams has paused the planned expansion to a universal 3K program to save money. 
But these budget reductions are likely to be felt in some way. The department is taking hundreds of vacant jobs off the books, meaning employees may have to continue working under slightly reduced numbers. And even as per-student funding remained high in the city, fewer kids enrolled meant a drop in funding to some schools last year, and administrators, in some cases, were forced to make tough decisions like excessing teachers and other staff and eliminating programming like art and music classes. 
"We had to make tough choices in this budget. We had to negotiate competing needs," Adams said while unveiling his proposal last week. "We realize that not everyone will be happy but that is OK because that is how you get stuff done."
A more clear picture of the potential fiscal impact on schools won't be clear until around June, when individual schools receive their budgets for the coming school year. A lot could also change between now and July 1 as council members and the Adams administration hash out the budgetary deal.
How are New York City school budgets determined?
Most New York City schools receive about two-thirds of their funding through a formula called "Fair Student Funding," which allocates money to schools based on the number of children enrolled in each school while also taking specific needs into account like the number of students who are learning English, have a disability, or are struggling academically. Unlike centrally funded initiatives, principals have the discretion to decide how they want to use this funding to hire staff, purchase supplies and create programming at their school.
While the formula was developed by former Mayor MichaelBloomberg's administration in 2007 with the intention of allocating more money to high-need schools, it has garnered plenty of criticism over the years for lacking weights for other student groups like those living in temporary housing and foster care. In an effort to rectify this, Adams and schools Chancellor David Banks announced this winter that they plan to adopt a city working group's recommendation to expand the formula's priorities to students in temporary housing while also deepening allocations to schools with a high concentration of student needs. This would infuse an additional $90 million into the formula. 
It's also important to note that most New York City schools never received their full allotment of fair student funding up until the 2021-2022 school year. That's when state leaders fully committed to funding Foundation Aid – the state version of the fair student funding formula – over the next three years thanks to an influx of federal relief funding and increased tax revenue. This upcoming year, Gov. Kathy Hochul said the state budget fully funds Foundation Aid for the first time.
The remaining third of the city's schools budget largely comes from a myriad of state and federal funding sources, city funding for initiatives like Pre-K for All and in recent years – federal stimulus dollars. 
Where do things stand?
Many advocates are skeptical about Adams' promise that his budget proposal wouldn't take a "dime'' from city classrooms. Given that the number of enrolled students plays such a big role in how much money a school receives through Fair Student Funding, many questions about the coming year remain. Public school enrollment has tumbled about 11% since the beginning of the COVID-19 pandemic, with some schools hit much harder than others. Under ordinary circumstances any drops would be fully reflected in the amount of money each school receives, but former Mayor Bill de Blasio used federal relief funds to hold school budgets "harmless," meaning funding levels were initially steady even as the number of students dipped. 
Citing the immense impact of the pandemic on student learning and mental health, educators, advocates and parents have urged city leaders to continue supporting schools in this way, arguing that students need as much aid as possible to recover.  Meanwhile, upon taking office, the Adams administration had been sounding the alarm about the budgetary cliff looming on the horizon for the education department once federal relief funding ran out. Things came to a head last year when the city approved a budget that included hundreds of millions of dollars in enrollment-based cuts to public schools – something officials said was necessary to begin weaning schools off of federal funds. 
Pushback was swift and fierce. Furious parents, educators and advocates protested all across the city, even trailing Adams at times to confront him about the cuts. Several progressive City Council members publicly apologized for their role in approving the budget. Hoping to force the city to restore the funding, a group of parents and teachers sued, although an appellate court ultimately blocked the effort. 
City Hall seems to have learned from last year's firestorm. Adams and education leaders have said they would continue using federal funds to avoid deeper enrollment-based cuts to school budgets next fiscal year, although some schools with major declines may still see less funds. Officials also anticipate that enrollment will grow next school year given the influx of asylum-seekers who've enrolled in city public schools.
Still, apprehensions remain.
"At a time when the state is investing more in public education and city schools, the city is cutting back. City Hall went on record saying the money was not coming from the classroom," said Michael Mulgrew, president of the United Federation of Teachers, in a statement. "Given the cuts schools faced this year, parents and educators are skeptical, to say the least. We are working with the City Council to protect our school communities."
What are the key numbers in next year's budget?
$30.6 billion – The size of the proposed education budget. The total proposed spending is slightly lower than the figure presented in the preliminary budget, which came in at $30.7 billion. 
$960 million – How much the education budget would drop next school year under the proposal. 
$160 million – How much federal money Adams plans to use to subsidize school budgets to avoid bigger, enrollment-based cuts in the coming academic year. 
$3.3 million – Additional funding for shelter-based coordinators tasked with helping families and their children experiencing homelessness enroll in school and access school services.
$9 million – New funding to create a telehealth program for high school students in need of  mental health support.