Budget
What made it into the 2024 New York budget?
From public safety to housing – here's a guide on where the biggest policy issues stand in the agreement.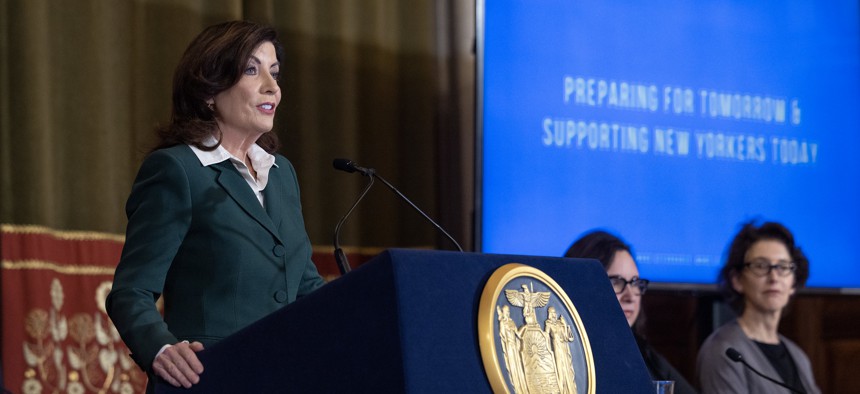 Over a month past the deadline to pass a new spending plan, state lawmakers voted late into the night to finalize the $229 billion budget on Tuesday. After hours of debate, both chambers approved the omnibus bill known as "The Big Ugly" that contained some of the most controversial policy items in the budget, before moving on to pass the remaining four bills of the 10-bill package that make up the state budget. The marathon sessions followed Gov. Kathy Hochul's unveiling of a "conceptual agreement" on the fiscal year 2024 state budget during a surprise press conference last week. Although she made the initial announcement alone, leaders of both chambers said they were not caught off guard, and the Legislature began introducing amended bills a few days later, passing the final budget late in the evening on May 2. "There is some serendipity that the 2023-2024 budget is passing at the beginning of May," Senate Majority Leader Andrea Stewart-Cousins said of the month dedicated to workers' rights while addressing the Senate Chamber. Unsurprisingly, not everyone was a fan of the final budget; several Democratic Socialist lawmakers expressed opposition to what they characterized as the "governor's austerity budget" and ultimately voted no.
Among the policy issues settled are an increase to the minimum wage, bail reform rollbacks, expansion of charter schools in New York City and an increase in the payroll mobility tax on big businesses in New York City to help the financially strained MTA. Here's a guide to help navigate the biggest sticking points in the state budget and whether or not they've been included. This post was last updated May 3. 
Bail reform rollbacks – IN (But discovery – OUT)
For the second year in a row, Hochul successfully held up negotiations to get rollbacks to the 2019 bail reforms. This time around, she got legislative leaders to agree to a tweak language that she said would give judges more discretion to set bail for all offenses - not just serious felonies eligible for bail. New language removes a requirement that judges impose the "least restrictive" pretrial conditions. Previously, that language might have required a judge to release a defendant with an ankle monitor rather than sending them to jail on bail, for example, because the monitor is less restrictive. Hochul also wanted to remove language that specifies that bail should only be used as a tool to get people back to court, rather than as a punitive measure or over a perception of dangerousness. But after pushback from public defenders and lawmakers, the law maintains bail as a measure to ensure a return to court. In an impassioned speech on the Assembly floor, Latrice Walker – who sponsored the 2019 bail reform law and has been on a three-week hunger strike in opposition to rollbacks – shared her criticism of the additional changes to the state's bail law. "We know for a fact that pretrial incarceration, by destabilizing people and families, does not make us safer. We will be left with more unchecked judicial bias that kept Kalief Browder locked up for three years without a conviction," Walker said, later sharing a full statement explaining her opposition.
There were reports of additional changes to the state's discovery laws, which set deadlines for prosecutors to turn evidence over to the defense. However, last-minute discussions to change the 2019 discovery laws did not result in changes. The reversal came after strong opposition from public defenders and a surprise statement from district attorneys who pushed for the tweak expressing dissatisfaction with tentatively agreed-upon language. Additional funding for both prosecutors and public defenders to comply with the law did get included in the spending plan, though.
Hochul – with New York City Mayor Eric Adams and four New York City district attorneys – held a press conference Wednesday to tout the state's funding for public safety and changes to bail reform laws. At the press conference, the governor officially signed the "Big Ugly" state budget bill – which housed the bail reform language – into law.
More funding for the MTA – IN, sort of
New York City came out of budget talks with a mixed bag when it comes to the Metropolitan Transportation Authority. After an initial proposal from Hochul asking the city to chip in an additional $500 million a year in funding, the Big Apple is now on the hook for just $165 million. Hochul said that five bus lines, one for each borough, will get chosen for a two-year free fares pilot program – but the actual budget language says the pilot will only last between six and 12 months. Some New York City lawmakers were pushing for a "Fix the MTA" package this session that seeks to freeze subway fares at $2.75, make all buses free, improve service and pay for it by taxing the wealthy. However, more funding for the agency will come from city businesses, which will face an increase in the payroll tax to fund the agency, with the final deal exempting the suburbs. Rather than increasing the so-called payroll mobility tax to 0.5% for the entire region, city businesses will instead see a hike to 0.6%, which Hochul said will raise $1.1 billion. The state is also investing $300 million in one-time aid for the agency, as well as $35 million to improve subway service frequency.
Taxing the Wealthy – OUT
Progressive elected officials and advocates championed increased taxes on the wealthiest New Yorkers, but were ultimately disappointed. In March, the Invest In Our New York Campaign led the efforts for the week-long takeover of the Capitol war room for the governor to increase taxes on the wealthy and address the needs of working-class New Yorkers in the final state budget. However, an extension of a higher corporate tax rate approved in 2021, did make it into the final budget.
Funding to address migrant crisis – IN
For months, New York City Mayor Eric Adams has called for funding to address the recent influx of migrants coming to New York City. As part of her executive budget, Hochul proposed $1 billion in "extraordinary funding" from the state to help address the crisis, which would be one-third of total funding coming from the state, city and federal governments. Adams has been sounding the alarm on the amount of money the crisis has been costing to state, first $1 billion, then $2 billion and now most recently $4.3 million. As Hochul proposed, the state will allocate $1 billion to New York City for the migrant crisis.
Housing – OUT
As part of her executive budget proposal, the governor proposed a plan to build 800,000 housing units over the next decade. The Housing Compact – which would have required local municipalities to achieve new home construction targets over the next three years and threatened to override local zoning laws if they didn't meet those targets – received criticism from suburban lawmakers. The plan also would have renewed tax incentives to build affordable housing and eliminated some zoning impediments to building new housing. In the end, the ambitious housing proposal was left out of the tentative deal and, according to the governor, it's due to the Legislature's opposition. "They're not ready to commit to the kind of transformative change I proposed," she told reporters. Hochul and legislative leaders said that they would revisit the prospect of spurring more housing growth after the budget, but with just a little over a month of scheduled session left, it's unclear whether they can tackle the thorny issues before breaking for the year. In one of the lone housing-related pieces of the budget, however, Hochul announced hundreds of millions of dollars in new emergency rental assistance for those living in public and subsidized housing.
Natural gas ban and Build Public Renewables – IN
One of the remaining sticking points between the governor and the Legislature was a law banning natural gas in most new buildings. Republican lawmakers have criticized the plan, citing a federal ruling against a similar ban in California. Hochul touted the law at a press conference announcing a budget deal. "We are going to be the first state in the nation to advance zero-emissions in new homes and buildings," Hochul said. Under the agreed upon language, gas hook ups will be banned in new small buildings starting in 2025, and new large buildings starting in 2028.
In a victory for progressive climate activists, the final budget also includes a version of the Build Public Renewables Act very similar to the original legislative proposal. It will expand the New York Power Authority's ability to produce renewable energy, require the agency to do so, speed up the closure of its fossil fuel plants and include labor standards for renewable energy projects at NYPA. Bill sponsor Assembly Member Robert Carroll called it "the most important Green New Deal legislation to ever pass."
Education funding and charter schools – IN
Hochul touted the full funding of Foundation Aid for public schools, and said this year's education investment is the largest in state history. That translates to a record $34 billion for public school funding in the budget this year. But in one of the prickliest fights of the budget season, she and legislative leaders also agreed to open the door to 14 new charter schools in New York City by reissuing so-called "zombie charters." The governor had originally proposed lifting the regional cap on charter schools, a move that would permit roughly 100 new charters to open in the city and one that met fierce resistance from many lawmakers as well as teachers unions. The compromise marks the first movement on the status of charter schools in years even if it didn't go as far as Hochul had originally hoped.
Minimum wage – IN
In a landmark victory for labor activists, Hochul and legislative leaders agreed to index the minimum wage to inflation starting in 2026. They also compromised on a plan to raise the wage before indexing it, settling on an increase to $17 an hour before indexing begins. Although that goes further than the governor's original proposal, it doesn't meet the $21.25 wage that many advocates and lawmakers wanted to see. The minimum wage agreement also resulted in tweaks to scheduled increases for home care workers, which was set to hit $18 per hour this year. That will be delayed until next year, with a slower rate of increase for home care pay to hit at least $3 above the baseline minimum wage, a standard agreed upon in last year's budget.
SUNY and CUNY tuition hikes – OUT
The final budget agreement did not include a highly controversial increase to in-state tuition for public universities. Hochul had proposed it as part of her executive budget, but the pitch received swift and strong backlash. Tuition hikes were approved for out-of-state students, however.
Belmont Racetrack funding and film tax credit – IN
Two high-dollar proposals that have drawn the ire of good government groups made it into the budget ultimately with little fanfare and scarce opposition. The Belmont Racetrack on Long Island will get $455 million to make renovations, and lawmakers also approved an expansion of the Film Tax Credit, meant to incentivize filmmakers to bring their productions to New York, with a price tag of $700 million.
Universal school meals – OUT
The budget contains funding to greatly expand school meals for public school students, but it doesn't go quite as far as ensuring that all students, regardless of income, can access free meals. The state will dedicate an additional $134 million to target low-income students by ensuring that schools that qualify for the federal Community Eligibility Provision can participate in the program. But students in schools that don't qualify for that program will still have to pay for breakfast and lunch, falling short of the universal free meals pushed for by some education advocates.
This is a developing story.