Kathy Hochul
Takeaways from Hochul's state budget proposal
The governor unveiled a plan to increase education spending and address MTA fiscal woes and New York City's migrant influx.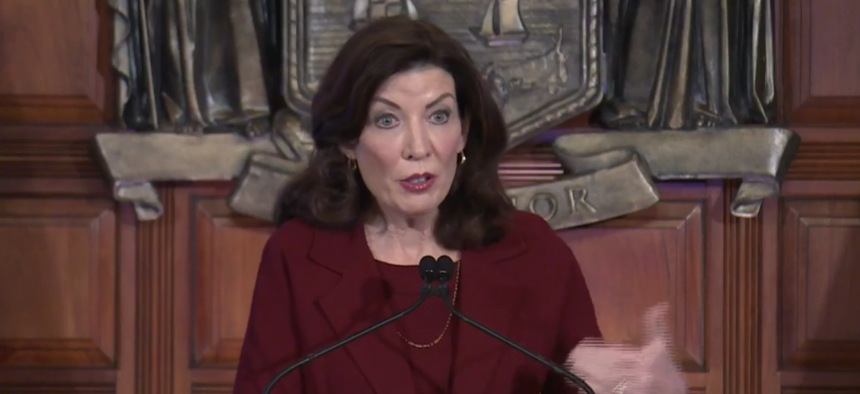 Amid a fraught political atmosphere in Albany, Gov. Kathy Hochul unveiled her $227 billion executive budget proposal on Wednesday afternoon. Making good on her promise not to raise taxes, her budget includes no significant new revenue raisers while making investments in priorities mentioned in her State of State address, including housing, criminal justice and mental health care.
Hochul's budget comes on the heels of a major political defeat at the hands of the state Senate when its Judiciary Committee rejected her chief judge nominee, Hector LaSalle. The governor has not said what her next steps will be here, but she and state Senate Majority Leader Andrea Stewart-Cousins have not spoken since before the hearing that tanked LaSalle, Stewart-Cousins told reporters on Tuesday.
Hochul did not include quite as many major policy proposals, with the notable standout exceptions being eliminating the cap on charter schools in New York City, tweaking the state's bail laws again, banning gas hookups in new buildings and indexing minimum wage to inflation. Two of those proposals have broad support in the Legislature, but the bail and charter school ideas will likely meet resistance from Democratic lawmakers. 
The executive budget included additional details about Hochul's plan to build 800,000 new units of housing over the next decade, the cornerstone of her State of the State address last month, but didn't have any new information about a replacement for the controversial developer tax break that expired last year. The governor had proposed a replacement last year, but it faced fierce opposition from lawmakers and ultimately failed. 
But the executive budget has plenty of other things going on that will fuel what will probably fuel tense negotiations this year as the relationship between Hochul and lawmakers seems to continue to deteriorate. Here are the major takeaways.
New York City's migrant crisis
Mayor Eric Adams has repeatedly asked for state assistance in dealing with the ever-growing migrant crisis facing the city, a call that Hochul has mostly avoided. At the beginning of her budget briefing book, Hochul said that "the provision of care for thousands of new asylum seekers" is one of the most pressing issues facing the state this year. She said her executive budget "provides extraordinary funding to local governments" to help with the crisis. But the governor's book is light on details about what it plans to do to help. 
The governor promised $1 billion in "extraordinary funding" to help address the crisis, an estimated one-third of total funding coming from the state, city and federal governments. The money would pay for reimbursing shelter costs, continuing the deployment of National Guard troops to the city and additional cash for health care.
The governor's budget proposals don't address the mayor's pleas to assist relocating migrants from the city to other places upstate with the resources to take them. Although the pair have continued to present a united front on other issues, with Adams praising Hochul's tenure as governor, the state has yet to provide significant assistance in dealing with resettlement efforts.
Education
Hochul has proposed $34.5 billion total in education funding, again continuing the trend of record school spending. That includes a new $125 million investment to expand full-day pre-K that would support an estimated 17,500 new slots.
Hochul is once again touting the continued rollout of a fully funded Foundation Aid, a process that started under her predecessor in 2020 and finishes this year. It closes out with a $2.7 billion increase for a total of $5.7 billion more since the 2021 school year.
Hochul also answers charter school advocates' calls by proposing the left the cap on charter schools in New York City. The state-imposed cap has prevented new ones from opening, much to the chagrin of both operators and parents who support charter schools for their children. 
Public safety
A key part of Hochul's agenda for the year is public safety, a fact clearly reflected in her executive budget. Most notably, the governor has repeated her intent to amend the state's bail laws again to provide judges with greater discretion to set bail for the most serious offenses. Both legislative leaders said they want to follow the available data when deciding whether to make additional changes to the law. The Legislature held a lengthy joint hearing on crime data on Monday that will likely inform the leaders' opinion as specific details come out. 
The governor also has proposed new funding for law enforcement and prosecutors, including $18.2 million in new money for the state's Gun Involved Violence Elimination program. She also pledged a series of investments in criminal justice services, with $15.7 million in new funding for alternative to incarceration programs, $40 million to help implement discovery reforms in local district attorneys offices, $20 million for pretrial services and another $40 million to hire new prosecutors. As part of the public safety proposals, Hochul also said she would invest a new $37 million in youth employment programs to divert young people away from crime.
Taxes
True to her word, Hochul did not raise income taxes and continued proposals to ease fiscal strains on New Yorkers. That includes new funding for a series of tax credits, like increasing the film tax credit to a $700 million cap, a nearly $300 million increase. She has also proposed a new tax credit for child care creation and expansion.
The budget proposal has no significant new revenue sources. Although Hochul said she would extend for three years the temporary higher tax rate for businesses that make $5 million or more a year, her briefing book does not show a revenue impact of that until fiscal year 2025, when it is expected to bring in $810 million. The book does say that mobile sports gambling has so far brought in $909.2 million, but the vast majority of that money goes towards education funding rather than the state's general fund. Also absent are any revenue predictions for the burgeoning legal cannabis industry in New York. The first pot shop officially opened in late December, with a second pop-up operating for part of February as well.
Transportation
Amid the MTA's impending financial crisis, the executive budget proposes a package to help the agency address its financial problem – including savings through operating "efficiencies," increased funding from the Payroll Mobility Tax and increased annual funding contributions from New York City. This year, the state will invest $8.3 billion in operating aid to the agency and traditional assistance to the agency will increase by 7%. The MTA will also receive $300 million of one-time assistance to address the issues caused by the pandemic.
The plan highlights the "largest investment in MTA infrastructure in state history" with the $52.1 billion capital program lasting through 2024. The budget points to the controversial congestion pricing plan to deliver $15 billion in financial support for the program as well as other initiatives, including the Penn Station Access, the Second Avenue Subway project, and improving accessibility. 
Mental health investment and health care
Hochul's State of the State touted a $1 billion investment in mental health resources. The executive budget provided additional details with an allocated $890 million to build 2,150 new residential beds for people with mental health issues. The mental health plan will also include services for children and families, including $10 million in grants for suicide prevention targeting youth, $12 million in funding for crisis intervention programs and $10 million to develop school-based clinics.
The executive budget also proposed a $1 billion investment in health care, which will include $500 million dedicated to helping providers and $500 million going to technology investments. 
Looking ahead
The executive budget has $8.7 billion in surplus this year. The executive budget also highlights the $19.5 billion in reserves that have been added since 2020, ahead of expected economic downturn. The budget projects a gap of $22 billion the next few years – $5.7 billion in 2025, $9.0 billion in 2026 and $7.5 billion in 2027. The plan points to the decreased projected tax receipts as the main reason for the gaps.