Policy
Hochul announces tentative agreement on state budget
The governor says she and legislative leaders have reached a deal for a $229 billion spending plan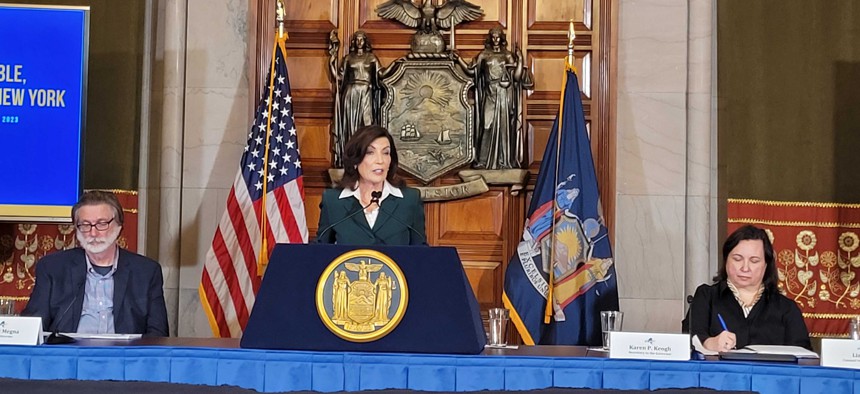 In a surprise Thursday evening press conference, Gov. Kathy Hochul announced a "conceptual agreement" on the state budget nearly a month after the spending plan was due. She highlighted changes to the bail law, new charter schools and a free bus pilot program in New York City. The plan is expected to total $229 billion.
State Senate Majority Leader Andrea Stewart-Cousins and Assembly Speaker Carl Heastie were not present for the announcement. "I first of all want to offer a heartfelt thank you to my partners in government," Hochul said of the absent legislative leaders. In a statement to The New York Times, Heastie confirmed the achievement of a conceptual agreement. "While there are still some issues we need to discuss with our members, I am confident we will pass a budget that meets our goals to make New York more affordable and place our state on a strong path forward," Heastie said. A spokesperson for Stewart-Cousins did not immediately return a request for comment.
Hochul and legislative leaders butted heads on a number of contentious issues that delayed the process well past the April 1 deadline, including bail, housing and charter schools. Despite the governor's ambitious housing plan from her executive budget, nearly all proposals related to building more housing got nixed from the final deal. Despite this and the fact that the budget is now nearly a month late, Hochul still struck a celebratory tone about the deal she announced. "I believe New Yorkers will be proud of this budget," Hochul said. "It serves so many different needs and helps so many different people, that's why I'm proud of it." The governor also said that her relationship with legislative leaders is "stronger than you can possibly believe" even in light of the heated budget negotiations this year.
Hochul began her announcement with an update on bail reform, which has been a major sticking point in budget negotiations. "I'm here to announce that we've made improvements to our bail laws," Hochul said, confirming earlier reporting by City & State that she and legislative leaders had reached a deal to remove what's known as the "least restrictive means" standard judges need to follow when setting bail. "It gives judges more discretion they need to hold violent criminals accountable while still holding commitment to a justice that is fair and accessible to all," Hochul said.
The governor's counsel Liz Fine confirmed that the agreement would keep language that restricted the use of bail as a means to ensure a defendant returns to court. Hochul's original proposal removed the language, which legal experts and public defenders said would have allowed judges to jail people pretrial for other reasons such as perceived "dangerousness." According to Fine, the new language will read "the court must consider the kind and degree of control or restriction necessary" to ensure a return to court – the exact same language that was in the law before the 2019 reforms.
Hochul said that the budget deal would not include changes to discovery reform, another controversial criminal justice policy. City & State previously reported that New York City district attorneys, led by Bronx DA Darcel Clark, had proposed changes to the requirements governing when prosecutors must provide evidence to the defense. Clark and other district attorneys had argued that 2019 reforms to the discovery laws went too far and were untenable for prosecutors. But the proposed changes hammered out by Hochul and legislative leaders did not satisfy the city DAs, so the proposal was pulled.  "We thought we had a plan that met their needs, and the district attorneys decided that was not the path they wanted to go on," Hochul said. However, the governor said that additional funding for district attorneys offices to comply with the current discovery laws was included in the budget deal. And changes to the discovery law may be revisited later in the legislative session, which is scheduled to run through June 8.
Charter schools were another significant point of negotiation for Hochul and legislative leaders that held up a final budget deal. Hochul had originally pitched lifting the regional cap on the number of charter schools in New York City, which could have led to about 100 new charter schools opening. The proposal met fierce resistance in the Legislature and from teachers unions. Instead, Hochul announced that a deal had been reached to reissue 14 so-called "zombie charters" in New York City, which would allow 14 new charter schools to open in the city.
According to Assembly members, environmental issues remained one of the last remaining topics left open as of Thursday afternoon, with particular contention over the details of a plan to ban gas hookups in new construction. Hochul on Thursday night said that starting in 2025, all new small buildings would be zero emission. The requirement will begin in 2028 for large buildings. "We are going to be the first state in the nation to advance zero-emissions in new homes and buildings," Hochul said. The final deal will also include a version of the Build Public Renewables Act, which would enable the New York Power Authority to expand its renewable energy production capacity. 
Hochul announced that the budget will incorporate portions of the "Fix the MTA" package pushed by transit advocates and favored by progressive lawmakers with the inclusion of a two-year free bus pilot program on five different lines in New York City. While the full Fix the MTA package envisioned raising taxes on the wealthiest New Yorkers to pay for free buses and a subway fare freeze, the budget deal only includes a 0.6% increase to the payroll mobility tax on New York City's big businesses, which Hochul said would provide an extra $1.1 billion to the MTA. The budget doesn't include increased payroll taxes in the suburbs or any kind of increase in income taxes on wealthy New Yorkers.
This is Hochul's first budget since being elected governor and her second since taking office in August 2021. It's also the most overdue budget in over a decade – and it's still not done yet, since both chambers of the Legislature still need to print and vote on the actual budget bills. Hochul made it clear that she had no regrets about preferring a late budget to one that did not include her funding priorities. "I'll do this every year I'm blessed to be governor," she said, adding that she will "never shy away from a fight."
"Next year is an eternity away," she added when asked about the prospect of more late budgets in the future. "And I'm going to continue focusing on important policy issues that better the lives of New Yorkers and while we strive to meet our deadlines, and I'll leave it at that."