NYPD
The NYPD isn't the only overspender on overtime. Just the biggest.
Mayor Adams complained people care too much about police department overtime. There's a reason.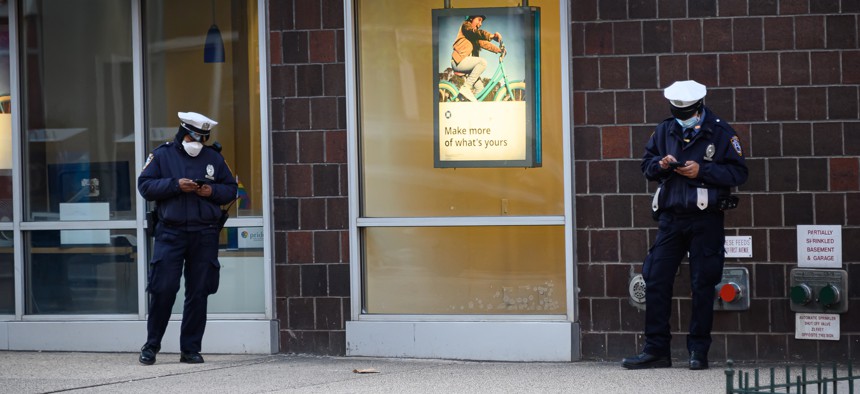 New York City budget negotiations have yet to begin in earnest, but Mayor Eric Adams is already previewing one potential point of contention with the City Council this year.
"I was talking to some City Council members the other day and they were talking to me about NYPD's overtime," Adams said on Wednesday, at a press conference on his fiscal year 2024 executive budget proposal. The New York City Police Department routinely spends in excess of its overtime budget. As of February of this year, it had already spent nearly $100 million over its budgeted overtime for the (still not over) fiscal year 2023.
But Adams suggested that the attention paid to the police department's overtime budget is unfair. "I said, 'Is it that you dislike overtime or you dislike the NYPD?' Because I never hear them talk about overtime in any other agencies," Adams said of his conversations with unnamed council members. "We have overtime in all the agencies, I have overtime. But no one gets riled up with overtime in Parks, overtime in (the Human Resources Administration). No one gets riled up in overtime anywhere else but the New York City Police Department."
Adams isn't wrong that other agencies spend millions on overtime every year. Budgeted and actual spending data from fiscal years 2016 through 2022 from Checkbook NYC compiled by the Citizens Budget Commission shows that many agencies – including non-uniformed agencies like the Department of Parks and Recreation and the Department of Social Services – spend in excess of their overtime budgets. 
And in some cases, other agencies overspend to a greater extent than the NYPD, as a percentage of their budget. While the NYPD overspent its uniformed overtime budget by 89% in fiscal year 2022 – nearly doubling what it was allocated in the adopted budget – the Department of Social Services overspent its overtime budget by 435% that year, and the Department of Finance overspent by 607%, for example.
But those figures belie the crux of overtime spending, because it's not overspending by percentages that critics are paying attention to. The NYPD, which in recent years has had the city's largest overtime budget, still spends the most of any other agency in terms of absolute dollars. It also routinely overspends the most. Actual overtime spending – for uniformed positions alone – by the NYPD totaled $670 million in fiscal year 2022, when the department's uniformed overtime budget in the adopted budget was roughly $354 million. The NYPD also blew past its civilian overtime budget of $81 million, spending $108 million.
By comparison, the Department of Social Services spent $85 million and the Department of Finance spent $7 million in overtime that year. Both departments outspent their overtime budgets for fiscal year 2022, but that spending pales in comparison to the total amount of overtime costs racked up by the NYPD. With the exception of uniformed agencies, no other agencies outspent their overtime budgets by nine-figure margins.
Adams' off the cuff comments on Wednesday were part of a broader defense of police officers, from a retired cop. Adams suggested that budget watchers should cut the NYPD a break, as police officers put their lives on the line. "The only agency in this city that if gunshots go off, they're required to go respond towards it and not run away from it," Adams said. "So is it anti-overtime or is it anti-police?"
A March report from New York City Comptroller Brad Lander found that NYPD uniformed overtime spending was responsible for 30% of the city's gap between actual and planned overtime spending for all agencies in fiscal year 2022. 
Uniformed agencies spend by far the most on overtime. In fiscal year 2022, the Department of Correction's overtime spending on uniformed positions reached triple what it was budgeted, at $241 million; the Department of Sanitation overspent by more than double its budget at $258 million; and the Fire Department overspent by 89% at $392 million. A 2022 report by state Comptroller Tom DiNapoli noted that staffing shortages at the Fire Department and the Department of Correction contributed to higher overtime costs that year.
In the executive budget for fiscal year 2024 that Adams presented on Wednesday, the NYPD's budgeted overtime was cut by roughly $4 million from the amount that was budgeted for the current year. But the agency's history of overspending casts serious doubt – if not disbelief – for some in the NYPD's ability to spend within that budget. 
Asked about the mayor's complaint, City Council Speaker Adrienne Adams suggested people get riled up about police OT for a reason. 
"The NYPD consistently blows past its budgeted amount for overtime costs, in the hundreds of millions, in a way that no other agency does," Speaker Adams said at a press conference on Thursday. "We care about responsible budgeting, and the fiscal health of our city, and allowing an agency's overtime spending to routinely go beyond its budgeted amount year after year is not responsible budgeting. Our budgets should aim to reflect our spending."
Public Advocate Jumaane Williams also shot back at the mayor's comments Thursday. "The NYPD's overtime spending balloons in spite of a headcount like no other agency, including ones which should be doing some of the work we assign to police, such as the Department of Health and Mental Hygiene," he said in an emailed statement.
Mayor Adams seemed to forget his own focus on NYPD overtime. During his 2021 mayoral campaign, Adams promised to cut police overtime spending in half by the end of his first year in office, with plans to drastically reduce the number of officers patrolling special events like parades – a major driver of NYPD overtime.
At a City Council budget hearing in March, NYPD officials said that the department is cracking down on overtime, and had reduced overtime hours at the city's Halloween Parade by 40% and at the New York City Marathon by 20%. In all of 2022, department officials said, the NYPD used 14% fewer overtime hours for planned events and details than in 2019. 
But excessive overtime at planned events is just part of the problem. Overtime pay is built into what police officers can expect to earn on the job, and planning how to get those hours opens the door to overtime abuse. In a bizarre recent example reported by Gothamist, officers in a Manhattan precinct were recorded – apparently unwittingly – talking about whether they would "milk" the time spent on processing a man who was arrested for trespassing. 
NYPD officials also noted that part of the reason why the NYPD is overspending its allocated overtime budget by 90% is because the overtime budget was cut in 2020 as a political response to the Black Lives Matter protests against police brutality and systemic racism and hasn't been "rightsized" again. The department's uniformed overtime budget went from $535 million in fiscal year 2020 to $227 million in fiscal year 2021, and the percentage to which the department has exceeded its budget has gone up ever since. Before 2020, the NYPD was still routinely overspending, but by much smaller proportions.
Some council members and fiscal watchdogs have called for the city's budget to more accurately reflect what it actually expects to spend on overtime each year – while also implementing measures that will get overtime spending closer to the more aspirational numbers on the books now. "The budget should actually reflect what the city thinks it will spend," said Ana Champeny, vice president for research at the Citizens Budget Commission. "We're not saying just put in the number from last year. We encourage and support efforts to reduce overtime spending. But to say you're gonna cut overtime spending by hundreds of millions of dollars without a plan, and without some managerial route to get there and then budget that way is not the correct approach either."