Policy
The NYPD is way over its overtime budget. Does the department even care?
The New York City Police Department's commitment to curbing OT spending was met with skepticism at a City Council hearing.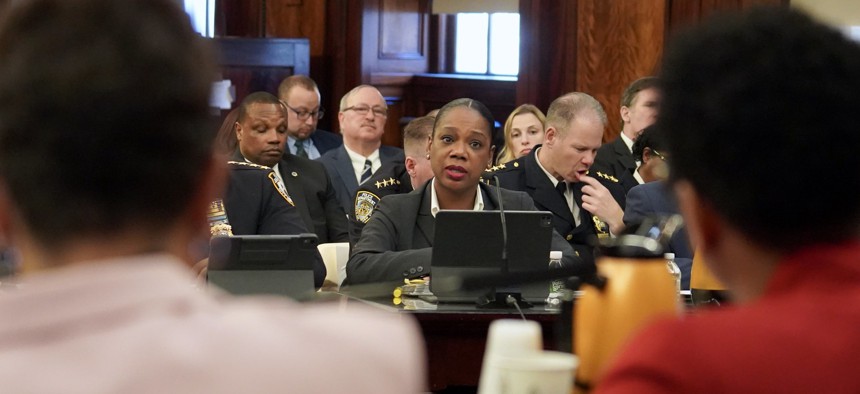 At a City Council hearing on Monday, the New York City Police Department said that it's working to "curtail" overtime spending. But new figures suggest that its efforts so far aren't making much of a dent in the department's notoriously over-budget OT.
"In fiscal year 2023, the department exceeded its overtime budget by around $100 million, and it's on course to spend more than ever on overtime," New York City Council Speaker Adrienne Adams said to Police Commissioner Keechant Sewell and a slate of NYPD chiefs at Monday's hearing. Adams also noted that the NYPD hadn't met savings targets required of city agencies, before asking, "do you believe your agency should not be held to the same fiscal realities as other city agencies that provide critical services?" The question was not explicitly rhetorical, but it might as well have been. 
The agency found just $19.1 million in budget savings for the upcoming spending plan, out of a $5.4 billion operating budget, by eliminating 540 vacant civilian positions and 282 school safety agent vacancies. But that $19.1 million is less than half of 1% of the budget, when the mayor was seeking 4.75% reductions, for a Program to Eliminate the Gap. 
And police overtime spending – including on uniformed and civilian positions – in the current fiscal year had reached nearly $553 million as of January, $100 million more than its $453 million overtime budget for all of Fiscal Year 2023, according to figures from the council. With several more months before the end of the fiscal year June 30, that's projected to grow even more. The Citizens Budget Commission projected that by the end of this fiscal year, overtime spending for police could reach $812 million, nearing double its budgeted amount.
In a separate report released on Monday that looks specifically at overtime spending on uniformed positions, New York City Comptroller Brad Lander noted that the NYPD's actual overtime spending had consistently exceeded its budgeted amount over the past decade, albeit by varying margins. "If New York City had unlimited cash, it would be lovely to allow teachers unlimited overtime to stay after school to help every kid learn to read or pay social workers unlimited overtime to help counsel New Yorkers struggling with mental illness. But other agencies aren't allowed to show total disregard for their overtime budget, and we can't afford for the NYPD to do so year after year," Lander said in a statement.
At Monday's hearing, police department officials attempted to add additional context to their overtime spending, arguing that following cuts to the department's overtime budget in 2020 – when overtime deployments at public events and courts, for example, were cut down because of the COVID-19 pandemic – the budget has not been rightsized again. 
Asked what the department is doing to actually curb its use of overtime, officials said that it has focused on its overtime deployments at events like parades. The department reported that it reduced the number of actual overtime hours at the city's Halloween Parade by 40% and at the New York City Marathon by 20%, and in all of 2022, used 14% fewer overtime hours for planned events and details than in 2019. Actual overtime hours have been around the same level or lower in some areas compared to Fiscal Year 2019, the department said.
But progressive Council Member Tiffany Cabán didn't buy the department's commitment to curbing overtime, or Sewell stating that the department only has a "finite amount" of officers. "NYPD 'addressing' overtime now. Saying if they had more officers they would use less overtime. FALSE," Cabán tweeted from inside the City Council chambers. "We have the largest (police department) in the country."
Council Members Bob Holden, a conservative Democrat, and Republican Joann Ariola, argued the opposite at the hearing, saying that the department is suffering from officers leaving and struggling with recruitment. In her testimony to the council, Sewell said that the department is down about 2,500 officers out of 35,030  and about 1,200 civilian positions out of 14,680 budgeted for this fiscal year.
Monday's hearing also gave the council a chance to ask top police brass about its controversial Strategic Response Group – a unit that responds to protests, among other duties – after the department refused to appear at a hearing on the topic earlier this month. 
Beyond providing some basic details about the unit, Sewell and other department officials declined to answer questions about it, citing ongoing litigation about the department's response to Black Lives Matter protests in 2020, where the unit was involved. 
While the department's mammoth overtime budget took up a lot of airtime at the hearing, several council members also questioned officials about the police's role in involuntarily hospitalizing people experiencing mental health crises under a new directive from Mayor Eric Adams' administration. NYPD Chief Theresa Tobin reported that since the beginning of this year, 1,332 people had been involuntarily removed from streets. But it was the demographics of that population that caught some council members' attention. Of those, 47% were Black, nearly 19% were white and 17% were Hispanic, Tobin said. "That right there, to me, seems like it is a symptom of a system that continues to target people of color," Council Member Carmen De La Rosa later said.
"I'm not sure why everyone else is not outraged," Council Member Althea Stevens added of the statistics.