Heard Around Town
Adams proposes 4% cuts to city agencies – again
The council and progressives immediately pushed back against the mayor's latest cost-savings initiative.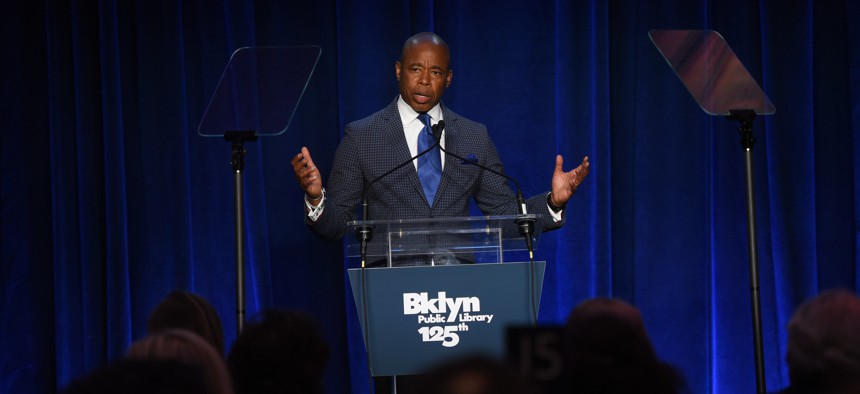 New York City Mayor Eric Adams' latest round of citywide budget cuts – announced in a memo to city agencies Tuesday and first reported by the Daily News – drew quick pushback, including from City Council leaders who just a day earlier presented a notably rosier view of the city's financial future. "Today's PEG appears to be a demonstration in excess that risks taking the city down a harmful, destabilizing path," Speaker Adrienne Adams and City Council Finance Committee Chair Justin Brannan said in a joint statement. City Comptroller Brad Lander and the Progressive Caucus of the City Council released similar statements.
Citing the costs of managing the asylum-seeker crisis and labor contract obligations among other economic risks, all city agencies have been instructed to find 4% in savings for the upcoming Fiscal Year 2024, with the exception of the Department of Education and the City University of New York, which have been ordered to cut 3%. This marks the third PEG under Adams, along with an additional vacancy reduction initiative last fall.
While previous PEGs instructed agencies to find savings without layoffs or reducing services – meaning savings were largely found through eliminating vacant positions – this latest round of cuts doesn't explicitly prohibit cuts to services, but notes that agencies "should avoid meaningfully impacting services where possible." "As today's letter states, agencies must achieve savings without laying off employees and minimizing impacts on city services," mayoral spokesperson Jonah Allon said in a statement. "Make no mistake: Despite these challenges, we remain steadfast in our commitment to continuing to deliver core services to New Yorkers every day."