Policy
NYC Council calls for restoring budget cuts, with additional funds for housing, libraries and more
There's more juice to squeeze out of the city budget, City Council says in preliminary budget response.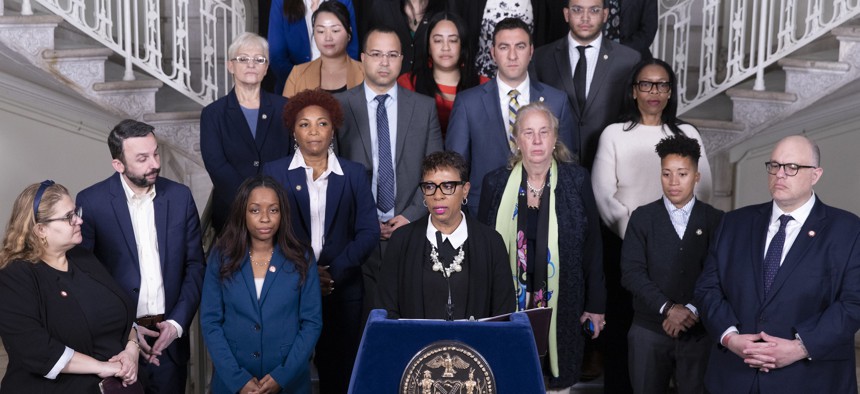 The New York City Council sees brighter, bluer skies ahead in the city's fiscal future than Mayor Eric Adams' administration. In their official response to the mayor's preliminary budget for fiscal year 2024, City Council leaders including Speaker Adrienne Adams and Finance Committee Chair Justin Brannan announced that they identified $2.7 billion in additional resources – a hefty portion of which they said could be used to restore cuts in the mayor's preliminary budget. 
That extra couple billion, the council said, was identified through tax revenue projections that exceeded the administration's own forecast. (Typically, the council takes a more optimistic view toward budget projections, Speaker Adams said on Monday.)
In January, Mayor Adams, alongside the city's Office of Management and Budget, presented a preliminary budget that included across-the-board cuts at agencies and vacancy reductions. In statements and subsequent budget hearings, council leaders have cautioned against cuts, warning that they could disrupt the city's ability to provide essential services. "Failing to adequately invest in our city and New Yorkers at a time when we're facing so many crises also carries immense risks that could result in families going hungry, worsening mental health and housing crisis and other far reaching consequences," Speaker Adams said on Monday. The council proposed using $1.3 billion of the additional resources identified to restore funding to libraries, restore vacancy cuts at various agencies, and more.
After Mayor Adams announced his budget, library advocates organized protests and petitions to restore funding.
The council acknowledged that risks do lie ahead – including the cost of services for asylum-seekers and a broader economic recession – and proposed putting $1.4 billion of the extra resources they identified as an additional commitment to budget reserves. 
The council's preliminary budget response is just the latest step in a long dance with the administration ahead of a July 1 budget deadline.
On Monday afternoon, a spokesperson for Mayor Adams said that the council proposal failed to adequately plan for the budgetary and economic risks that lie ahead, including potential cost shifts from the state budget and the cost of the asylum-seeker crisis. "The City Council's failure to account for $4.2 billion in related asylum-seeker costs or potential state cuts is unrealistic and does not properly recognize the city's current and upcoming fiscal challenges," spokesperson Jonah Allon said in a statement.
Here are a few of the ways that the council is proposing the city spend additional money that council leaders said they identified.
Investments to help close Rikers Island on time
Several times this year, Speaker Adrienne Adams has called for a renewed push to close and replace Rikers Island with smaller borough-based jails by 2027 – as required by law – even though Mayor Eric Adams' administration continues to cast doubt on that timeline based on the city's current jail population. But the council's budget response features proposed funding in a few new areas that the speaker suggested could aid in the goal of closing Rikers and lowering the population of incarcerated people. That includes a proposed additional $57.8 million to fund housing opportunities with wraparound services for people involved in the criminal justice system. The council also called for an increase of $34 million in spending on Alternatives to Incarceration and Alternatives to Detention programs, which include drug and mental health treatment alternatives to jail. Overall, the council proposed $117.4 million in additional funding for initiatives that aim to address health and mental health needs, as well as community-based public safety programs, like violence interruption work with young people. "The city should use all strategies possible to move people out of Rikers and prevent additional admissions," the council's response read.
Keeping education programming strong
Stressing the ongoing impacts of the COVID-19 pandemic on New York City public schools, the council urged the city to funnel an additional $388 million dollars into education initiatives to both support students and a system still reeling from learning loss, increased social and emotional needs and overall lower enrollment. Last year, many schools were confronted with hundreds of millions of dollars in budget cuts that were linked to lower enrollment and the reality that federal stimulus funding no longer completely offset the decline in students. This garnered fierce backlash from parents, advocates, and school leaders alike. Some progressive council members even apologized last summer for their part in initially approving the budget. 
While updated school budgets and enrollment projects for next school year have to be released, the council called on the city to ensure the Fair Student Funding formula is 100% funded and to ensure adequate resources are provided in a way that students won't lose out on key programs next year. A few specific programs outlined in the council's budget response included an additional $77.9 million for ensuring each school has a certified arts teacher and upping the per student allocation for art programming from $80 to $100 and $59 million to expand restorative justice programming to 250 schools. It also called for $14.1 million to hire social workers and guidance counselors at 100 schools. 
With federal funding expiring in a little over a year, the council's budget response also urged the city to identify a new way to support the expansion of 3K in the coming years while also fixing administrative problems that council members argue is the cause for ongoing program under enrollment. Aimed at making 3K more accessible for working families, the council also called for $15 million to fund a pilot program that would extend 1,000 3K seats for longer days and during more days of the year.
Support for immigrant New Yorkers
The Adams administration has estimated that the city will spend around $1 billion during fiscal year 2023 in response to the influx of asylum-seekers who've arrived in the city since spring. Those costs are expected to grow – over 50,000 people have arrived so far, many of whom remain in the city's shelter system. The council's budget response features funding for programs that would help new arrivals as well as other immigrants chart a long-term course in the city. One suggestion calls for an allocation of $3 million to fund workforce development programs specifically for immigrant New Yorkers in fields that need highly skilled workers, such as restaurants, health care, and recreational facilities. Another urges $10 million in funding to allow Promise NYC to continue operating past June 2023. The child care program serves immigrant families whose immigration status makes them ineligible for federally funded child care options. 
Additional investments in housing
Last year, City Council leaders attempted to hold Mayor Adams to a commitment he made on the campaign trail to put $4 billion in capital funding per year toward housing. While the adopted budget did increase capital funding for housing over the next 10 years, it didn't quite reach the commitment, averaging at about $2.2 billion per year. The council's new budget response again calls for fully funding that pledge. It also proposes additional funding for Supportive Housing and Extremely Low- and Low-Income Affordability programs, among other programs.