Criminal Justice
Parole bills advance in NY Legislature
The bills would make it easier for incarcerated people to be considered for release.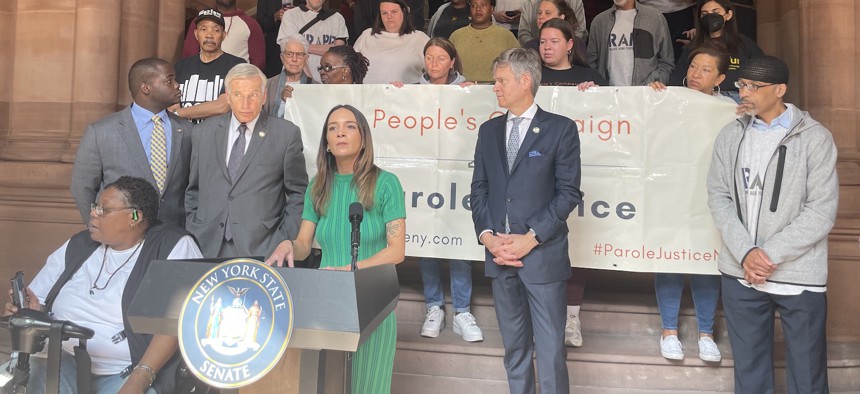 As state lawmakers sort out their end-of-session priorities, parole reform appears to be on the agenda for both chambers. The state Senate Crime Victims, Crime and Correction Committee voted to advance legislation meant to make it easier for incarcerated people to get considered for parole. And the Assembly Correction Committee was set to move that bill, along with another that would make elderly inmates eligible to get parole.
The Fair and Timely Parole bill would make it easier for people in prison who are eligible for parole to actually receive it. If implemented, the bill would amend state law to allow for parole to be granted unless the parole board can prove that a person would likely commit another crime if released. The board would be required to consider an expanded slate of factors including the person's participation in therapeutic programs, statements of support from staff and fellow inmates and support services available to them.
"If you believe people cannot be redeemed, then I have nothing for you. I believe in redemption," said state Sen. Gustavo Rivera, a longtime sponsor of the bill, as he voted to advance the legislation.
State Sen. Zellnor Myrie, who sponsors a bill meant to make it easier for formerly incarcerated people to find jobs, also voted to move the bill forward. "I taught in a prison. I have my formerly incarcerated constituents who fought for this bill. There are families that have been ripped apart," Myrie said. 
In addition to the Fair and Timely Parole bill, advocates have also been trying to get the Elder Parole bill over the legislative finish line this year. This bill would make incarcerated people aged 55 years and older who have been in prison for at least 15 years automatically eligible for a parole hearing. The bill does not mandate that anyone actually be released from prison, just that they be given the opportunity to make their case for release to a parole board. The Assembly Correction Committee was set to vote on this and Fair and Timely Parole Tuesday.
Criminal justice reform advocates rallied in the Capitol on Tuesday after the Senate committee vote and ahead of the Assembly committee votes. Earlier this month, they touted that a majority of state senators had signed onto the Elder Parole legislation as co-sponsors, a sign that the proposal had the support to get done before the end of session. "We have enough votes and we're asking Senate Majority Leader Stewart-Cousins and Assembly Speaker Heastie to please put the bills on the floor for an up or down vote," Stanley Bellamy, a community leader with the Release Aging People in Prison campaign who was released from prison, said at the rally. "Give those I left behind the same opportunity I received." 
As reported by City & State, Bronx District Attorney Darcel Clark is the third New York City district attorney to support the Elder Parole and Fair and Timely Parole bills. Manhattan DA Alvin Bragg and Brooklyn DA Eric Gonzalez also support the bills.
After advancing out of the Crime Victims, Crime and Correction Committee in the state Senate, the bill will now move for review in the Finance Committee.