Policy
White House still mum on Hochul's most recent plea for migrant assistance
As county leaders ring the alarm bells about the migrant crisis, the governor said the president has not yet responded to a letter she sent on Friday.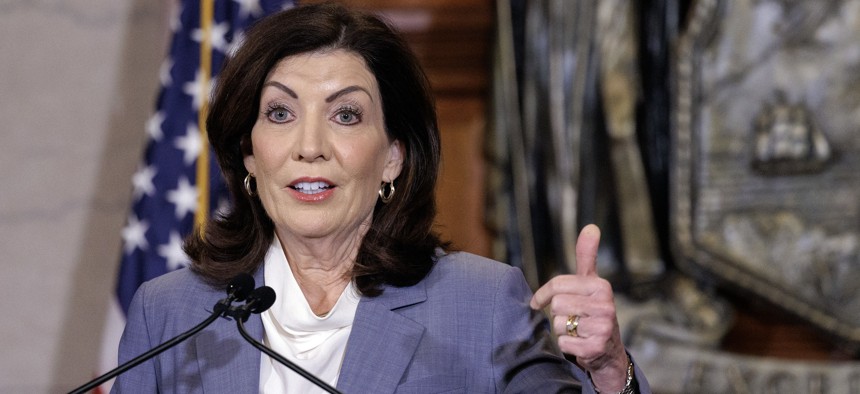 Gov. Hochul said on Monday that the White House has not yet responded to a letter she sent late last week asking for federal assistance with the migrant crisis facing the state. In the plea sent Friday afternoon, the governor asked President Joe Biden to open up military facilities to house migrants coming to New York. 
Hochul told reporters that the Biden administration hasn't given her an answer about opening up those federal facilities even as more local leaders say that they're ill-equipped to handle the expected influx of migrants. "I don't have a response yet," Hochul said. "I think it's a very reasonable request to recognize that it is a federal problem, and there are federal assets, federal facilities, one that we think would lend itself easily to standing up a large-scale operation." Hochul added that she's not "offended" that the White House hasn't gotten back to her yet given that it's only Monday, but promised that "they'll certainly be hearing from me" if she doesn't get an answer soon. A spokesperson for the governor said that the Biden administration has confirmed it received the letter. So far, there does not appear to have been an uptick in immigration after Title 42 was lifted at midnight on Thursday, and a major influx has not materialized.
Among the specific facilities Hochul mentioned in the letter to the White House is Floyd Bennett Field in Queens, which is managed by the National Park Service. New York City Mayor Eric Adams had suggested the location just a day before she sent the letter, although The City reported that neither Floyd Bennett Field nor the National Park Service had received a request from the governor to use the facility. 
Hochul on Monday also said she is calling on the Biden administration to expedite the process for migrants to receive work authorization. "I've been asking for that since last summer," she said, adding that along with money, it has been her top ask of the White House. Adams and county leaders have asked for that as well.
New York City has faced a crisis for months
0, with Adams calling on both the state and federal government for assistance. The recently passed state budget includes an additional $1 billion for the city to address the influx of migrants. Hochul also declared a state of emergency for all of New York Tuesday in anticipation of the end of a pandemic-era border policy that allowed officials to turn away most migrants that attempted to come through the southern border.
The governor discussed the White House letter to open federal military facilities with county leaders during a meeting last week to discuss how to handle the crisis. "We're going to work with the counties," Hochul told reporters Monday. "Some counties are looking and very welcoming, and so there are conversations about what that looks like." Westchester is one such county, with County Executive George Latimer saying that officials have a moral obligation to help. 
But not every county is planning to be welcoming. The Republican-led counties of Orange and Rockland declared states of emergency in response to the crisis and issued executive orders to prevent migrants from being housed in shelters and hotels after Adams announced a plan to send roughly 300 migrants north. Hochul last week said the state would look into the legality and constitutionality of those orders.
County leaders on both sides of the aisle, however, agree that they are in desperate need of additional resources to handle the crisis. The New York State Association of Counties laid out some of those issues during a press conference on Monday. Association Executive Director Stephen Acquario that the federal government should provide information about asylum-seekers to help counties match them with appropriate needs, reiterated a call that it should waive the 180-day waiting period for migrants to receive work authorization and demanded the federal government cover 100% of the cost of housing and public assistance. "We don't want letters," Acquario said. "We want results."