Immigration
Following the asylum-seeker odyssey: a timeline
Tracking the arrival of migrants bussed to New York City from the southern border, from April 2022 to now.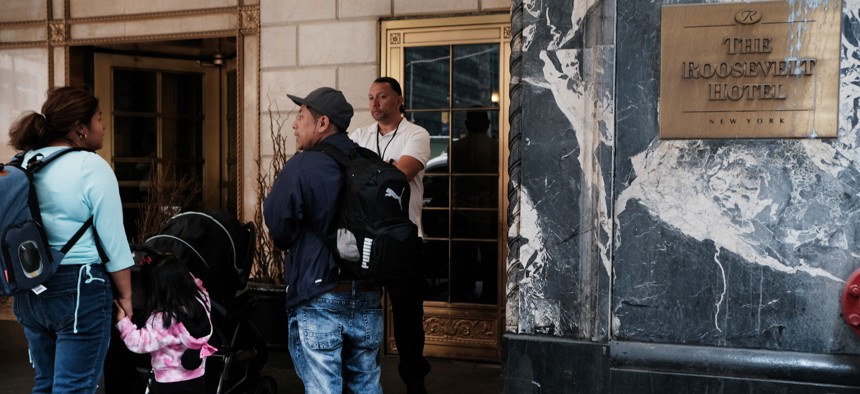 More than 65,000 asylum-seekers have arrived in New York City since spring 2022, some of whom are Venezuelan families fleeing the country's economic collapse. For the most part, city leaders have welcomed them with open arms. Advocacy groups and city organizations have worked together to meet people's needs while helping migrants chart their next steps. Still, it's been a costly undertaking and city leaders have increasingly sounded the alarm bells calling for more federal and state aid, but little has come. In the wake of the end of a pandemic-era border policy on May 11, things have become even more dire, according to city officials who've long predicted that the number of asylum-seekers arriving in the city will rise dramatically upon its lifting. The Adams administration has scrambled to find places to house asylum-seekers, imploring other counties across the state to share the responsibility. Still, help has been hard to find. More than two dozen New York counties have so far tried to shut their doors to asylum-seekers. This timeline of the ongoing influx was last updated in May 2023.
April 13, 2022: The first bus with migrants from Texas arrives in Washington, D.C. Some of those migrants then continue on to New York.
July 21, 2022: New York City Mayor Eric Adams said the city did not admit several asylum-seeking families to a shelter in a timely manner as required by law.
Aug. 5, 2022: The first bus of migrants sent by Texas Gov. Greg Abbott arrives at the Port Authority Bus Terminal.
Aug. 19, 2022: The Adams administration announces "Project Open Arms," a plan to support asylum-seeking families and children to help them enroll in school.
Sept. 8, 2022: Over 1,400 children from migrant families begin their first day of school in New York City.
Sept. 12, 2022: The Legal Aid Society says New York City failed to meet its right-to-shelter duty by failing to provide beds to at least 60 men.
Sept. 14, 2022: Claiming that the city's shelter system "is nearing its breaking point," Adams suggests that New York City may need to reassess its right-to-shelter law.
Sept. 22, 2022: Adams announces plans to open Humanitarian Emergency Response and Relief Centers to support asylum-seekers. He says the first one will open at an Orchard Beach parking lot in the Bronx. The site is criticized for being in a flood zone.            
Oct. 3, 2022: After a weekend storm leaves pools of water at Orchard Beach, city leaders say they'll move the tent complex to Randalls Island.
Oct. 7, 2022: Adams declares a state of emergency as the sheer volume of new arrivals overwhelms the city's shelter system.
Oct. 12, 2022: President Joe Biden invokes a pandemic-era rule known as Title 42, which prevents Venezuelans who illegally cross the border from seeking asylum.
Oct. 19, 2022: A 84,000-square foot migrant center opens on Randalls Island with 500 beds for single men.
Nov. 10, 2022: Adams says the controversial tent shelter on Randalls Island will close the following week due to the slowing rate of migrant arrivals.
Nov. 14, 2022: Migrants staying at Randalls Island are relocated to the Watson Hotel in Midtown.
Dec. 20, 2022: U.S. Senate Majority Leader Chuck Schumer and others negotiate $800 million for cities like New York struggling to provide aid to migrants.
Jan. 10, 2023: Gov. Kathy Hochul delivers her annual State of the State speech without mentioning the asylum-seeker crisis.
Jan. 15, 2023: Adams meets with local authorities and migrants at the southern border. He describes this as an information-gathering trip and another effort to pressure Biden to help the city.
Jan. 18, 2023: Adams travels to Washington, D.C., to continue advocating for federal funding.
Jan. 21, 2023: Adams says that a new Humanitarian Emergency Response and Relief Center will open to serve single adult men at the Brooklyn Cruise Terminal.
Feb. 1, 2023: Hochul releases her executive budget plan, pledging to give the city more than $1 billion in the coming year to help officials respond to the influx of asylum-seekers.
Feb. 7, 2023: Adams says the city plans to open a sixth emergency center at the world's tallest Holiday Inn, which is in the Financial District.
Feb. 8, 2023: Reporting circulates that New York City is buying bus tickets for migrants hoping to seek asylum in Canada. The government of Quebec asked Adams' City Hall to stop it. 
Feb. 15, 2023: Adams says a seventh emergency center will open at the The Wingate by Wyndham Hotel in Long Island City, Queens, this time for families with children. 
Feb. 21, 2023: The Biden administration proposes a new, more aggressive immigration measure that would assume migrants are ineligible for seeking asylum if they enter the U.S. illegally. The proposed rule, which would take effect on May 11 after the likely termination of Title 42, would allow authorities to carry out rapid deportations of migrants at border entries.
March 7, 2023: Adams unveils a new blueprint plan for the city's path forward with asylum-seekers that includes relocating some migrants to other cities and states, pivoting away from the Port Authority Bus Terminal in Midtown as the primary destination for newly arrived asylum-seekers and opening a "24/7 Arrival Center" instead, and creating a new Office of Asylum-Seeker Operations.
March 13, 2023: Adams announces that the city will soon open two more emergency centers as the location at the Brooklyn Cruise Terminal transitions back to its regular operations ahead of cruise season at the end of the month. The new centers, which will serve single adult men, will open in Midtown, Manhattan and Bushwick, Brooklyn.
March 13, 2023: The New York Post found that New York City's Immigration and Customs Enforcement office's appointments are fully booked through October 2032 for migrants released at the southern border. 
March 29, 2023: The Adams administration submits a request to the federal Emergency Management Agency asking for $650 million to reimburse the city's expenses for providing shelter and services to asylum-seekers between July 2022 and Feb. 28, 2023.
April 19, 2023: Adams assails the president in his strongest terms yet, accusing national leaders of turning their back on New York City while urging Biden to allow recent migrants to apply for temporary protected status so that they legally work. New York City Public Advocate Jumaane Williams also travels to Washington D.C. to meet with various executive agencies and lawmakers and push them to help.
April 24, 2023: State leaders agree during budget negotiations to approve a $1 billion plan to aid asylum-seekers in New York City. 
April 26, 2023: Adams stresses ongoing costs associated with asylum-seekers while unveiling his budget proposal, attributing agency spending cuts in part to the $4.3 billion sum he estimates the city will spend responding through the end of the fiscal year 2024.
May 1, 2023: Denouncing Abbott's plan to resume the uncoordinated busing of asylum-seekers to New York and several other Democrat-run cities, Adams accuses the Texas governor of specifically targeting cities run by Black mayors.
May 3, 2023: The first bus sent by Texas officials in months arrives in the city.
May 5, 2023: The Adams administration learns that the city will receive almost $31 million from the Federal Emergency Management Agency to use for costs associated with shelter, food and health care services for asylum-seekers in the first round of funding – a mere fraction of the $350 million that city leaders applied for. Saying that the city is running out of space to house new arrivals, Adams announces plans to move – and continue paying for – willing single adult male migrants to two hotels in the suburbs, which would be in Orangeburg, in Rockland County, and one in Orange Lake, in Orange County.
May 7, 2023: Rockland County officials condemn Adams' plan to move asylum-seekers to the area, issuing a state of emergency and claiming that they were caught off guard by the move despite Adams' saying he'd consulted with state and local leaders. It is unclear whether the state of emergency will prevent the plan from taking place. 
May 8, 2023: The Independent Budget Office releases several cost scenario estimates on how much the city will likely spend in response to the influx across 2023 and 2024, which range from from $1.6 billion to $600 million less than the estimate included in Adams' executive budget.  
May 9, 2023: Amid growing pushback from some local officials,  a state Supreme Court judge issues a temporary restraining order, barring a Rockland County hotel from accepting any asylum-seekers for the time being. Hochul declares a state of emergency that will allow the state to dispatch as many as 500 additional members of the National Guard to help the city and expedite the distribution of the $1 billion in state aid. CBS2 obtains a memo that says that in anticipation of 800 asylum-seekers to arrive each day after Title 42 expires, the city is even considering closing sections of city streets for temporary housing and using tents and small houses in Central Park.
May 10, 2023: In the wake of a slew of reporting saying city leaders are scrambling to find new places to set up emergency shelters, City Council members criticize the Adams Administration during a budget hearing for what they say is not doing enough to build long-term infrastructure needed to support asylum-seekers. Later in the evening, Adams issues an executive order temporarily suspending parts of the city's right-to-shelter law, including a rule that requires people seeking shelter to receive a bed within a specific timeframe. 
May 11, 2023: After weeks of city officials warning about how the end of Title 42 could dramatically increase the number of asylum-seekers entering the city, the federal policy is lifted. Several dozen asylum-seekers sent by the city arrive at a hotel in Orange County despite the ongoing objections of local officials.
May 15, 2023: Adams signs another executive order temporarily suspending rules around the city's review process for finding and constructing new homeless shelters. 
May 16, 2023: Adams says that up to 20 New York City public school gyms could be transformed into emergency shelters for asylum-seekers. The city begins outfitting several buildings in Brooklyn with cots and at least one begins sheltering people. Parents, angry at the potential disruption to school activities and questioning the lack of facilities, protest outside of the schools. A judge bars the city from sending more asylum-seekers to Orange County, although the 186 people currently staying are allowed to stay.
May 17, 2023: The city reverses course on using public school gyms as emergency migrant shelters, but leaves the door open to the buildings potentially being used again in the future if proven necessary. News that city officials are considering housing migrants in a shuttered Rikers Island jail draws backlash.
May 18, 2023: After nine months of operations, city officials move to shutter the asylum-seeker welcome center inside the Port Authority Bus terminal. 
May 19, 2023: The city's new centralized welcome center for migrants opens at The Roosevelt Hotel in midtown Manhattan. More than two dozen counties pursue legal action to try and avoid hosting migrants. An investigation from the Mid-Hudson News debunks falsified claims that veterans had been displaced from a Newburgh hotel to make room for migrant arrivals. 
May 22, 2023: In their first joint appearance centered on the migrant crisis, Hochul and Adams appear together to call on the federal government to allow for expedited work authorization for asylum-seekers. Reps. Dan Goldman and Jamaal Bowman send a letter the leaders of CUNY, SUNY, NYU and other private institutions urging them to open up dorms and other apartments to asylum-seekers over the summer.