Policy
Hochul and Adams on migrants: 'We have one message, let them work'
The governor and mayor are calling for expedited work authorization for asylum-seekers which they say will also help industries across the state.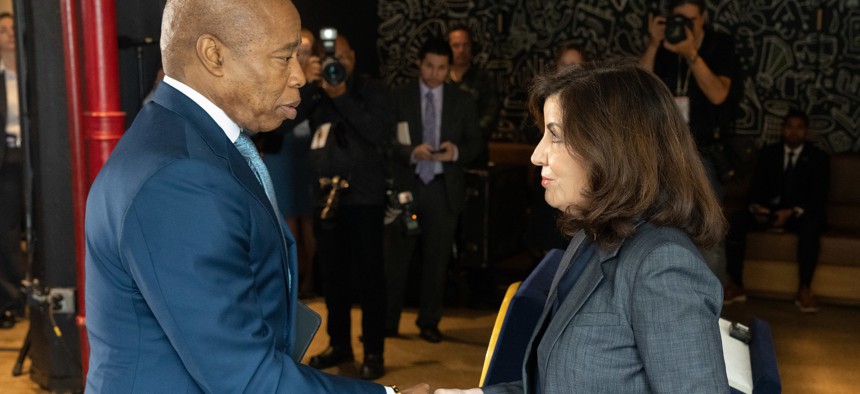 For months, Gov. Kathy Hochul and New York City Mayor Eric Adams have pleaded with the federal government to provide substantial aid to help with the influx of migrants to New York City, and those requests have mostly gone unanswered. Now, the pair have called on the federal government to allow for expedited work authorization for asylum-seekers at a press conference on Monday – which they argue will also help industries struggling with workforce shortages.
"(Asylum-seekers) are eager to work. They want to work. They came here in search of work and a new future, and they can become part of our economy and part of our communities, and people are ready to start training them right in facilities like we have here today" Hochul said while pointing to the labor shortage across the state. 
The governor said providing expedited work authorization was an "opportunity to solve two problems." Within the current parameters, asylum-seekers have to wait 180 days after filing for asylum status before being allowed to work in the state legally. The governor and the mayor asserted there are thousands of unfulfilled jobs in various industries – including food service, home care, agriculture and transportation – that would benefit from expedited work authorization for asylum-seekers. 
According to Adams, asylum-seekers are being denied the opportunity to provide for themselves by being barred from working legally because of their work authorization status. "We have one message: Let them work," Adams said while pointing to the several generations of immigrants who've traveled to the city to participate in the "American dream."
New York City has seen an influx of tens of thousands of migrants since last spring, and New York City services have been strained. Adams has been sounding the alarm for months while remaining critical of the federal government for not doing more. At the presser, Adams said the recent influx of asylum-seekers was "probably one of the greatest humanitarian crises" to hit the city in a long time. 
While this was the first time the governor and mayor have stood side by side to ask for aid for the migrant crisis from the federal government, this isn't the first time either executive has called on the federal government to help. Last year, Hochul told reporters the federal government needed to "take ownership" of the problem. In anticipation of the expiration of the federal immigration policy Title 42 on May 11, Hochul issued an emergency order to mobilize 500 more National Guard troops and suspend some procurement rules to allow local governments to set up shelters more quickly. Days later, the governor sent a letter directly to President Joe Biden asking for federal assistance building shelters on federal property. The governor told reporters on Monday that she's been in communication with several members of the administration including Homeland Security Secretary Alejandro Mayorkas as recently as two days ago to process the request. The press conference also came about one week after Hochul made a visit to Washington D.C. to meet with Rep. Hakeem Jeffries as well as Reps. Gregory Meeks, Grace Meng, Brian Higgins and Joe Morelle to discuss asylum-seekers in New York. Reps. Jerry Nadler and Dan Goldman stood with the governor and mayor at the press conference. All are Democrats. 
Adams has long warned of the amount of money the influx of migrants has been costing the city – which is at the most recent estimate $4.3 billion. The administration applied for $350 million from the Federal Emergency Management Agency to help fund shelters, food and health care services for asylum-seekers, but was given $30 million in federal aid. Adams has been critical of that amount and underscored his concern at the presser. "It's unfortunate, out of the $350 million New York City only received $30 million those bordering states received in some cases more than what we did. And they're using the money to bus individuals to New York City," Adams said at the presser.
Adams has recently resorted to bussing people himself, sending asylum-seekers to the Hudson Valley as New York's shelter space hits a breaking point. That move set off a flurry of lawsuits and press conferences from Republican county executives saying their counties are closed. 
The governor also touted the $1 billion investment in the state budget to help address the migrant crisis and said that would not be the end of their efforts. "We're going to make sure you have what you need, Mayor, " Hochul said.