News & Politics
Eric Adams defends trip south of the border
The New York City mayor pushed back on critics, saying that his four-day visit to Latin America accomplished exactly what he intended.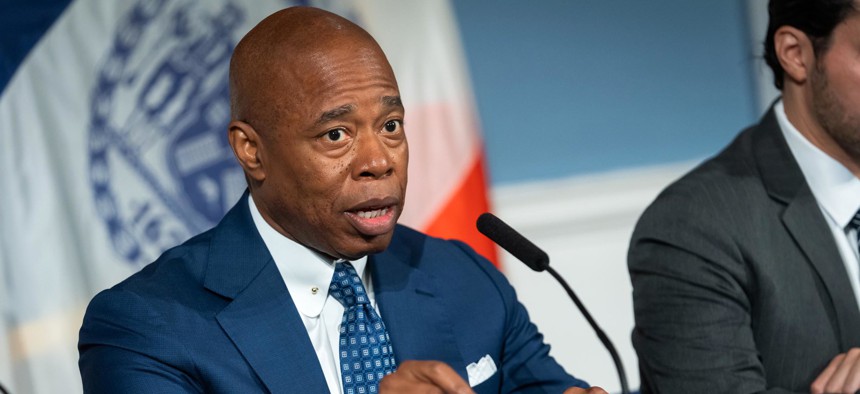 Mission accomplished – that's the message New York City Mayor Eric Adams is relaying in wake of his four-day trip to Latin America, undertaken in part to discourage potential migrants from coming to New York City while also developing relationships with local government leaders and gathering facts "on the ground" about the unfolding humanitarian crisis.
The mayor emphasized the latter in particular at a press conference Tuesday where he defended the value of the trip amid reporting that many asylum-seekers were unlikely to heed his warnings that New York City is at capacity – that is if they even heard his message at all. Adams' trip to Mexico, Ecuador and Colombia, which included a visit to the Darién Gap even as Colombian authorities advised against it, has garnered some doubts about its effectiveness. Some critics have questioned whether the mayor's time might have been better spent further trying to broker solutions with the federal government. 
Adams contends the time was well spent and the trip accomplished exactly what he intended. 
"Generals lead from the front. You don't send your troops into battle and ask how was the war. I lead from the front," Adams said to reporters Tuesday. "What I learned from this trip… was extremely valuable and you cannot learn this by just reading about it."
What knowledge was gained exactly? According to the mayor, that included identifying some of the sources of "misinformation" that are misleading potential migrants about what they can expect in New York City as well as "Colombia's willingness" to absorb more asylum-seekers if they had the infrastructure and the support to do so. Of that, Adams said he intends to present a plan to federal lawmakers on how they can partner with Colombia to ultimately "slow the pace down." Adams said he also plans to soon meet with former President Bill Clinton to discuss potential solutions given his experience in Latin America policy. 
During his trip, Adams used a variety of local media platforms to relay his message about what migrants can expect if they come to New York City – something he's said is necessary given the circulation of "misinformation" that has painted the city as the best possible place to come. On Tuesday, he said his goal was to make sure he was "transparent and clear" about the city's limited shelter space and the long period in which new arrivals would have to wait before they could receive work authorization. 
As for whether his message will ultimately impact the number of people coming, Adams did acknowledge that it might not necessarily be the case. 
"Was it successful 100%? I don't know that. We are not going to know if someone is going to hear the voice of the city say you are not coming to a five star hotel? I'm hoping they did, but I have to try everything to help this city deal with this crisis we are facing," Adams said.