Affordable Housing Special Report
Without state action, Eric Adams' housing goal is just a dream
"It impacts all of us," the New York City mayor said of state lawmakers' negotiations on housing.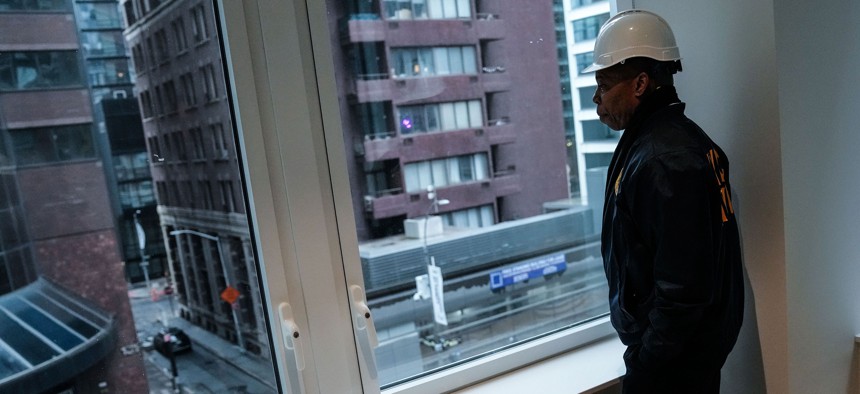 There's a rule of thumb in New York politics: The city needs state action to do anything. And that includes building housing, if New York City Mayor Eric Adams' administration wants to get anywhere near its "moonshot" goal of 500,000 new housing units in the next decade.
But Adams' target may already be in jeopardy after essentially all housing policy fell out of the state budget. "Anyone who has ever exercised before knows you can't go to the gym and just work one body part. It's the whole body that must be dealt with. Not getting a deal in Albany, you may think it does not impact you. It impacts all of us," Adams said at the Real Estate Board of New York's annual gala on April 20. "We need a housing deal in Albany this year. We need it!"
Gov. Kathy Hochul's ambitious plan to set housing production targets for everywhere in the state – and having the state facilitate development if localities wouldn't – got the most attention, and the most pushback. But when Adams highlighted state legislation at REBNY, he didn't mention the Housing Compact. Instead, he talked about the need to revive 421-a, the lapsed tax incentive for new construction, and the need to raise the floor area ratio cap to allow denser residential development in the city and make it easier to convert office buildings to housing.
The Adams administration is also looking to legalize and ease the conversion of basement apartments, and a bill that would expand the Department of Housing Preservation and Development's loan authority, which would help the city finance more renovations and new construction.
Could any of that get done this year? Hochul told NY1 on May 1 that, even setting the housing construction goals aside, "I have to help the mayor!" She too highlighted tax incentives, office conversions and legalizing basement apartments. But those pieces, too, have prominent opponents in New York City. Queens state senators took credit for halting action to expand the building of accessory dwelling units, like basement apartments. And state Sen. Liz Krueger of Manhattan opposed raising the floor area ratio cap. The governor has the most leverage over the Legislature when sticking legislation in the budget, so if she wanted to push any sort of housing, she may have to wait until next year, as she suggested to The Buffalo News. There were some signs that negotiations will pick up again before the end of the session on June 8, however. Progressive lawmakers said they're keeping up the push for tenant protections like "good cause" eviction and a housing voucher program, which they insisted would be included in the debate over how to increase housing production.
"We have several bills that we are still optimistic (about getting done this session)," said Jolie Milstein, president and CEO of the New York State Association for Affordable Housing. "It's not over till it's over."
New York City has been building housing – 203,628 new units from 2012 through 2021, according to the Department of City Planning. But that growth was slow compared to other big cities, despite the high demand. And it's not just zoning issues and red tape slowing down housing construction, but factors like high labor and material costs – and high interest rates. A city housing policy expert called it "a torture chamber for housing production."
To raise production, Milstein has been focused on a 421-a replacement. Because for anything other than the luxury market-rate housing right now, she said, "the cost to build and operate those units don't pencil out as a profitable, or even a real sustainable proposition without some sort of subsidy."
And cheaper housing is where there's the greatest need, said City Council Member Rafael Salamanca Jr., who chairs the Land Use Committee "Last night, over 70,000 individuals slept in a homeless bed. There's a housing crisis in the city of New York if the numbers are so high," he said. And there, especially, the city can't act on its own. He added: "We need help from the feds and from the state to continue to assign funding so we can build housing in New York."